I'd like to start today by extending a warm welcome to those of you who are visiting from Plum & June's 2014 New Quilt Blogger Blog Hop. It's lovely to have you visit. I hope that you, and my regular followers, will enjoy this little introduction to me and my blog.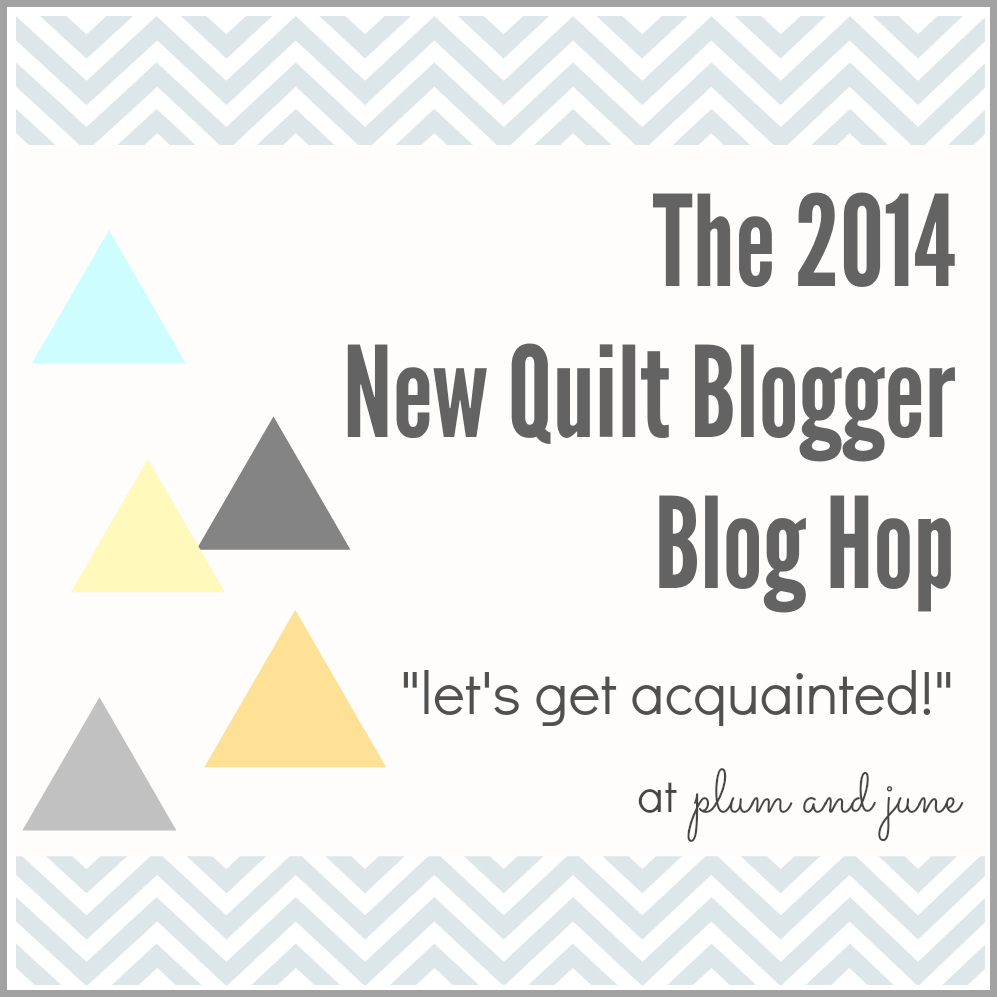 Before I tell you all about Mud, Pies and Pins I should of course start with my own little introduction. I'm Paula, an Irish lass who moved to Switzerland some 10 years ago. Although ever so different from Ireland in so many ways I do love this country and with scenes like this one pretty much on our doorstep I am sure you can imagine why.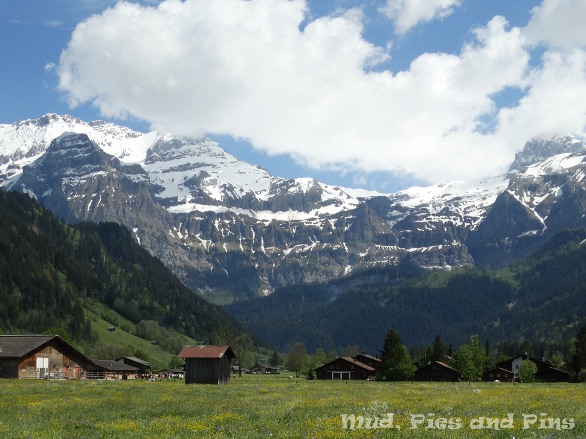 I always look forward to trips back home, to visiting family and spending summers by the sea. When it comes to perfect holidays locations you can forget tropical beaches and other such destinations, for me there is nothing better than spending a few weeks each summer camping by the sea at a place called Eagle Point in West Cork, Ireland.
And though I love and miss Ireland, Switzerland is now very much the home of me and my little family. We have two little boys (2 and a half and nearly six) and they are the reason that I started to quilt and, consequently, to blog.
When my eldest was still a toddler I decided it would be a nice idea to make him a quilt. I'd always done a lot of hand crafts (kniting, crochet, embroidery, cross stitch and sewing) so I bought myself some books, notions and fabrics and dove right in. I started at the deep end, designing my very first quilt with only books and the interenet for reference and guidance. But the result is a quilt that I am immensely proud of, and three years later, despite constant use and multiple trips through the washer and drier, it still looks every bit as good on the day I finished it.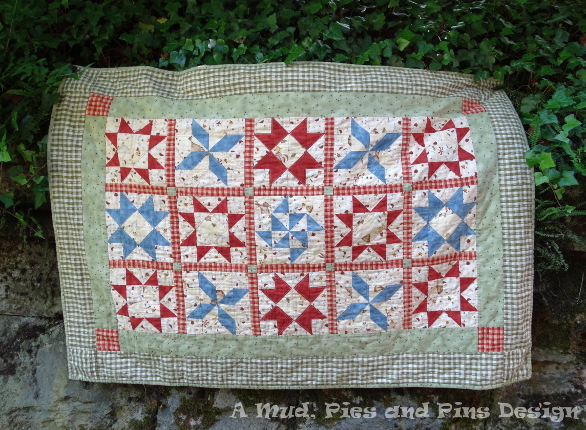 My quilt journey thus began and that first quilt was slowly followed by several more. They were all of my own design and they were all for children. Among my favourties are "Bug Picnic" and "Insert Retro".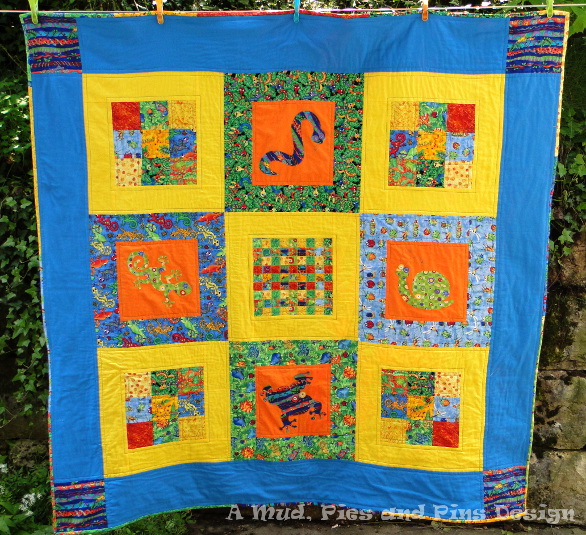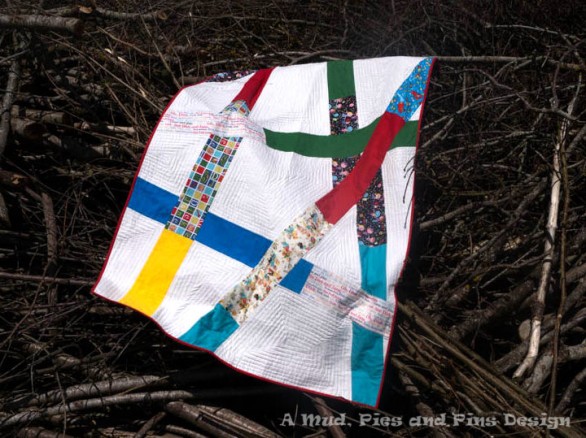 As I created each new quilt I also was constantly trying to learn and expand my skills. I began to discover lots of new blogs, or at least blogs that were new to me. As I began interacting more and more with the bloggers I followed I realised that I too wanted to write about my experiences, to share them with others, to gain the insight of those who would read my blog and so Mud, Pies and Pins was born. It was intended to be a blog about all of my crafty pursuits be they in the garden, kitchen or sewing room, but it has become primarily a quilting and sewing blog, with the only odd insight into my other activities.
Although I have not had the chance to complete any quilts for myself as yet, I have had time to indulge my love for making mini quilts. I love the oppertunity they give me to try lots of new techniques and to trial new ideas and patterns.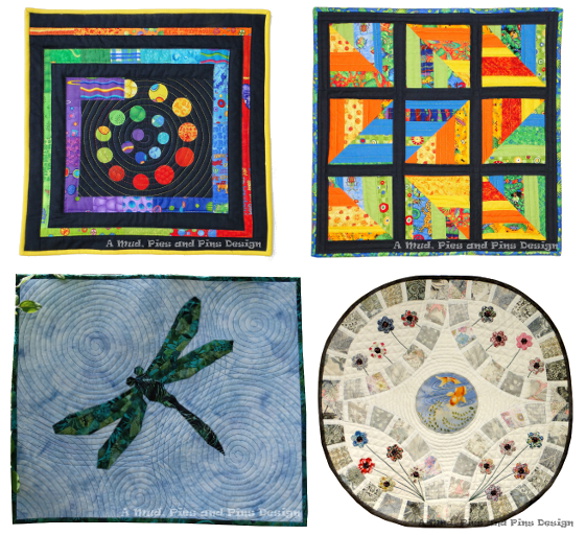 Making minis has also led me to discover my love Liberty lawns and for EPP, my addiction to quarter inch hexies and the tools I needed to design my dragonfly and butterly designs. I intend to put all of the skills and techniques that I have gained from making mini quilts into larger projects so that it is not only the little people in my house who have a selection of quilts to cuddle under.
Before I send you off to visit all of the other blogs participating in the blog hop today let me share a few tips with you all.
When it comes to blogging be prepared. Plan ahead so you regularly have something to post. Schedule posts to cover holidays or breaks, and plan your posts so that even if you don't have a work in progress or finished piece to share you have something else lined up instead. You could use such times as the perfect excuse to show off work you did months ago but never got around to sharing.
When it comes to quilting stay true to yourself. Don't be afraid to break "the rules". Use the fabrics that you want to use, the designs that you like. When I start each new project I just do what I think I need to do to get the result I envisage. What about you? When it comes to quilting do you prefer to follow patterns, or do you, like me, play around with ideas of your own, often creating as you go?
There are plenty more tips to be had from all of the other talented ladies joining in the blog hop so be sure to pop over and say hi to them all, and if you missed out on last week's blog hop stops then you can find them listed over on Plum & June.