After a short delay at customs and then another wait at the post office I'm delighted to say that the spring pillow (or cushion as I would usually say) I had made for my partner in the Pillow Swap Four Seasons finally made it safely to its new home late last week. I've shared plenty of sneak peeks on social media over the past couple of months and it's lovely to finally be able to share the finished pillow here now.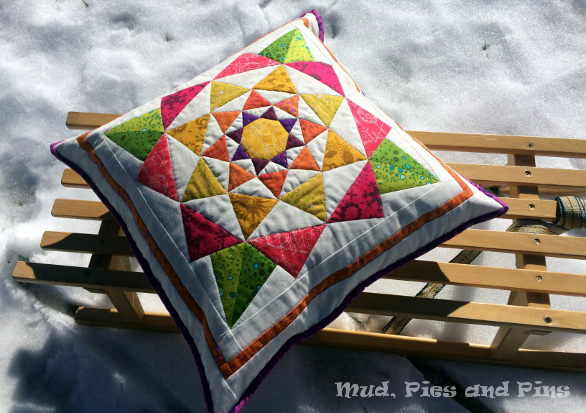 The top was pieced using Alison Glass's Sun Prints with a Moda Grunge background and I used one of my own EPP designs for the pattern. I've stitched variations of this design in the past, the original didn't feature leaves, and when I did introduce the leaves they were done so on a version that was designed to be appliquéd onto a background fabric, rather than pieced into a block as I did with this version. I really enjoy playing with my designs in this way, refining them and finding the most flexible uses for them, and this design is definitely becoming a firm favourite of mine, especially in its current form.
Although I had finished the piecing of the top during various train commutes and other outings at the start of the year, finishing the pillow was put on hold till close to the posting deadline as my sewing space had been packed up and mostly moved to our new house. February means sports week here; a week when schools close so that families can escape to the hills to enjoy some winter sports. Needing a break from all the packing and moving, and not wanting my boys to miss out on the snowy fun, we headed for the hills.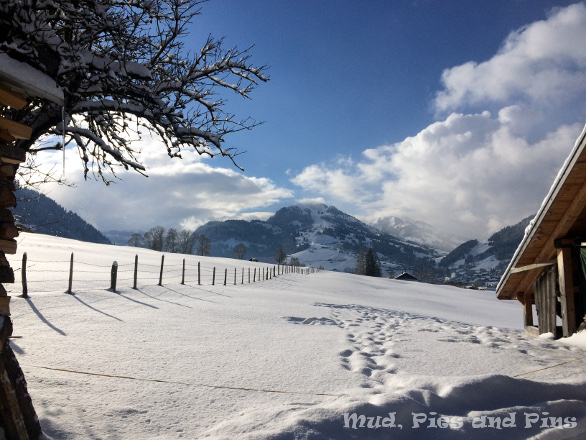 As I don't ski (yet) I packed my machine and a few sewing supplies in anticipation of finishing the pillow and making something small as an added extra to go with it. I had originally thought of sewing a pouch or travel sewing set but quickly realised that with my available sewing supplies I was rather limited in what I could make. The solution – a second smaller pillow.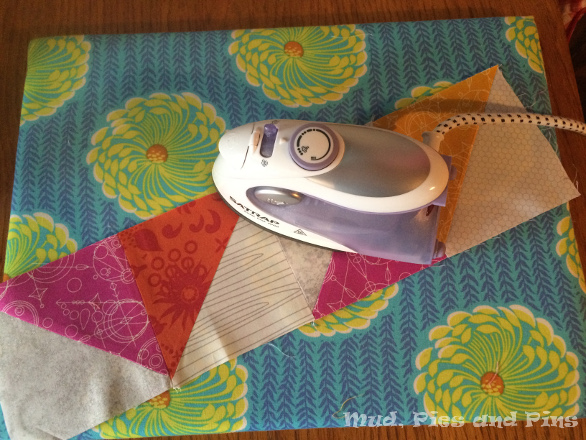 I cut into my tiny stash of Sun Prints and low volume fabrics, played around with some HSTs and came up with a design that I felt complemented the main pillow.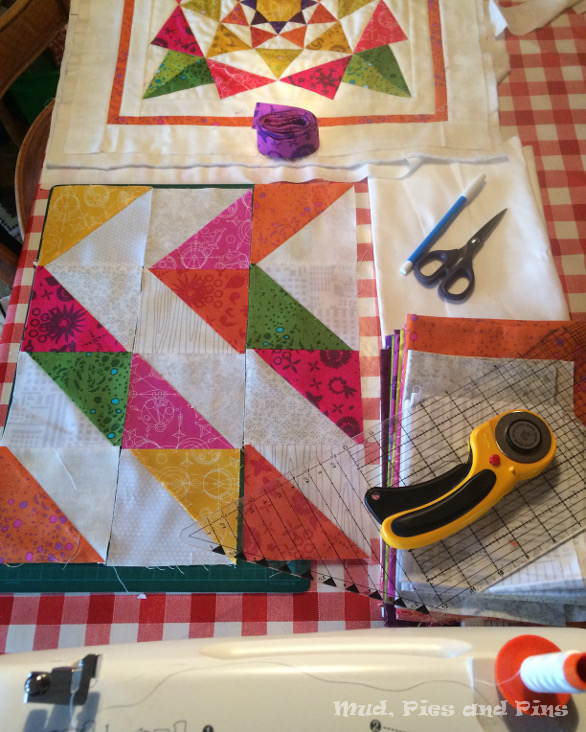 Other than some clover clips and pins I think that the photos above show the extent of the stash and equipment that I had available to me and I have to admit that I really enjoyed getting back to basics on this second pillow. There was no pre-drafting of ideas on the computer, no designing and printing of patterns, no calculating of measurements beyond the simple cutting up of 5″ charm squares as the basis for the HSTs. It was so much fun to simply just create and it is something I need to do a lot more often.
And the finished pillow, well I think you'll agree that it is every bit as spring like as its bigger partner.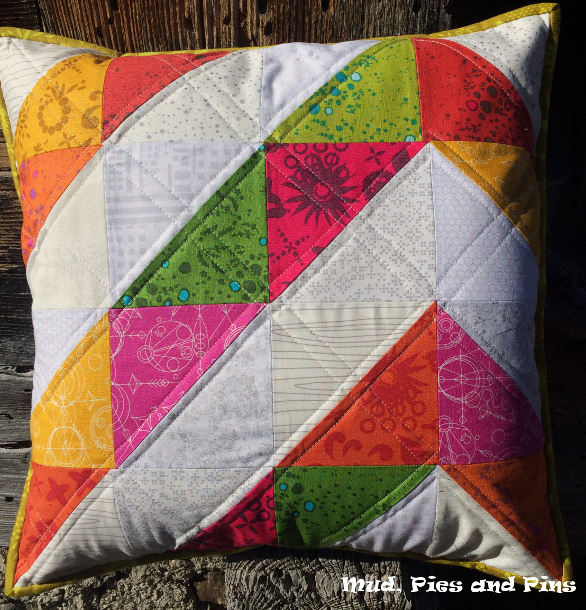 With the spring time swap now finished it will soon be time to turn my attention to the summer round. Sign-ups for that round opened today over on the Flickr group and I was quick to add my name to the list. This swap is so very well run by Karen (from easypatchwork) and Sandra (from Hohenbrunner Quilterin) and is made up of such a wonderful group of talented and engaging ladies that I thoroughly enjoy it and am more than eager to participate in for as long as it continues to run.
Luckily for me the timing of the summer round couldn't be more perfect. We're planning on finishing our big move within the next two weeks so by the time I get my partner information I should be getting my sewing room up and running and will be ready to dive back in to sewing with some new projects. In the meantime I shall continue to pack and move and to wonder when spring will properly arrive in something other than pillow form as I look out the window and see snow falling once again.