In the summer of 2010 I made my first quilt. It was only crib sized but I designed it from scratch using Electric Quilt 7 which my husband had very kindly bought for me. For weeks I was awash with triangles and squares and I gradually pieced each block together then saw the blocks slowly transform into strips and finally a quilt. I kept the quilting very simple: in the ditch and highlighting the main triangles. I was more than pleased with the end result and eager to dive straight into my next project.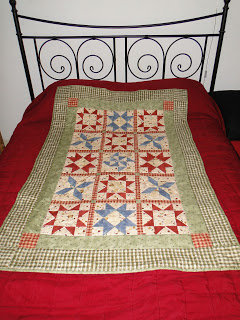 Project number two was to be another crib quilt. After all my son would need a few. Inspired by a design in a German quilting magazine I decided on a much simpler design second time around. Out came the charm packs. I decided to go for colour and fun so went for a mix of Studio E's Eek Monsters, Cheri Strole's Dinosaur Uproar and Animal Alphabet along with Amy Bradley's Alien Invasion. I ended up with a whole rainbow of fabrics, just perfect for what I had in mind. Squares were halved, colours organised, strips pieced and before I knew it I had a completed quilt top in my hands. And that is as far as I got. For so many reasons I got no further. My fabrics and the quilt top eventually got packed away and there they sat for over a year.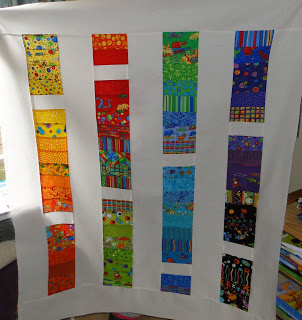 From time to time I would take a look, contemplate getting the machine out once more but I never managed to get that far. However, once I started sewing again last year I knew I could no longer leave the quilt top just sitting there. For a while I had no idea how I was going to progress. My son chose the backing fabric he wanted. We basted the quilt layers, I did some in the ditch sewing around the individual colour blocks and then, well then I felt as if I was going to stumble again. I had no idea how I was going to quilt it after that.
I knew I want something more complex, something with spirals and curves perhaps, but I have not yet mastered free motion quilting and I wasn't willing to let it languish until I did so. There was nothing for it but to keep on browsing for inspiration. Then I came across King Tut threads, these were new to me as our local stores don't carry anything like them. These were the inspiration I was waiting for. I ordered a few different shades, complementing the colour progression in the quilt. They arrived, I threaded my machine and just started sewing. I stuck to simple straight lines and let the colours make the statement I was looking for.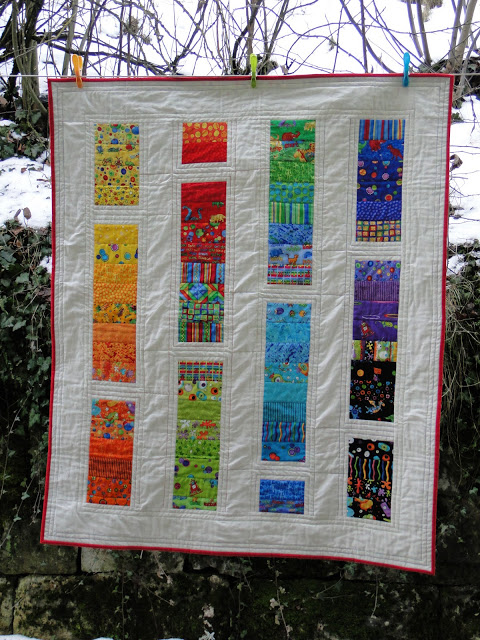 In the end the quilt was quilt was quickly finished, bound in red and now my little man snuggles under it each night. It will not last him long as he is growing fast but that does not matter as his little brother will then get to enjoy it too. I was a long time in the making but it was worth waiting for.