April 1st might be All Fool's Day, but April has been a month of firsts for my little blog, and none of them foolish. Although I've been writing the odd few posts here and there before this, April was the month when I finally began to open up my blog to the world. I had my first follower, my first comments, participated in my first competitions over at Stitched in Color, wrote my first tutorial for my QAYG type flowers and joined in my first link-up over at Greta's Quilting Studio. If you've never visited Greta's Quilting Studio then I can highly recommend you do so. Her work is really stunning. Cick on her button below to pop on over.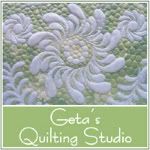 I have also received a few interesting pieces of mail, that too will be firsts for me. I have joined my first block of the month club. I am going to make the
Warm Winter Blessings quilt by Primitive Gatherings
. The materials for my first block have arrived and I'm hoping to get started on that next week.
I also received my Umbrella Prints Trimmings pack that I ordered a couple of weeks ago as I'm going to take part in the Umbrella Prints Timmings competition.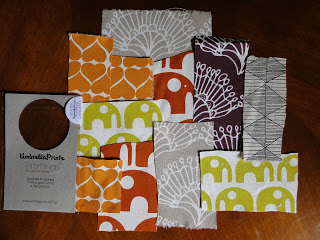 I'm excited about this as it gives me a chance to get playing with some beautiful fabric pieces. Time to get creative and start thinking a little outside the box I think.You can find out more about the competition by clicking on the poster below.
I've been over at Threadbias playing about with their quilt design tool and participating in the Briar Rose Quilt Design Contest. I really like their quilt design tool and even though I have a copy of EQ7 that I love to use, I also love the flexibility and ease of use of the Threadbias tool and I can see myself creating plenty with it in the future too. If you've not already seen it I can highly recommend checking it out and joining the lovely community over there.