I don't remember when I learnt to sew. Nor do I remember when I learned to knit or crochet. I just grew up with these skills. My mum, my grandmothers, an aunt, a great-aunt all did one, or all. I have early memories of  being taught these skills, and over the years each of them fostered my ever expanding knowledge of these crafts in their own way, and I am forever grateful to them for it.
Now it is my turn to become the teacher and pass on the learning to a new generation. And who better to be my first pupil than my son. He's only four and a half be he already has a great love of crafting and a great interest in all that Mummy does. He loves to help me in the garden and the kitchen so I was not surprised when he asked if he could help me with my sewing.
Usually when I am sewing on my Brother he does little things to help – removing pins, lowering and lifting the presser foot, collecting up my scraps. But when I recently had my Singer back in action and he asked if he could do some sewing I was happy to let him. The joy of the Singer is that is can be operated by hand. So I sorted him out with a scrap of red fabric and let him do a line of sewing with white thread so he could see what he was doing. He was hooked.
In no time at all he had finished three seams and with a little more work, and help from Mummy, the scrap of fabric was transformed into a pillow for his favourite teddy.
Of course a pillow is no good without a quilt so we went on a raid through my fabrics and he choose something suitable for a teddy quilt. I basted a little quilt sandwich together for him with a little spray glue and let him quilt away.
I then trimmed it up and bound it and it wasn't long before teddy was snug as a bug under his new quilt.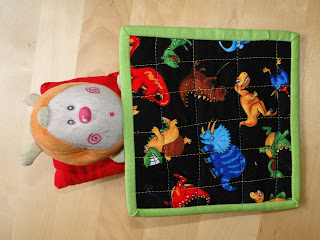 He even found a comfy spot to sleep on top of Mummy's prepared rag quilt squares.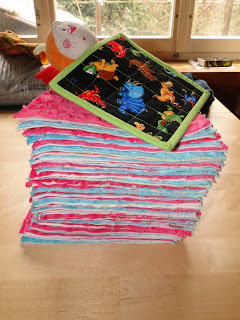 My little man is definitely hooked and our next project is to be a sleeping bag for teddy for the summer holidays.