When I saw Amanda from Stitched to Life's Road to Forever quilt I fell in love with the way in which the ombre green fabric worked in her sashing. I couldn't resist adding a little to my stash so when I saw this bundle of Moda Simply Color Ombres on Etsy I quickly popped it in my shopping basket.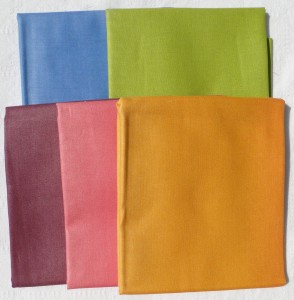 More shopping inspiration came from Kristan over at doodle do designs. I loved her use of Michael Miller's Madrona Road Memoir by Violet Craft as the background fabric in her Summer Sampler Pillow so that was quickly added to an order of chiffon I was placing with fabric.com along with some Bon Appetit Accounts Flax by Gillian Fullard/London Portfolio (another Michael Miller design). I must admit that when making my husband's kindle cover I cut into a little Bon Appetit fabric before it ever made it as far as my stash. The rest is safely tucked away for now.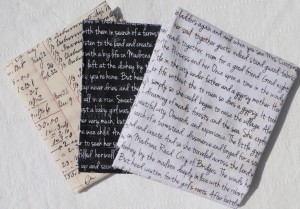 I needed no inspiration to add a little of Valori Wells from Free Spirt Fabrics Wrenly Wildfield fabrics to my stash. I just love the colours in the Cherry and Citrus colourways, and I can see these working beautifully with some ombre sashing.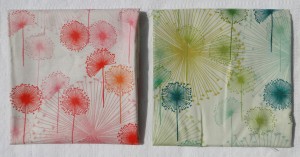 And finally the hot pink and olive – my recent decision to build up my collection of both these in my stash means that no stash addition can be truly complete without some hot pink and olive. This week's additions were Hoffman Fabric's Bali Batiks Blooms Hot Pink and Benartex's Mountain Majesty Woodgrain Dark Bronze Green.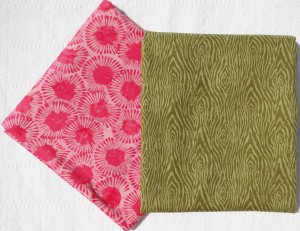 For now all of these lovelies are tucked up safely in my fabrics cupboard. I would love nothing more than to cut right into the Valori Wells fabrics and ombres but for now I will have to put my plans for those, and all my other quilting projects, on hold. Chiffon and crêpe de Chine are beckoning and my dressmaking shoes are awaiting me. There are dresses in urgent need of making for my sister's forthcoming wedding, so a dressmaker I shall be.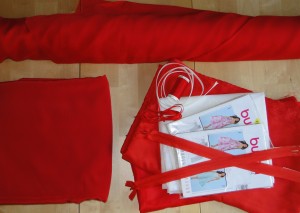 This week's Finding Fifth Sunday Satsh is being hosted by Gemma from Pretty Bobbins so I'll be joining in the fun over there.