I'm a big fan of homemade gifts, and an even bigger fan of those that you can prepare in advance and have ready to hand for when they might be needed. Among my favourite food gifts are chutneys and pickles. These tasty treats can be made in bulk when the main ingredients are in season and on offer and they will often keep for months on end if stored properly; in fact many benefit greatly from being stored as their flavours mature. As I live in Switzerland there is also the benefit that chutneys in particular are somewhat of a novelty for many people
Last week my son finished up his year at Waldspielgruppe (forest playgroup). Although he will go again after the summer he will switch to a different group to accomodate his Kindergarten timetable and so I wanted to present the playgroup leaders from his current group with a small gift to thank them for all they have done. I had originally hoped to sew them something small – a zippered pouch was one idea – but time was not on my side and so I opted for a homemade fragrant mango and apple chutney instead and I thankfully had exactly three jars left in my basement store.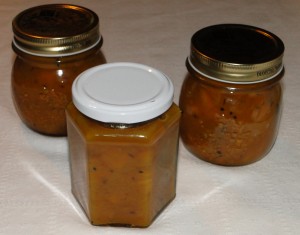 Although this chutney is possibly my favourite of all those I make, the jars straight from the basement are nothing much to look at and they certainly don't reflect the spicy deliciousness trapped inside. However after a little snipping with my pinking shears, label designing on my computer and tying with string I had three very tasty looking treats ready to pass on along with the thank you cards my son had made.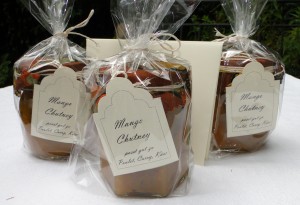 The gifts were very much admired and appreciated and will be or have been enjoyed I hope. All that remains for me to do is to cook up another big batch to keep me well supplied and for when I next need to gift a jar or more. I make mine following the recipe given by Sara Buenfeld in the BBC Good Food magazine and I can definitely recommend it. Why not try it out yourself.