Over on Threadbias voting has now opened for their Wallflowers Quilt Design Contest. In conjunction with Windham Fabrics, Pink Castle Fabrics, and Stash Books, Threadbias are holding a design contest featuring Wallflowers – a brand new collection by Allison Harris of Cluck Cluck Sew. Threadbias members have designed quilts using the Quilt Design Tool featuring the beautiful fabrics in the Wallflowers collection and now it's time to vote for the best designs. The top 5 will be chosed by the public vote and then Allison Harris herself will choose her favorite design.
My entry is entitled "Vertical Garden". I see it as a brickwork quilt top with flowers growing up the "wall" of the quilt.  Ideally the flower petals would be fully lined and only attached at their bases for a 3D effect. Quilting would enhance the brickwork effect and also link up the climbing flowers with intertwining stems.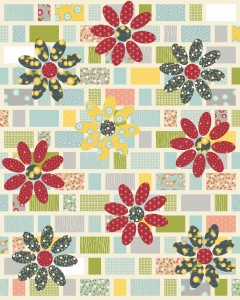 If you'd like to vote for my entry, or any of the other wonderful designs, then pop on over to the voting page and cast your vote. You do have to be a Threadbias member to vote but registering is easy and free and Threadbias is a great resource for any quilter or sewist.