Today was a day of firsts for both my boys. For the youngest it was his first introduction to day care. For the eldest it was his first day at Kindergarten and Tagesschule (day care for Kindergarten children).
Among the items needed for Kindergarten were a bag for gym gear and a protective apron to wear for painting and other crafts, a perfect oppertunity for me to start back in to some sewing after the holiday break. We had already purchased a long sleeved apron in Ikea but I wanted to personalise it so I added a double pocket to the front (crookedly it would appear from the photos I took).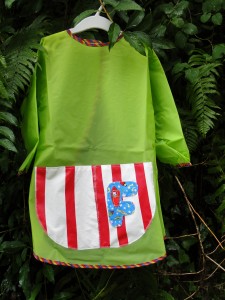 The pocket is made from a plastic coated cotton that I also recently purchased in Ikea. I appliquéd an "F" in a space themed fabric to one side of the pocket.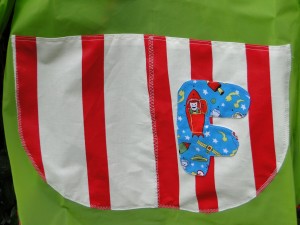 For the gym bag I decided on a simple drawstring backpack. I used the same plastic coated cotton for the outer shell and again I added an appliqué "F" to the front. Stitcking with the space theme I chose Michael Miller's Galaxy Visa in blue for the appliqué.
To pick up on the blues in the applique I used a dark turquoise solid for the straps. Because the outer fabric is relatively light I used a plain cream cotton to line the bag as anything more designed was likely to show through slightly on the outside. I also didn't want to use an batting or interfacing as I wanted a bag that was lightweight and would gather closed easily.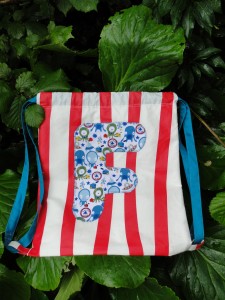 My son is more than delighted with his new bag and apron and I'm sure he will get plenty of use out of both in the year ahead.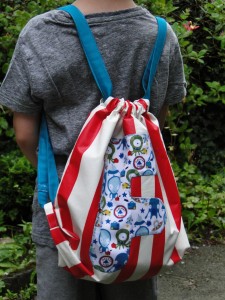 I've decided to link this up with this month's Slow Blogger Link Party over at Celtic Thistle as I most definitley am a Slow Blogger this month. but that's all good, life is being enjoyed and I have been having a wonderful time with friends and family.