Yesterday I pulled this little bundle of retro styled children's fabrics from my stash with the intention of sewing a cushion as a gift for a friend.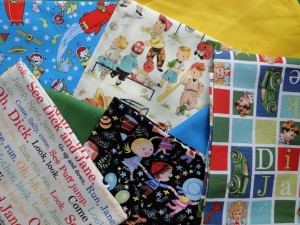 Somewhere in the planning stage I got a little carried away and ended up with this.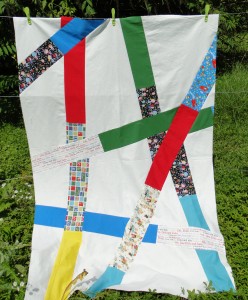 Defintiely not a cushion! It turns out my older son will be getting a new quilt, "Insert Retro".
I have to admit that when I finished this piece last night I was very unsure about the design. When I looked at it this morning I was still unsure. When I brought it outside to photograph it I fell in love. Once I stood back a little and saw the design as a whole, something that isn't really possible in my sewing space, I loved it. I love how the different fabrics all work together, the angles, the juxtaposition of the strips.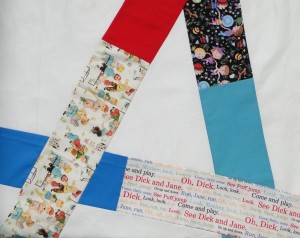 I still have a gift to make so I'm going to put this top away for a few days while I get on with that. I have two more good reasons to wait on quilting the top. The first is that I am running low on batting and need to wait till I order some. I love to use Quilter's Dream cotton batting and was not happy to find out last week that my usual supplier here is out of stock. However, after a little online searching I found a new supplier who not only has a great selection of Quilter's Dream batting but who also recently started stocking Aurifil threads. That leads me to the second good reason to wait before I finish this quilt. I have not been able to find Aurifil threads in Switzerland before this and am keen to order some and finally try them for myself on this quilt top.
Linking up with Lee's Work in Progress Wednesday over at Freshly Pieced. Hope to see you there.