Last month I signed up to the Sweet Pouch Swap being hosted by Alyce over at Blossom Heart Quilts. This was the very first swap I signed up for and I've enjoyed every minute of it. Today was the deadline for posting off our sweet filled pouches to our partners and between holidays and a crazy week with my boys starting kindergarten and day care it has taken me till today to get my pouch in the post. But in the post it is and now on it's way and hopefully it won't take too long to get to Australia.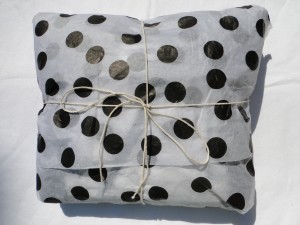 This was an open swap so when my partner Lynne told me she loved black and white at the moment, I used that information along with what I had gleaned from her blog of her love for vintage books and choose some black cotton coupled with a print from the Nevermore Collection by Michael Miller as the main fabrics for the pouch.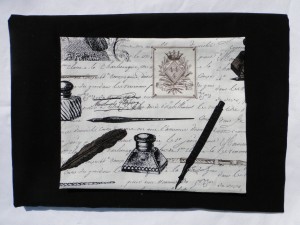 I chose a design based on a recent tutorial I had seen in the German "Patchwork Spezial" magazine although I did alter it a little and added some quilting. When it came to lining the pouch I decided to go a bit daring a choose a Kaffe Fassett Paperweight print from my stash. I do hope that my partner likes this fabric as I know Kaffee Fassett designs can be a love or hate thing for some people.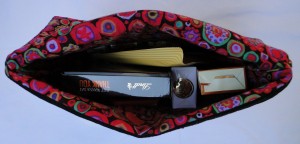 The pouch is closed with a sewn on magnetic clasp. I've found in the past that these clasps can be really difficult to open but that by mounting the top piece upside down it will still close, just not quite as firmly, making the pouch easier to open and greatly reducing the risk of the clasp literally ripping off the fabric.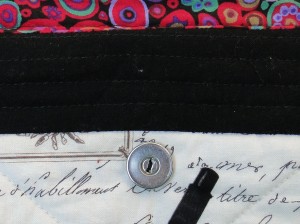 I added a covered button on the outer flap of the pouch for decoration (and to cover the stitching from the clasp!).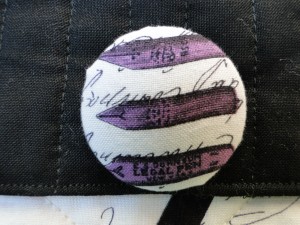 There are plenty of goodies packed into the pouch. I had initially bought a several bars of Cadbury's when home in Ireland this summer but then discovered that Cadbury's is also made in Australia. I did a bit of research and discovered a few bars from Ireland that didn't appear to be available in Australia so packed those in. I also couldn't resist adding a Tayto chocolate bar. This is someting truly Irish. Tayto are Irish crisps (potato chips). It has long been known (to some) that eating a few of the cheese and onion flavoured crisps along with a piece of chocolate is rather tasty. Tayto have decided to introduce a limited edition chocolate bar with the two already mixed. Like marmite and so many other things it's a love hate thing. I love it, I wonder will my partner?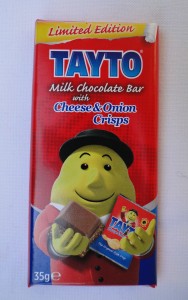 Given that I'm living in Switzerland I also added some of our favourite sweets/chocolates. Amongst the Swiss additions there is a nice piece of Toblerone – yes I know it's available pretty much world-wide but it's considered typically Swiss so I coudn't not include it.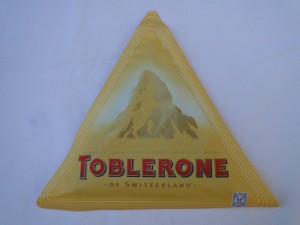 There are several more goodies in there but I'm not going to reveal any more here, nor am I going to reveal a full photo of the finished pouch at this time. You'll have to come back in a week or two for that because I do want my partner to have a few surprises to look forward to when her post arrives.
All in all this sweet swap has been a great experience and it has encouraged me to sign up for more swaps. A huge thanks to Alyce for organizing this swap and here's to the next one!