A couple of weeks ago I posted some sneak peaks at the sweet pouch I had sent to my partner Lynne in Australia for the Sweet Pouch Swap being hosted by Alyce over at Blossom Heart Quilts. Well now that my pouch has finally made it's way all the way to it's destination I'm happy to finally reveal it.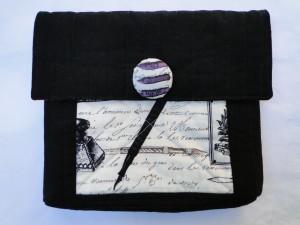 I am so pleased that Lynne is delighted with her new quilted pouch. I chose the print from the Nevermore Collection by Michael Miller as the main fabric as she had asked for a black and white combination and I knew she loved vintage books. I must admit it wasn't all plain sailing when putting the pouch together. I completely forgot about the directionality of the fabric when planning the original layout of the fabric and had sewn a single wraparound piece for the body.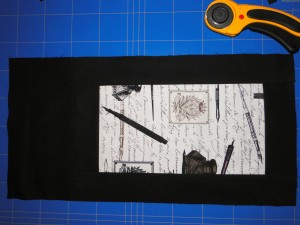 Which of course meant that from the rear the pouch was going to look somewhat upturned!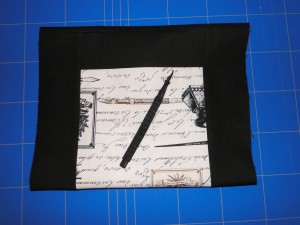 Thankfully I quickly realised my problem and with a quick rip and insertion of an extra black band at the base all was corrected and I think that it actually improved the pouch (definitely three cheers for the mistake!). The pouch was finished with a Kaffe Fassett Paperweight print lining and a magnetic clasp disguised by a large covered button on the flap.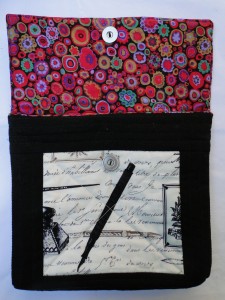 I choose sweets from both back home in Ireland and here in Switzerland . As well as the unusual Tayto bar, a limited edition blending of Tayto cheese and onion crisps (potato chips), I also picked up a few Cadbury's bars in Ireland that didn't seem to be available in the Australian Cadbury's selection. From Switzerland there had to be a Toblerone, even though it's available Internationally, along with a few other chocolates and sweets that we all love here.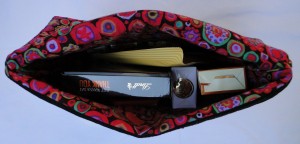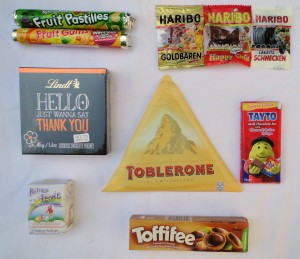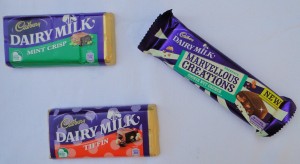 This swap was my first, and most defintiely not my last. It has defintiely given me the swapping bug and I look forward to stitching lots more goodies to swap in the future.