When I posted about my "English Garden" cushion last week I never thought to enter it in the Blogger's Quilt Festival over on Amy's Creative Side, but as I see many other cushions in the doll/mini quilt category I thought I would enter mine.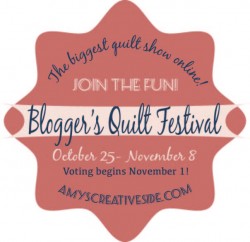 The "English Garden" cushion came about after I had created some QAYG flowers from Liberty fabric scraps. I want to use one of the flowers on a cushion but wanted to frame it somehow and so I actually created the cushion/mini quilt from the outside in.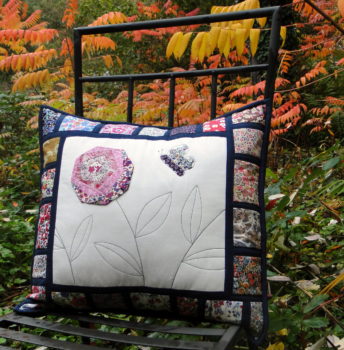 Wanting to make use of the remaining fabric pieces inthe scrap pack I first created the sashed border, using a dark navy solid to seperate the individual fabric pieces. I have become a big fan of using dark solids in this manner as I feel they really make such bright fabrics as the Libertys I was using pop. Once the border was made I used it to frame a central cream panel and there I created my simple garden scene.
In place of quilting I stitched some leaves and stems in green, and topped one with my QAYG flowers.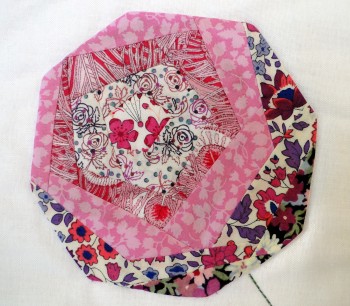 I added an EPP butterfly that I outline stitched to give it more definition.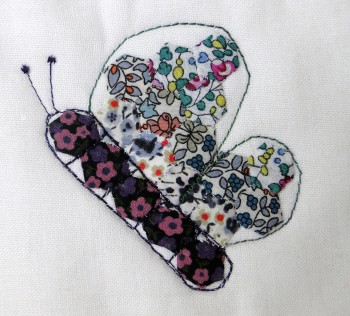 The butterfly was created from quarter inch hexies. They may be small, but I find them great fun to make.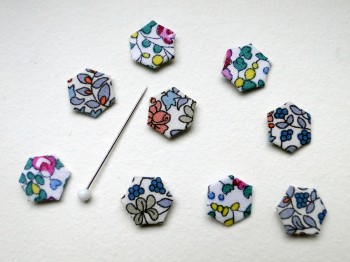 The overall result is a mini quilt that will find it's use mainly as a cushion at present. However, I suspect that given my preponderance for making cushion covers I will soon have too many and will be rotating them between the cushions that I have and when that time arises I will defintiely make use of this piece as a wall hanging.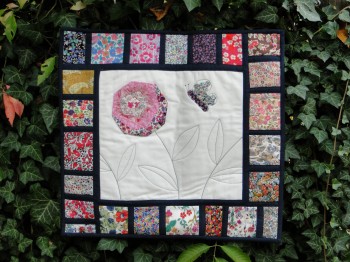 I hope you have enjoyed reading about my "English Garden" cushion, and that, if you haven't already, you will take the time to visit the Blogger's Quilt Festival and read about all of the other wonderful creations that have been entered.