Today I'd like to share with you the second project I made with my QAYG Liberty Flowers. This is my "English Garden" cushion.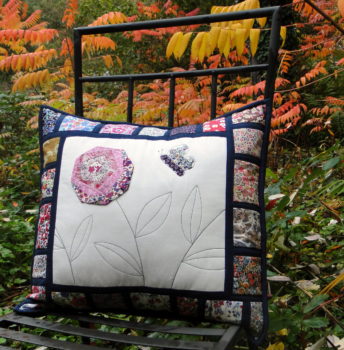 I love to use these flowers appliqué style. For this project I started by making the framed cream center. I used navy sashing and the Liberty scraps remaining from my QAYG Liberty Flower tutorial for the outer border. I then spray basted my quilt sandwich and once I had that done I arranged the layout of the central design. The stems  and leaves were first sketched in place with a disappearing fabric pen, then stitched in King Tut Malachite tone-on-tone thread. I then attached the flower, simply pressing in place to adhere with the interfacing backing and then slip stitching around the edge to finish. The butterfly was outline quilted to highlight it's shape and to finish I quilted the sashing an eighth of an inch from all seams.
The butterfly itself was created using English paper pieced hexagons. It took a little time to create as I chose to use tiny quarter inch hexagons, but I love the end effect.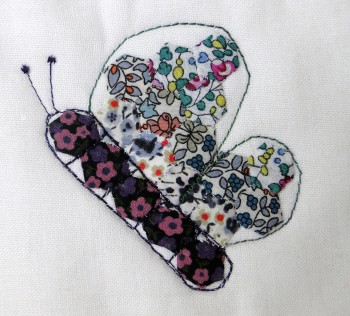 I made a basic envelope back using some "periscope" from The Alexander Henry Fabrics Collection that I had in my stash.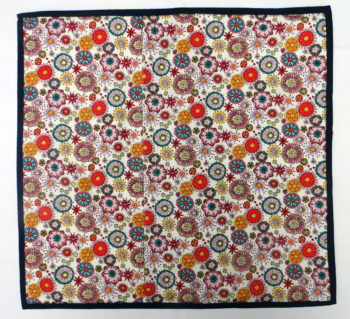 I think my next project will have to be making a filler for this cushion. All of the ones that I have at present are a little on the large size and as the size of the finished cushion was determined by the number of fabric scraps I had left over it is a little smaller than I would normally make, finishing at 17.5 x 16″.
I hope to see you again on Friday when I'll share the final project I made incorporating the third QAYG Liberty flower. In the meantime if you'd like to try you hand at making your own flowers and cushions you can find the QAYG Liberty flower tutorial over on Very Berry Handmade, and the scraps are available in the Very Berry Fabrics store on Folksy.