Tuesday was a rather dull and damp day here but was brightened no end by the arrival of the parcel delivery that morning. The postman brought with him a large white box, all the way from Florida, and in it was this beauty, the tote my partner in The Secret Tote Bag Swap had made from me.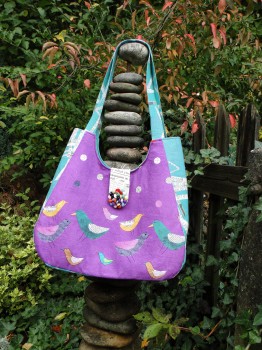 Isn't it a beauty? Linda couldn't have made a more perfect bag for me. Not only are the colours perfect, purple and teal are two of my favourite colours and I just adore them combined, but the fabric choices couldn't be better as I absolutely adore Carrie Bloomston's Collage. The size and shape too are just right. Ideal for a busy mum who not only has to carry around her own things but has to fit in a few bits and pieces for two little boys.
Have you noticed the decor on the flap of the bag? How clever is that? It's not a clasp but the weight keeps the bag closed, and it is so unique and quite stunning.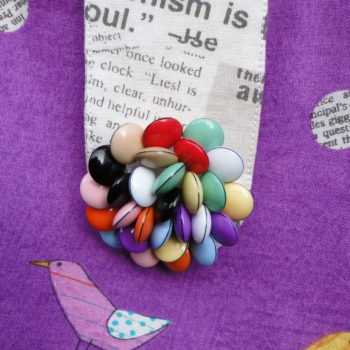 Inside there were more surprises for me. First was this beautiful pouch. I love the details of the paper pieced bird and that there is even a little feather zipper pull. This is going to be perfect for my current crochet project. It's living in a ziploc bag at the moment as it moves in and out of my bag so now I can ditch the plastic in favour of this lovely pouch.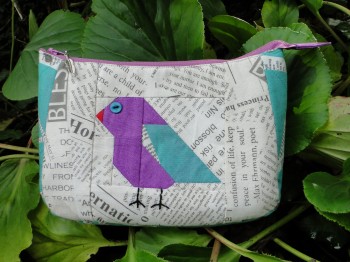 The pouch contained the final few surprises. There was a stack of fabric pieces along with an adorable measuring tape and stitch unpicker in purple. Did I mention that I just LOVE purple!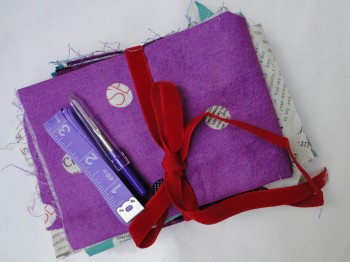 There are some leftover fabrics from the bag as well as some pieces of Urban Oasis by Benartex, also in teal and purple. I'm thinking that it won't be long before I transform these into something else fabulous!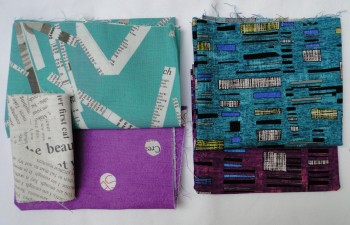 I must say that I have enjoyed taking part in this swap no end. I enjoyed making a bag for my own secret partner, watching all the different totes in their various stages of construction as people posted in the swap Flickr group, and of course receiving such a wonderful surprise in the post. I loved this tote from the moment I first saw photos of it under construction and I am so delighted that I will now get to enjoy and use it.