Back in January I was lucky enough to get to sign up to take part in the third round of the Sew Delicious Sweet Pouch Swap. Places in the swap are limited and go quickly so I was delighted that I managed to get a place as I had really enjoyed taking part in the previous round of the swap.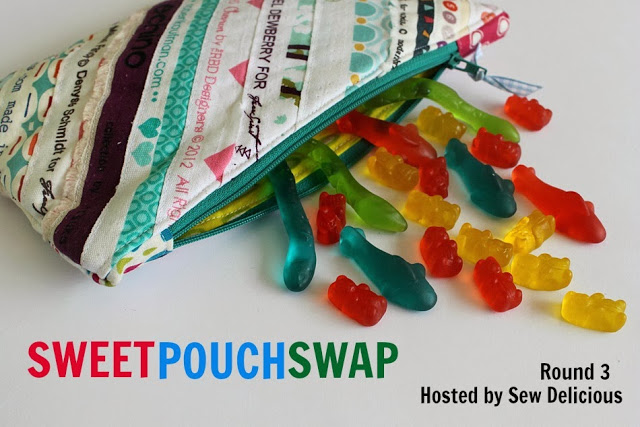 For this pouch I decided to continue working with linen and Liberty as I have been doing a lot of late. I had plenty of Liberty scraps from a couple of Liberty scrap packs that I had bought from Ali at Very Berry Fabrics and I knew these would be just perfect for the ideas I had. I started with one of my Liberty butterflies, although this was a scaled down version of my first design.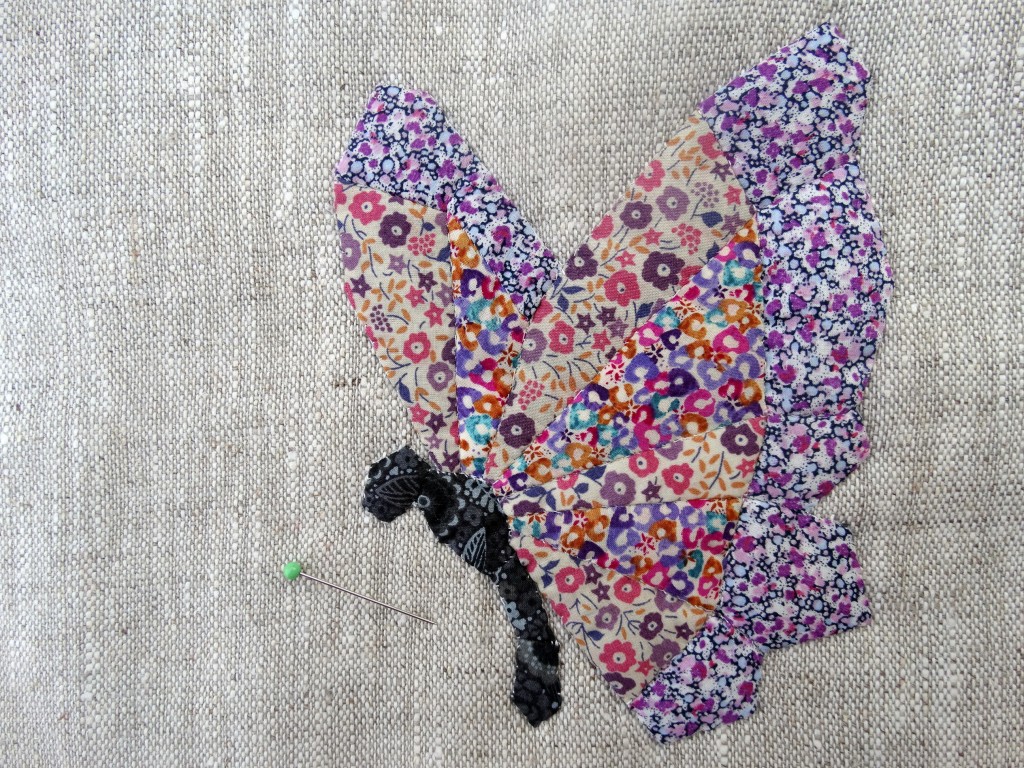 I appliquéd the butterfly onto the fabric for the front of the pouch and then embroidered on antennae and a small scattering of lazy dasies so that the butterfly appears to be almost hovering on the front of the pouch.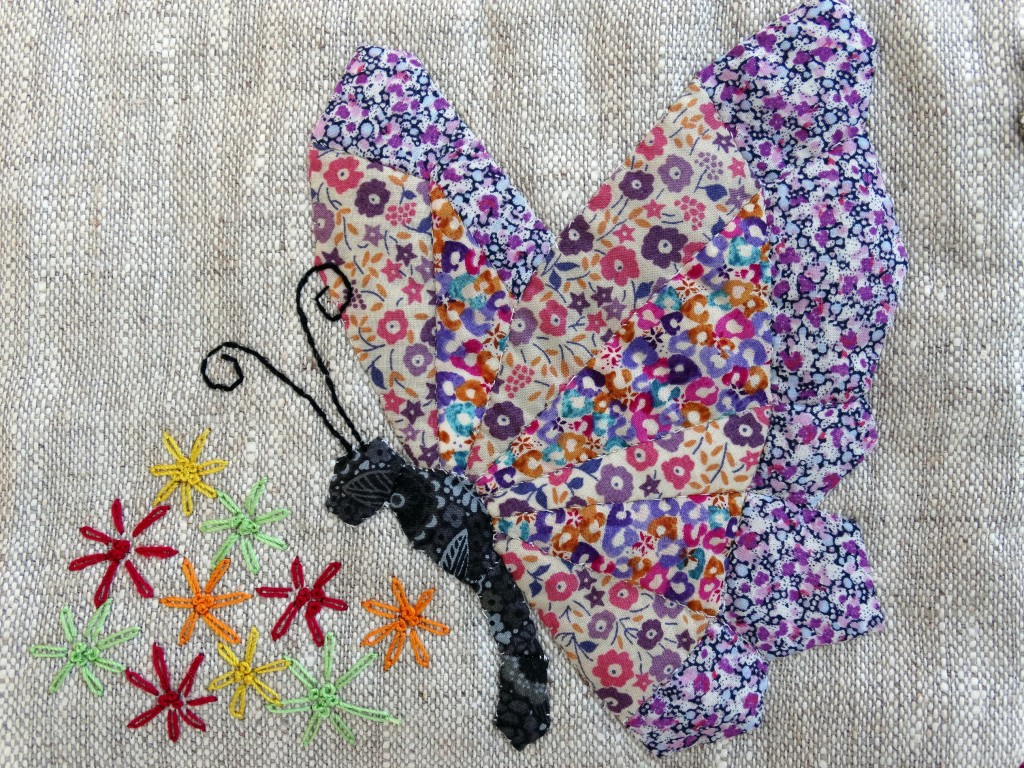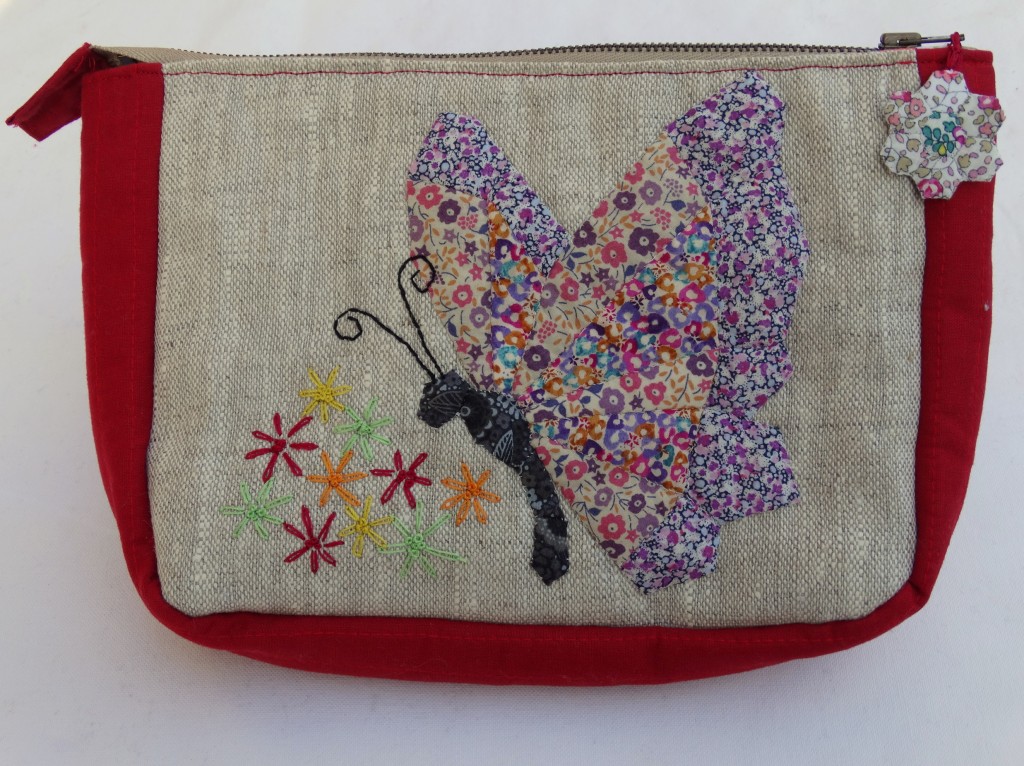 To continue with the floral garden theme, and with my using recently learned techniques, I reverse appliqued three circles of Libery fabric to the rear fabric for the pouch and then hand quilted the finished panel with silk threads so that each circle formed the center of a bloom.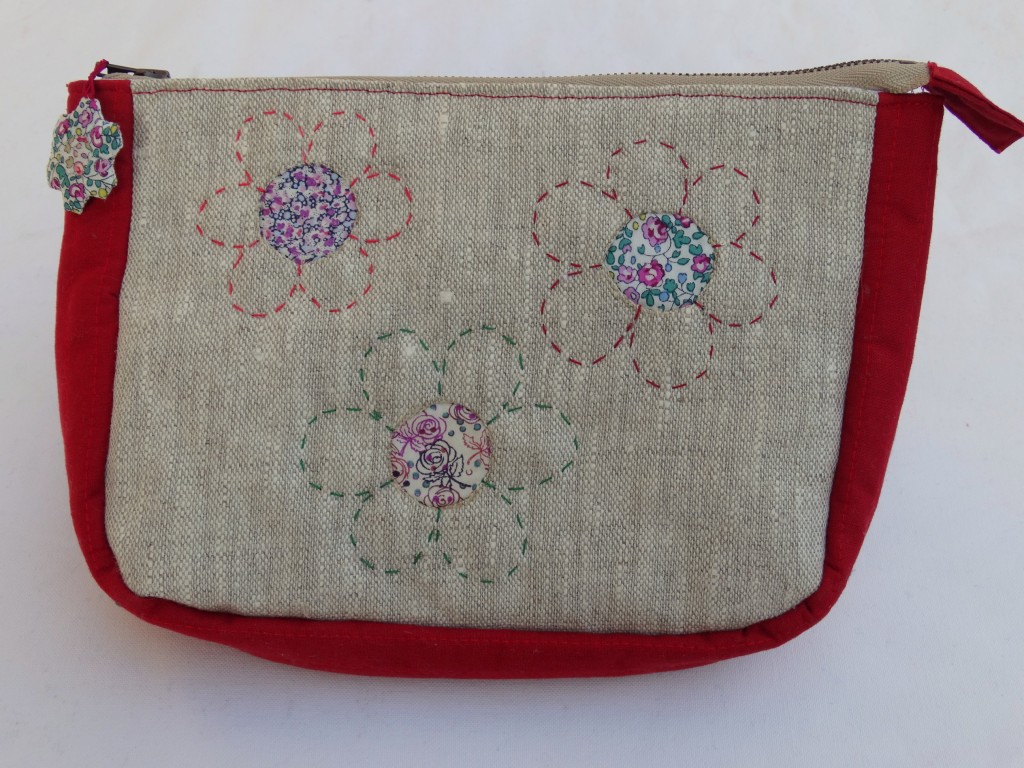 For one final final floral flourish I made two EPP hexie blooms using the quarter inch hexies I have become so fond of and after sewing these back to back I attached them in the form of a zipper pull.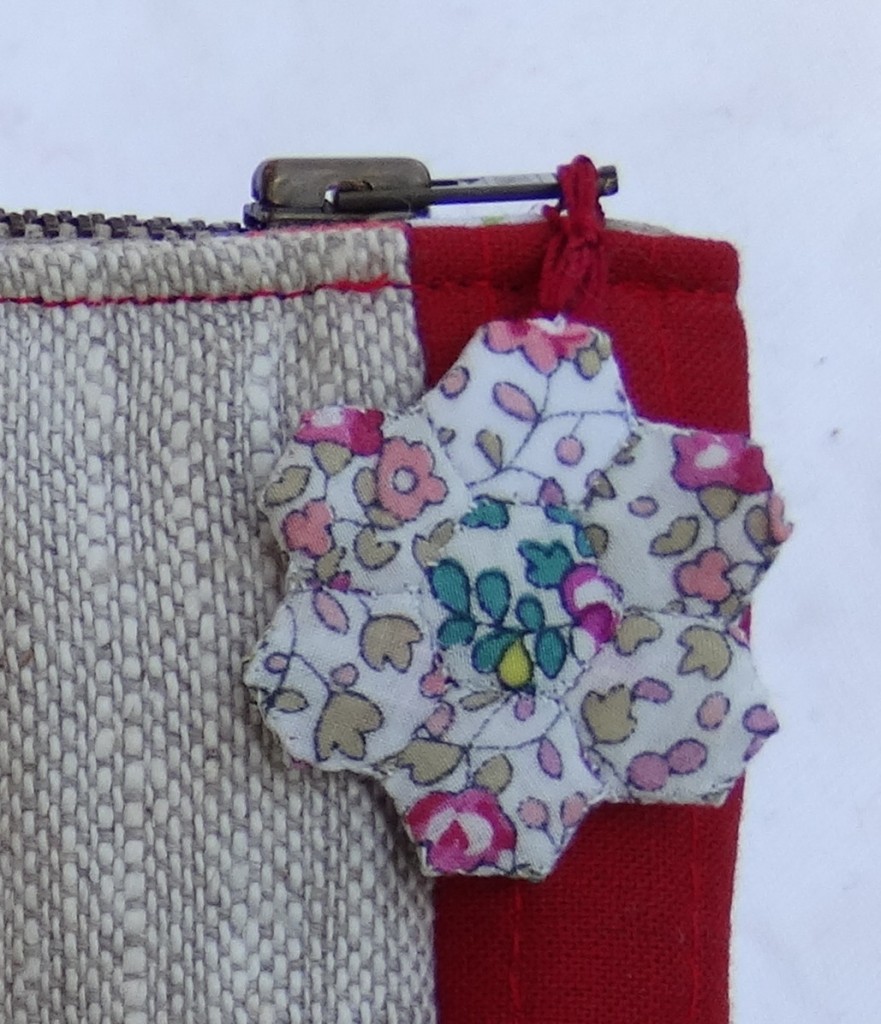 Like myself, my partner Jamie is a big fan of dark chocolate so I chose a nice selection of dark chocolate delights to fill the pouch. I couldn't resist adding a few sewing goodies too so there was one of the Very Berry Liberty scrap packs I like to keep to hand for gifting along with a little snail tape measure, that again fit so well with the garden theme I had worked into the pouch.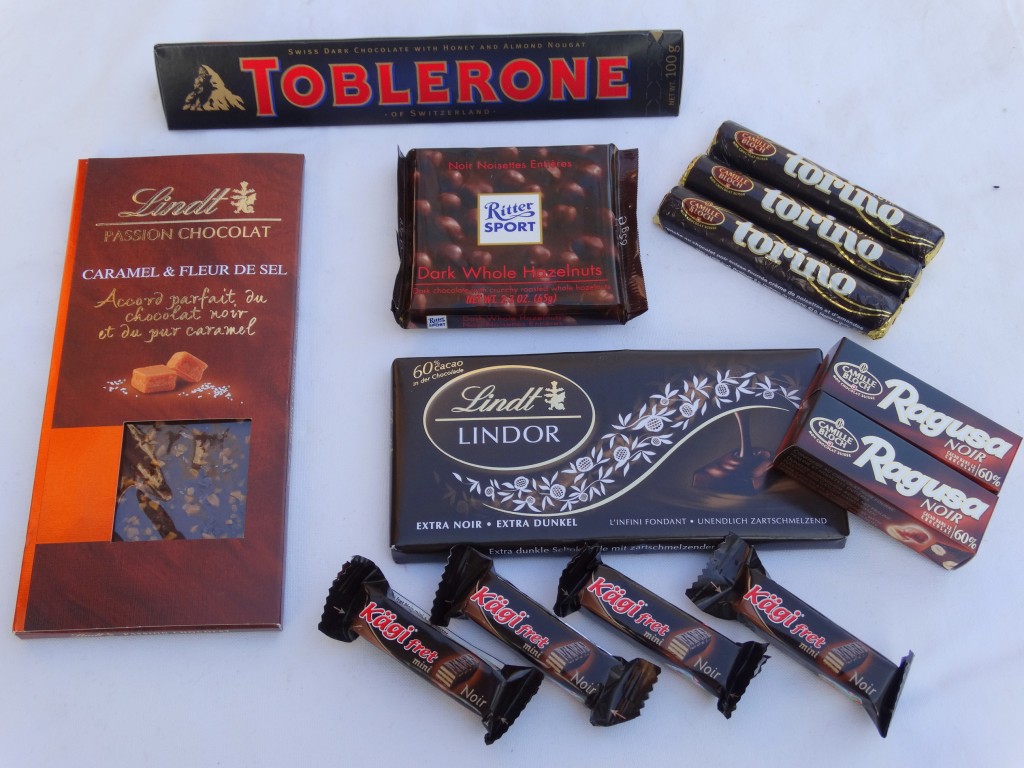 The pouch I received in return was, or should I say is, adorable. Jamie used a row of flying geese featuring fabrics from Bonnie and Camille's Marmalade line on each side and the end result really is beauitful.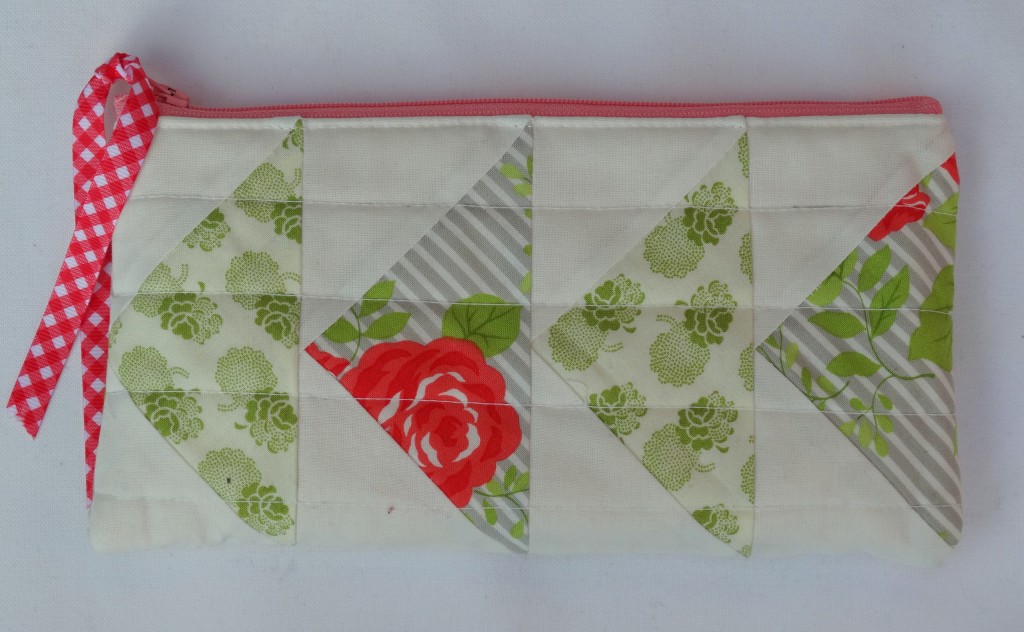 Not only was the pouch perfect but it was perfectly well stuffed, and accompanied, with lots of delicious goodies. Jamie defintiely picked up on the fact that I love peanut butter/chocolate and salty/chocolate combinations. Lucky me.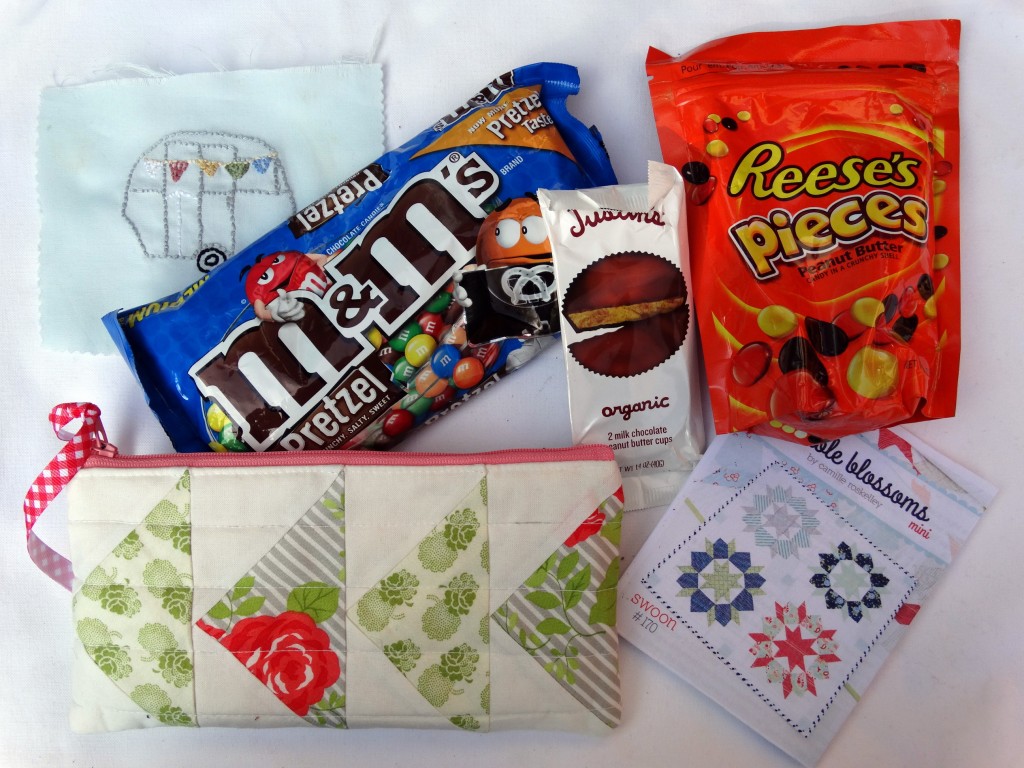 Jamie also sent me on a copy of the mini swoon pattern from thimble blossoms. I've never managed to make a full swoon, despite my best intentions, so maybe now I will finally get around to making one.
And there was one final and very thoughtful gift – an embroidered caravan design. Jamie told me that she thought think she saw some pictures of a caravan on one of my Pinterest boards and that the reminded her of a drawing she had sketched in a note pad and then embroidered, and that she thought she'd pass it on. For someone whose summer holidays every year since they were born has involved caravanning this is just the perfect little stitching. I am still looking for the perfect frame for it but as soon as I find it I will be hanging this stitching up to remind me of all the wonderful summers in my past, and all those yet to come!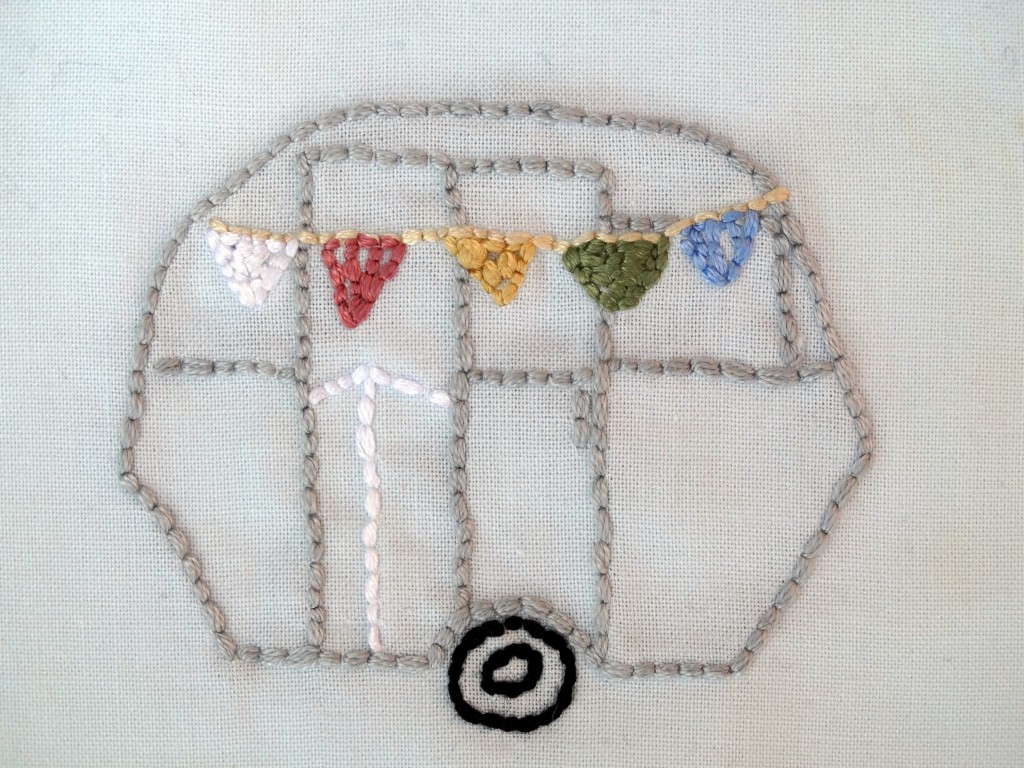 All in all this swap was a really fun and wonderful experience and I look forward to hopefully signing up for the next one which, I believe, will be hosted by Alyce over at Blossom Heart Quilts. Not only is the swapping fun but as this is an open swap it is so much fun to meet new people and make new sewing friends.
I'm linking up this finish to TGIFF which is over at Sew Giving this week, as well as with Can I Get a Whoop Whoop over at Confessions of a Fabric Addict.