Edit: It was only after I had entered this quilt, and two others, in the Blogger's Quilt Festival that I realised that we were only supposed to enter two, at most. So I have withdrawn this one, and left my two other quilts: one mini, one modern. And as for deciding which to withdraw well that was simple, I asked my son to pick a number between one and three and as he choose one this was withdrawn as it was the first one posted!

It's Quilt Market time and that means two things: firstly lots of the quilting community are converging on Pittsburg for Quilt Market and secondly those of us in blogland get the oppertunity to join in the Bloggers Quilt Festival over on Amy's Creative Side. This biannual festival is timed to run conncurrently with Quilt Market and is a veritable celebration of quilts large and small. As I have decided to enter a few of my quilts into the festival let me start by welcoming those of you who are visiting from the festival.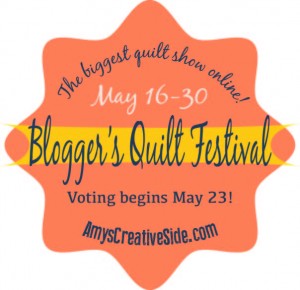 If you are a regular reader of my blog then you will remember that last month I showed you the first beginnings of a mystery quilt project that I was making for the Peaks retreat that I was going to attend at the end of April in Morzine, France. Well I'm happy to say I managed to get the quilt finished at the retreat. Working in the most delightful sewing space in the Chalet 4 Vents I easily powered through making both the top and back of this quilt.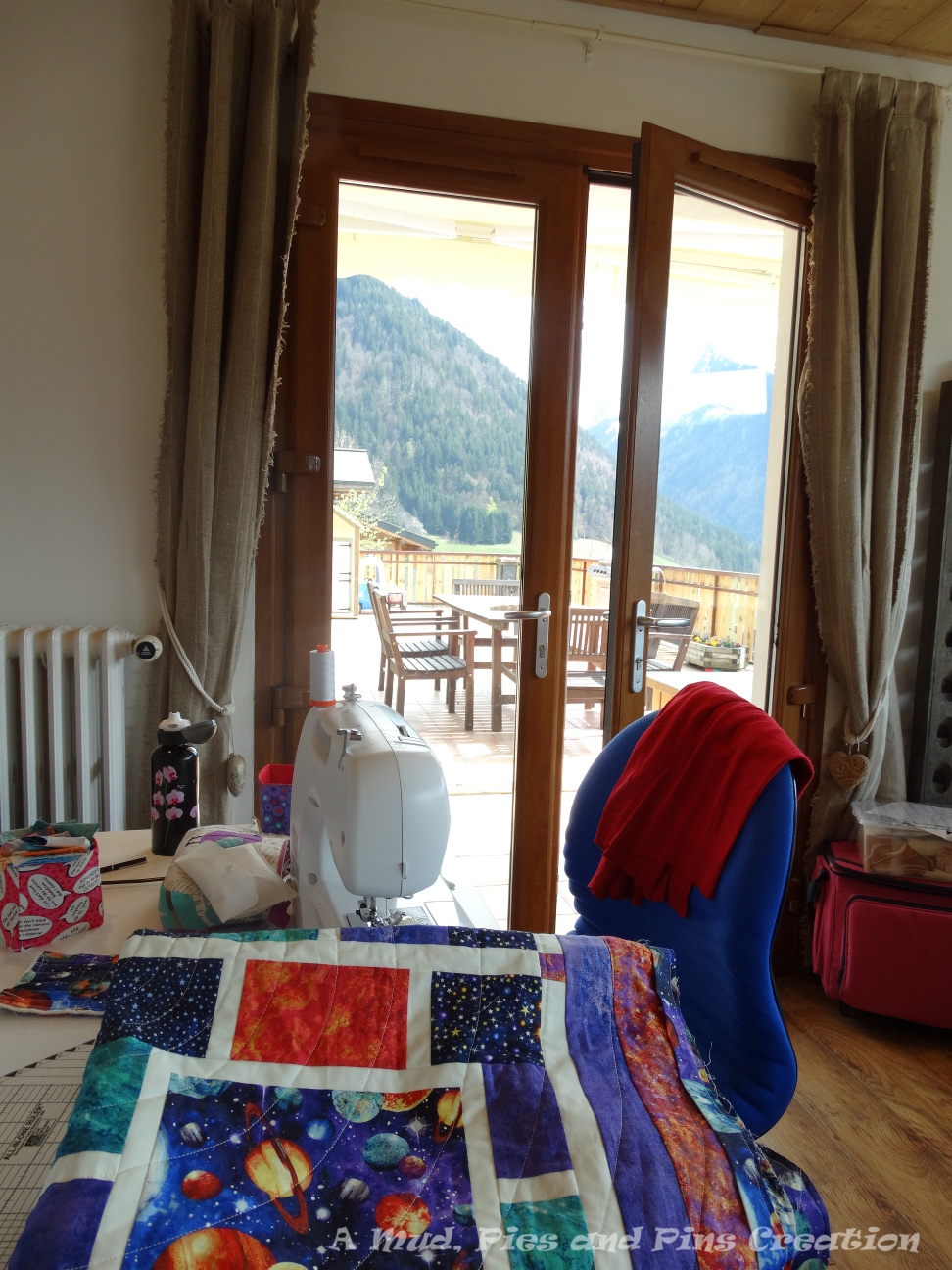 And then it was quite a joy to relax in the sun with my hand binding and a cuppa. I know many people are not a fan of hand binding but it is perhaps my favourite part of quilt making, and it is doubly so in such wonderful surroundings.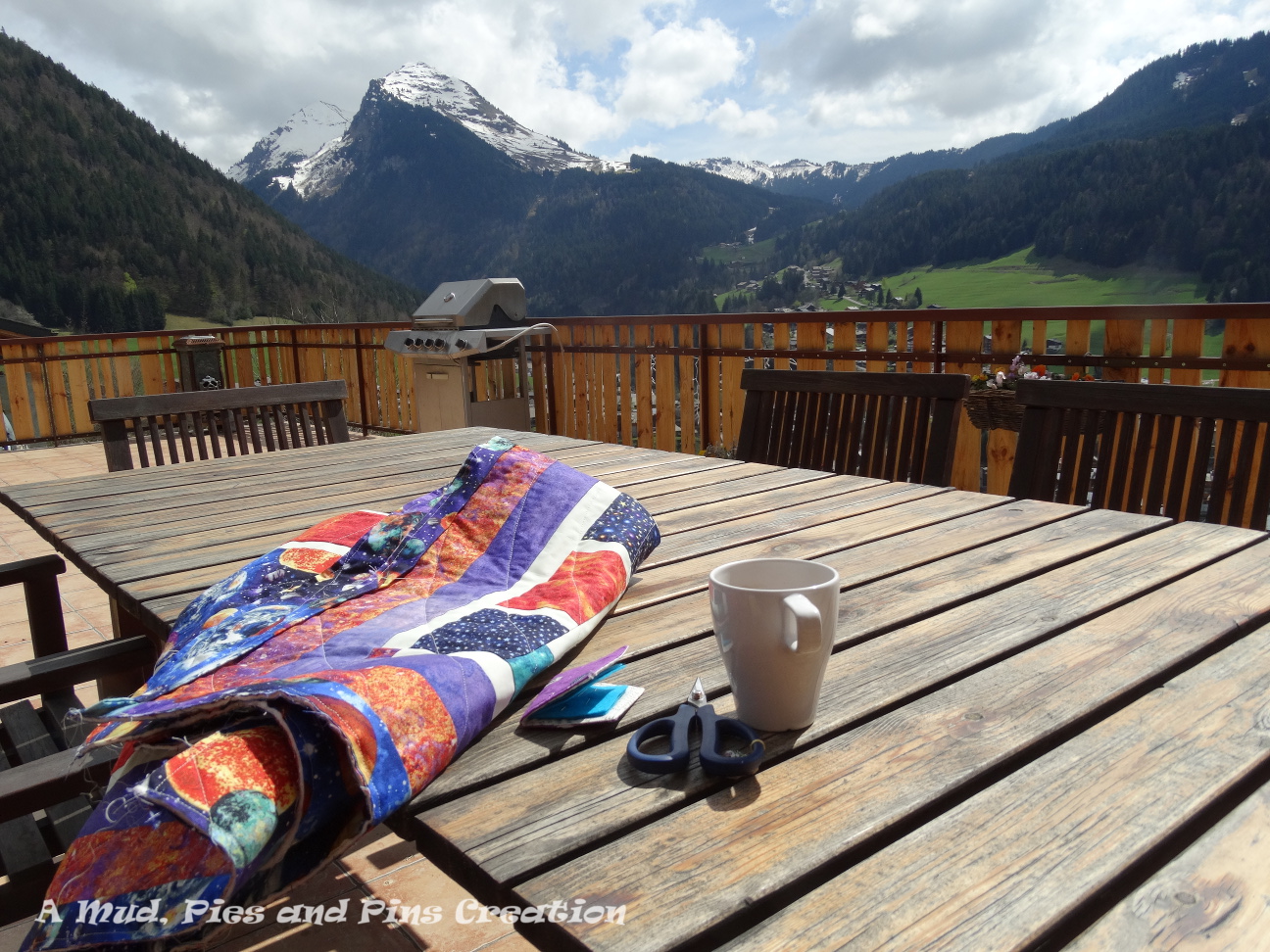 And it didn't take long before I had finished "Out of This World". Not a very original name for the quilt given that it is also the name of the fabric line I used, but I felt it was rather appropriate so I stuck with it.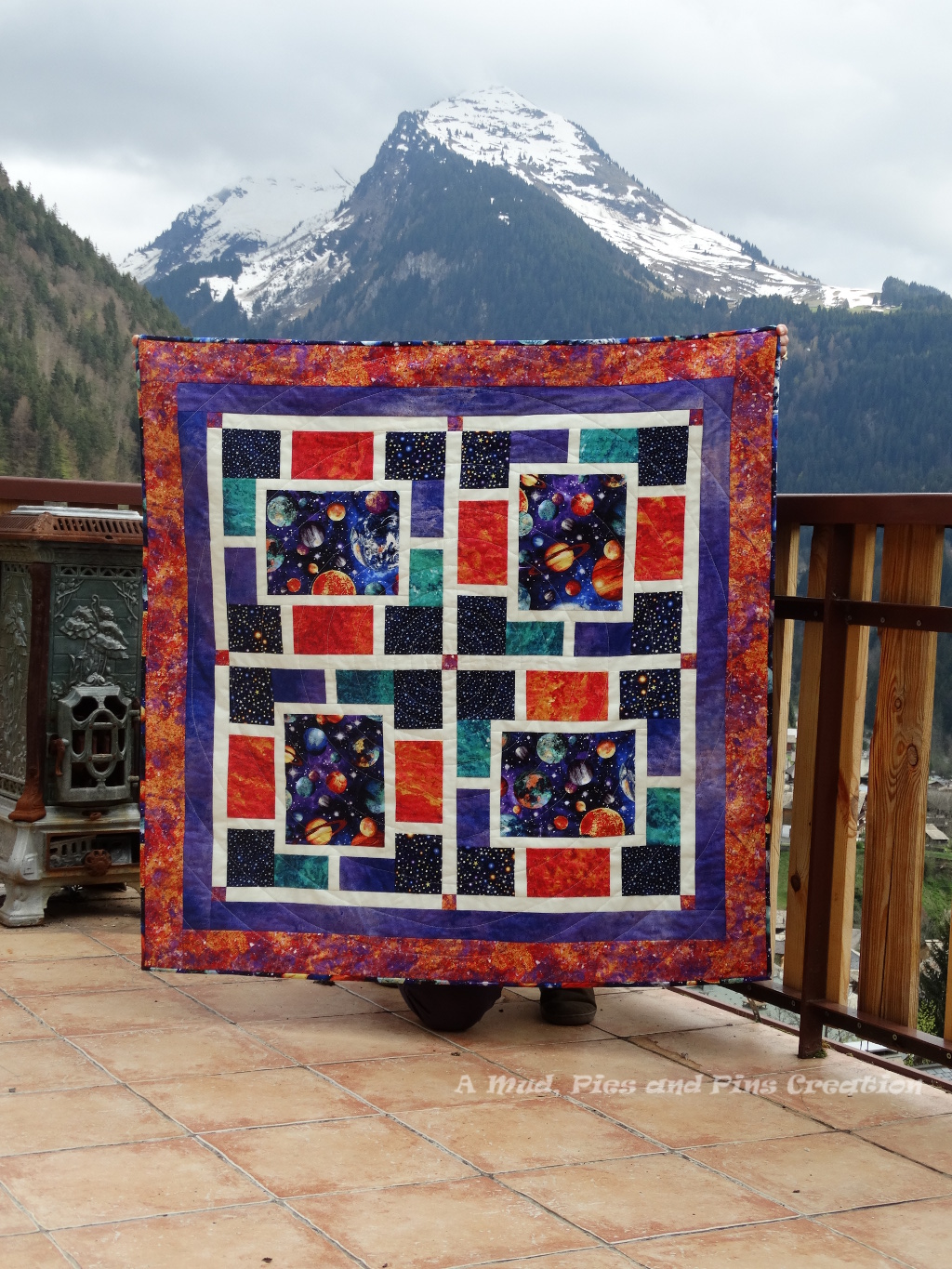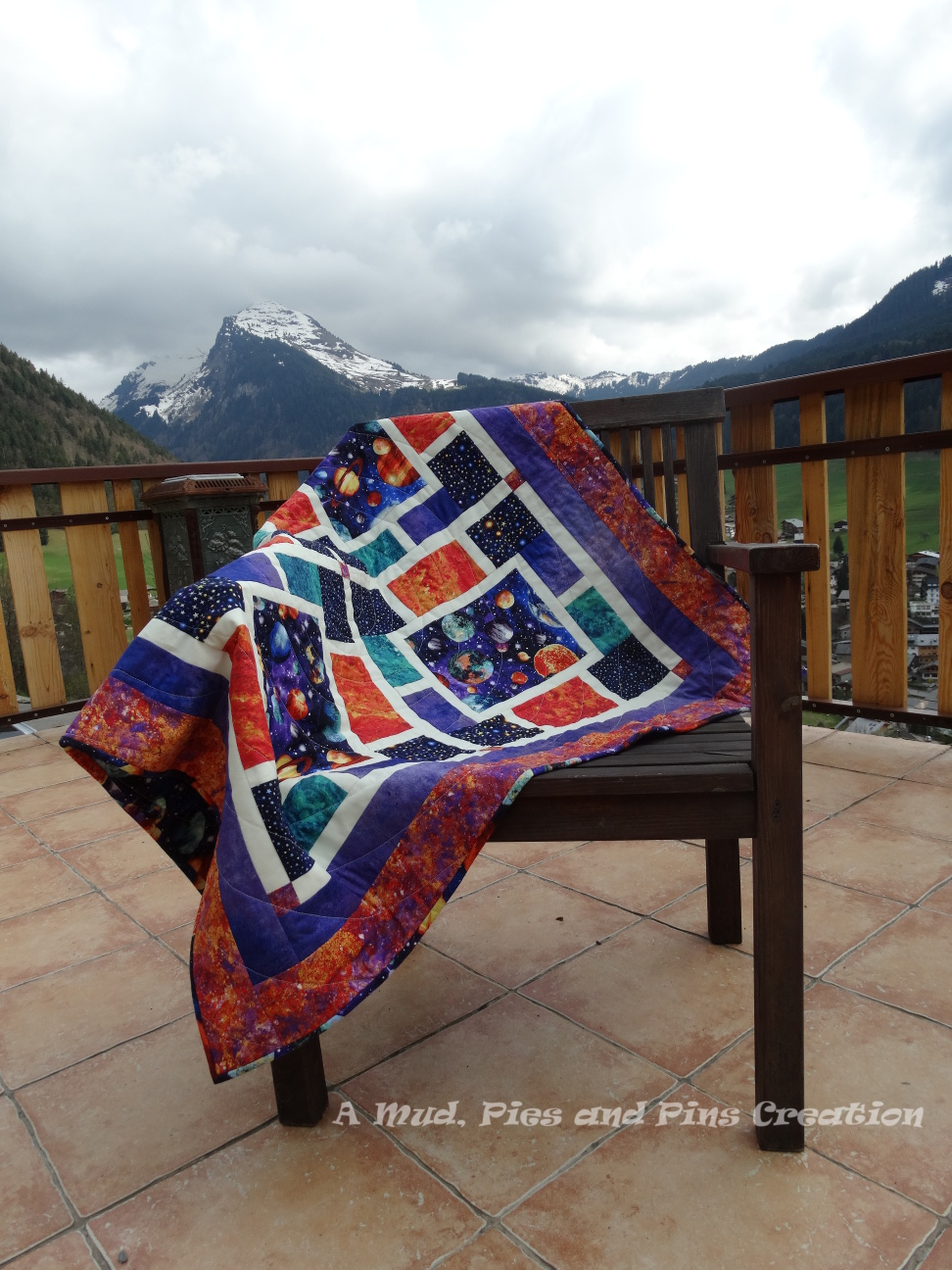 When I bought he fabrics there was a fabric panel included which depicted the solar system. I wanted to incorporate it into the quilt as well but as it was rectangular in shape I decided to square it off before adding a few borders and using it for the quilt back.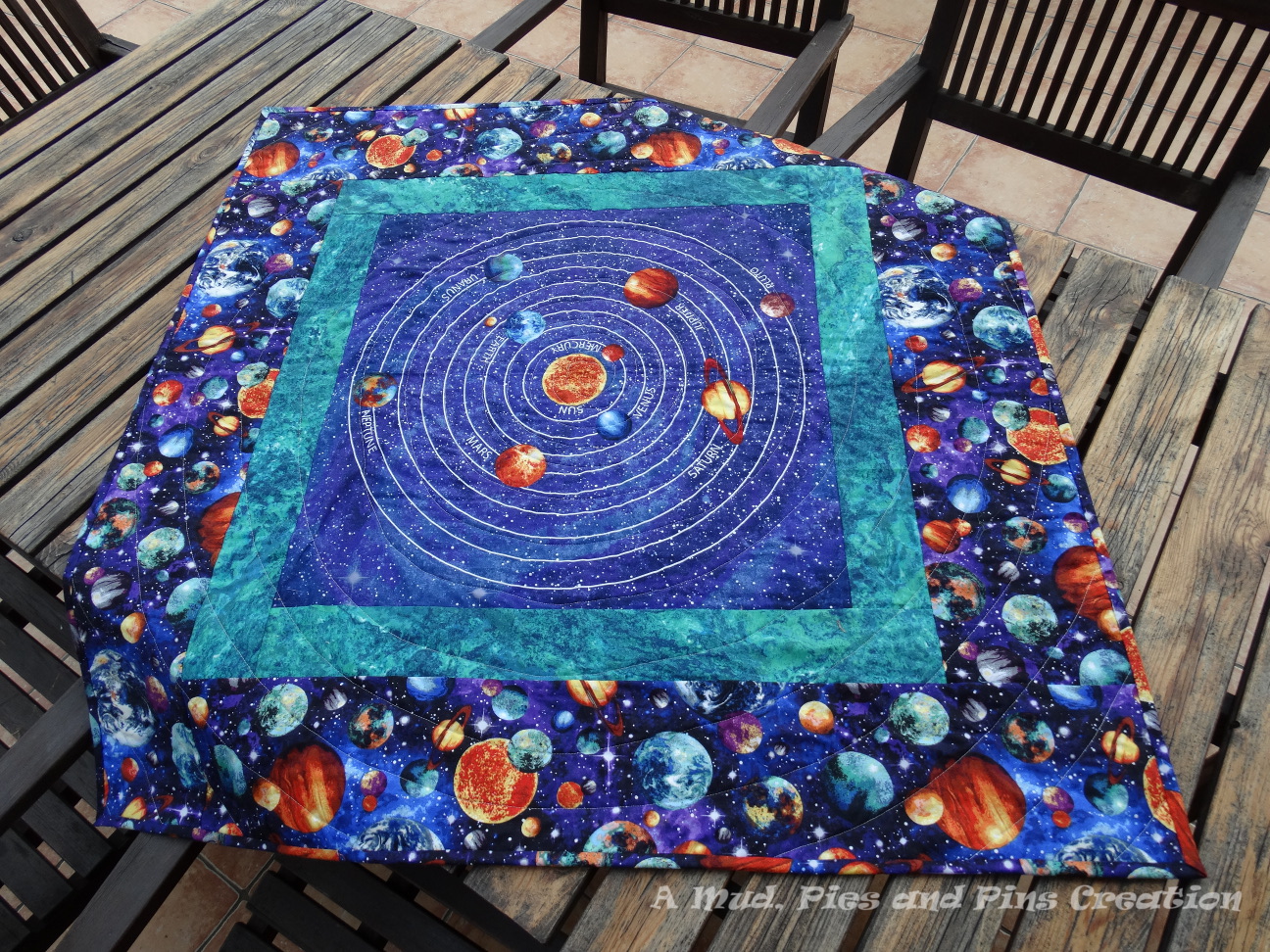 For the quilting I simply stitched one large radiating spiral using glow in the dark thread on the top of the quilt. This added to the fun of the quilt along with the glow in the dark sashing, and glow in the dark stars that are present on many of the fabrics. You can really see the effect in the images below, both are the images that resulted from prolonged exposure photos of the quilt glowing away in the dark.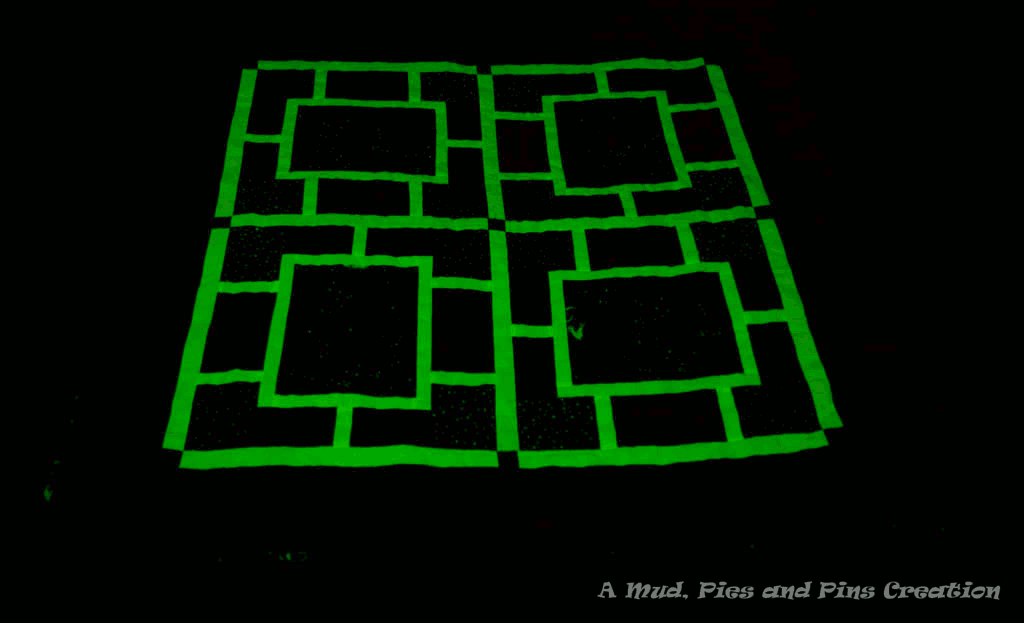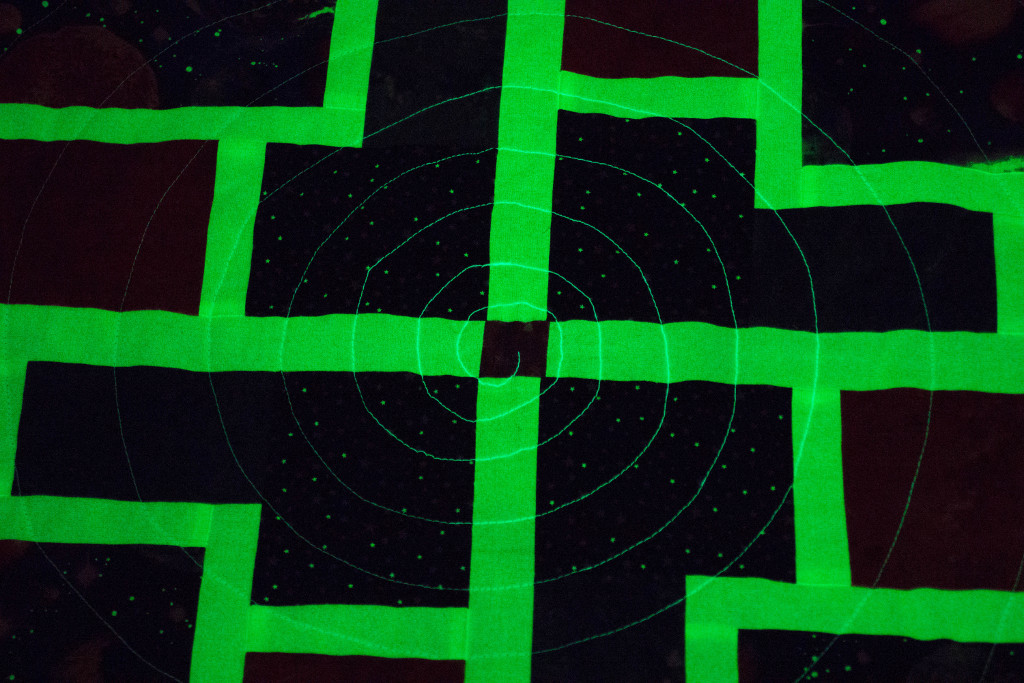 I made this quilt for my eldest son who had it unpacked before I even made it back into the house after the retreat. It's been a big hit, unsurprisingly, and although it was originally intended as a snuggle quilt for sofa time it quickly moved to his room where it has to be "charged up" every day so it can light his way to bed each night.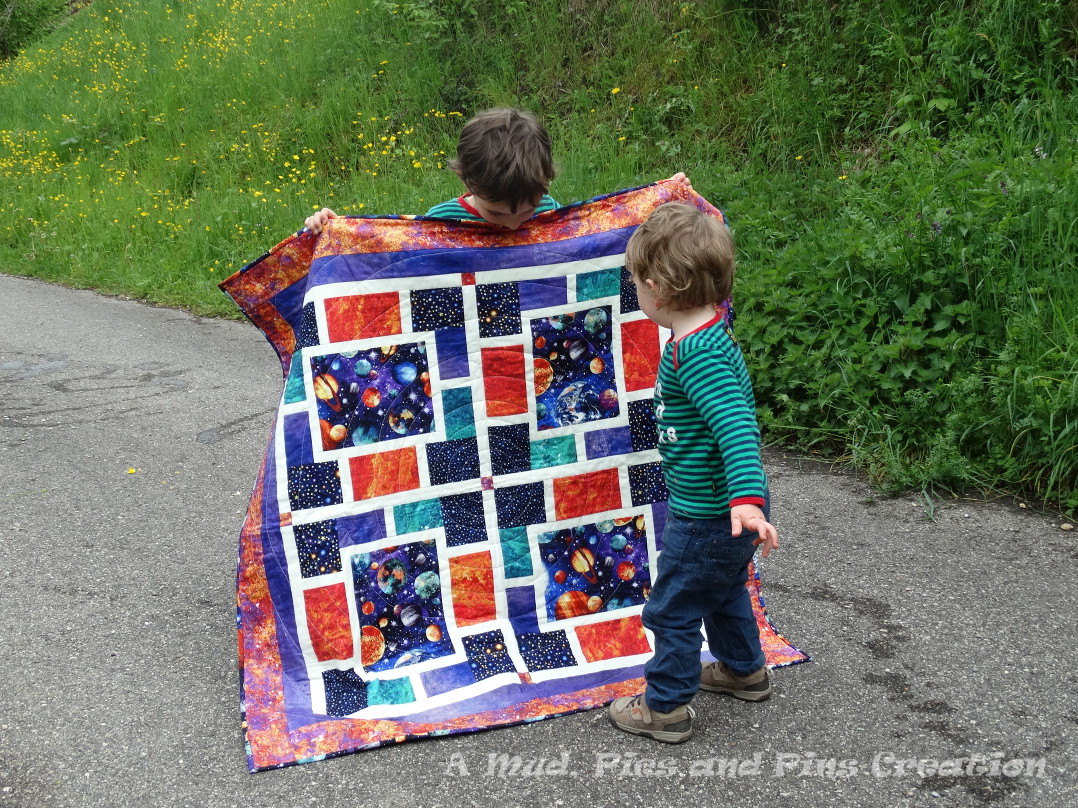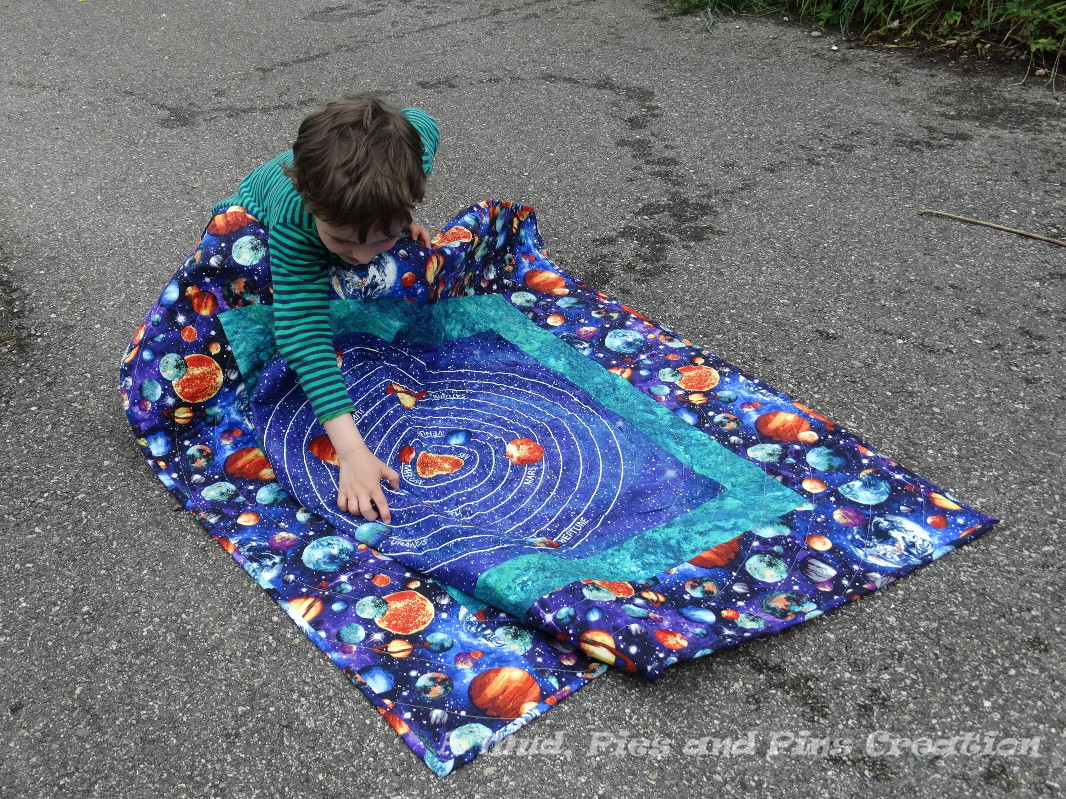 I hope you've enjoyed reading about my "Out of This World" quilt. If you've been visiting from the Bloggers Quilt Festival then you can click on the button below to return. If you're one of my regular readers and you've not visited the Quilt Festival then I encourage you to do so as there are lots of wonderful makes to be seen, not only in the Small Quilt category where I have entered this quilt, but in all of the other categories as well. And while you are there don't forget to nominate your favourite quilt in each category for the viewer's choice awards.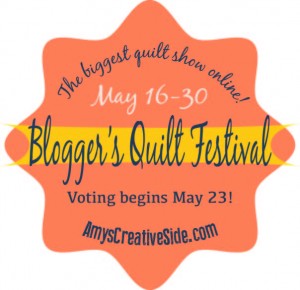 Quilt statistics:
Name: "Out of this World"
Finished size: 45″ square
Quilting: One large spiral radiating from the center, Superior Glow in the Dark on Top, Aurifil #2021 50wt on the bottom
Fabrics used: Stonehenge Out of This World by Linda Ludovico for Northcott fabrics and an unknown glow in the dark cotton for the sashing
Design: Based on the Breezeway pattern, by Pine Tree Country Quilts, in the Quilt Trends magazine, Summer 2013
Finished: April 2014