I hope you'll forgive my little absence from my blog. I've been buried under a whole heap of sewing projects for the past couple of weeks. If you follow me on Instagram then you've been getting little sneak peeks of a couple of the projects I've been making and although I have lots of finishes to share with you, today I am going to start with just one.
A couple of months ago I saw that Quilt Sandwich Fabrics were holding a Briar Rose Challenge and of course I couldn't resist. A chance to sew with some Briar Rose fabrics, and a challenge to boot, what wasn't to love? It was a very fun idea for challenge – you pay postage and they send you two random fat eights of Briar Rose fabric which you have to use to sew something.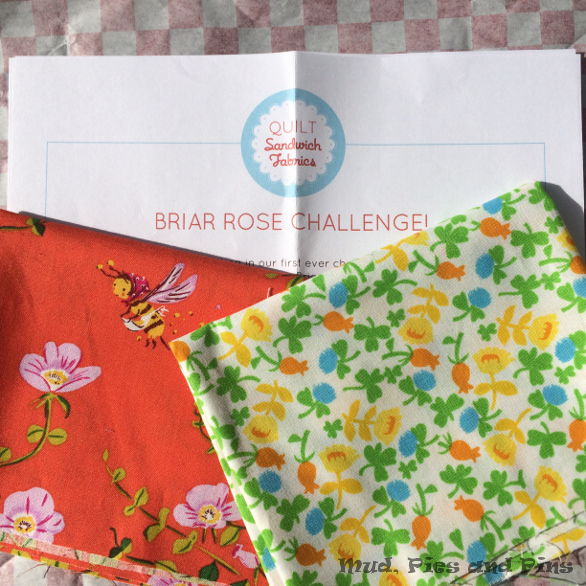 You can use as few or as many other fabrics as you like as long as you use the two fabrics that were sent. I went through lots of different ideas when I opened my surprise package, but in the end I decided that I was going to use the fabrics to trial some new English Paper Pieced butterfly designs I had just drawn. I quickly settled on my colour scheme based on what matched best from my stash.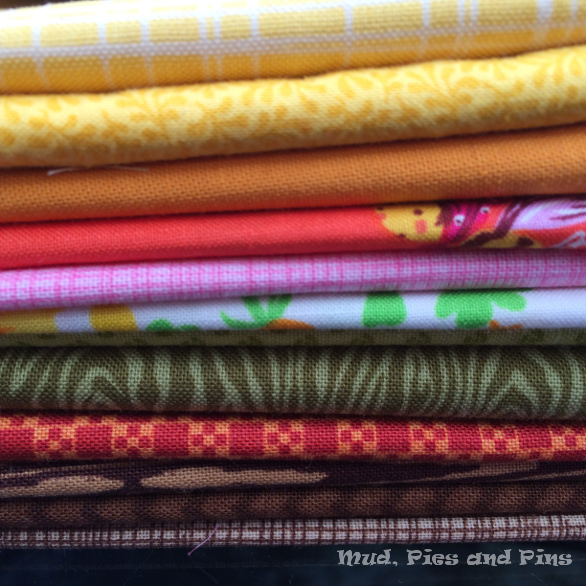 I set to work on the butterflies, each of which contained one or other of the two challenge fabrics, and they became my on-the-go project for a few weeks. I worked on them on trains, steam trains, visiting family and outdoors.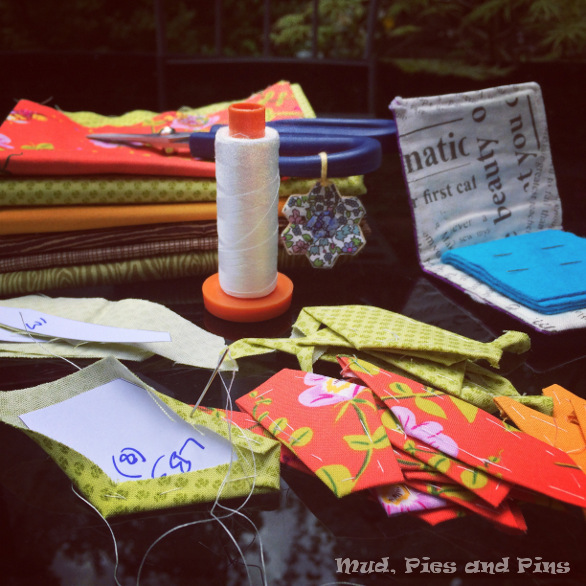 As I had originally started designing butterflies with the view of making a large butterfly quilt I decided this was the perfect oppertunity to trial that idea so I quickly set to appliquéing the butterflies to a plain cloth background (more outdoor work).
Once I had the central panel finished I added a few of my quilt as you go blooms which incorporated the last few scraps of Briar Rose fabrics including the bees that I had fussy cut from the Coral Briar Rose Nanny Bee fabric when making the butterflies.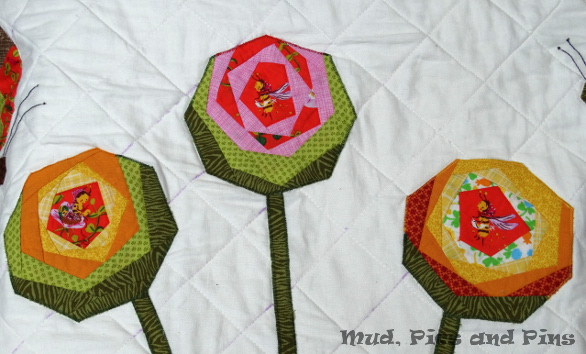 To finish the quilt top I added a border in Kona Cheddar and a second border in the same off-white I had used for the central panel and then I set to quilting. My original intention was to free motion quilt a series of butterflies and blooms all over the quilt. I practiced and practiced and soon felt conident enough to start on the quilt itself. Big mistake. My first attempt at a butterfly was a disaster. Having only worked on trail quilt sandwiches before I defintiely hadn't reckoned on how difficult it was going to be to move a full quilt, never mind moving it and dealing with serious space issues. My little machine just isn't suited to free motion quilting full quilts.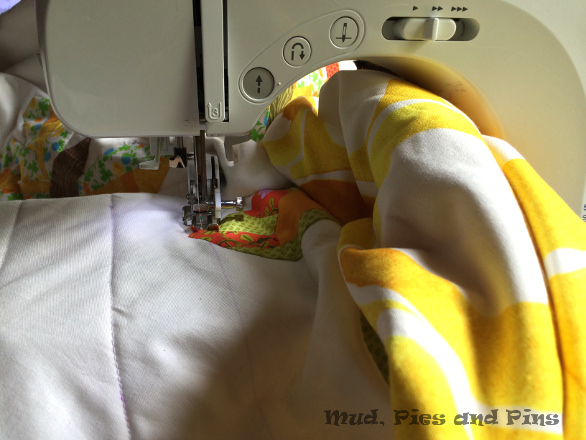 After slowly unpicking all of the disasterous butterfly I decided instead that I would do a simple trellis like pattern on the central panel and I'm glad I did, as it still imparted the garden like feel I wanted the quilt to have. Okay, at first I wasn't glad as trying to feed the quilt over and back through my machine involved some serious pushing and pulling especially as I stitched around each butterfly. I quickly switched to my reliable old Singer and life became so much easier with so much more harp space at my disposal.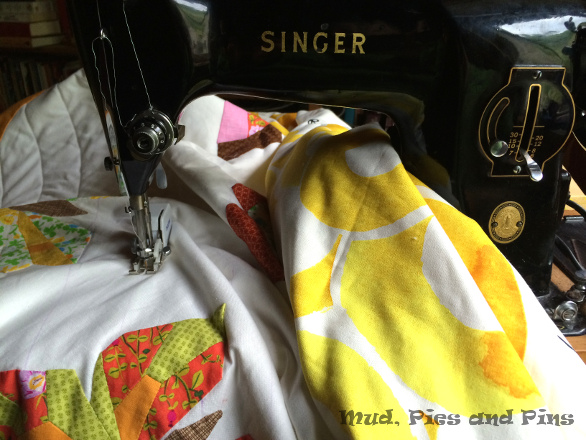 Once the central panel was finished I stitched in the ditch around the first border and then switched back to my Brother and used a decorative wave like stitch to quilt the outer border. All of the quilting was carried out with my favourite off-white Aurifil 50wt #2021.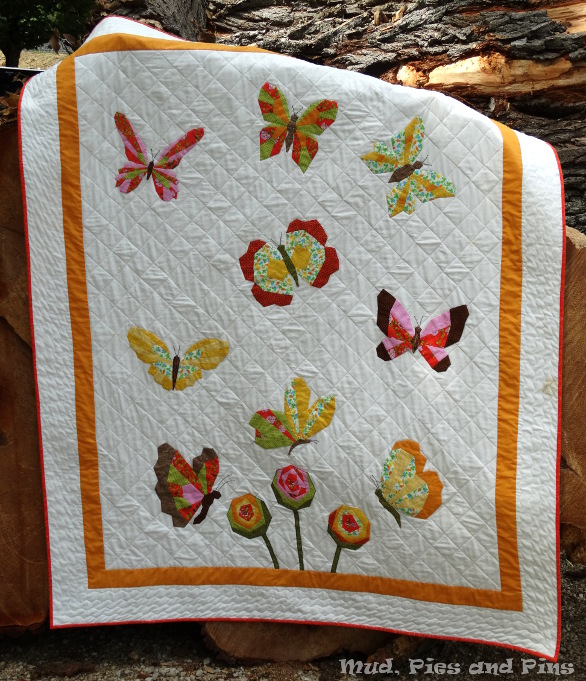 The quilt was bound with Botanics Tangerine Branches which picked up the colour of the coral fabrics in the butterflies. To back the quilt I used Ikea's Stockholm fabric. Although this is heavier than heavier than normal quilting weight fabric it combined well with the Quilter's Dream Select cotton batting I used to give the quilt a nice weight.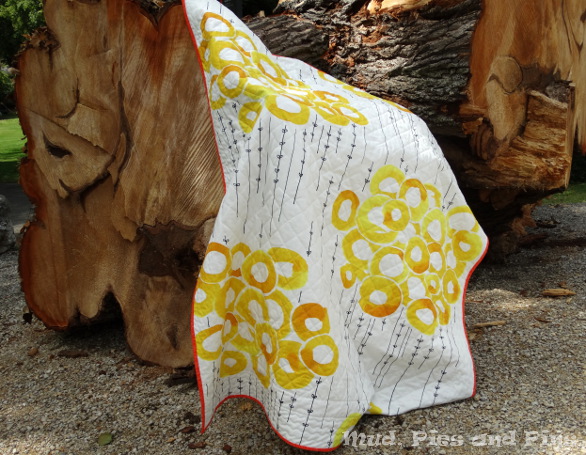 This quilt "Fluttering" is the largest quilt I have made to date and the first non-mini quilt that I have made just for me. It has finished up at 54 x 70″ which makes it perfect for snuggling under on the sofa or even for a nice bit of extra winter warmth and sunshine on my bed.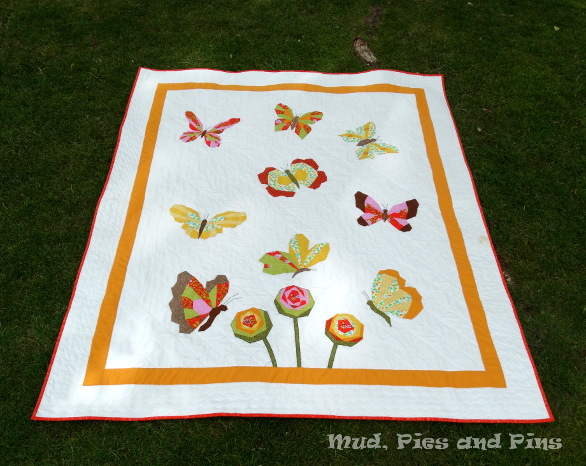 A very last minute finish, "Fluttering*" has now been entered in the Briar Rose Challenge. This and the other enteries to the challenge should be appearing on the Quilt Sandwich Fabrics Blog in the days ahead so be sure to keep an eye out for them and to vote for your favourite.