Ever since our boys arrived our circle of friends with children has slowly increased, and with that, of course, the number of birthdays to be celebrated. As I'm not a fan of the latest crazes and the "must have" toys, I much prefer to try to buy or make something that will be appreciated by both the recipient and their parents.
Earlier this year I made my niece a selection of dolls' clothes. She's at the age where she loves to dress up dolls, but as some of hers are quite small it's not that easy to find clothes for them.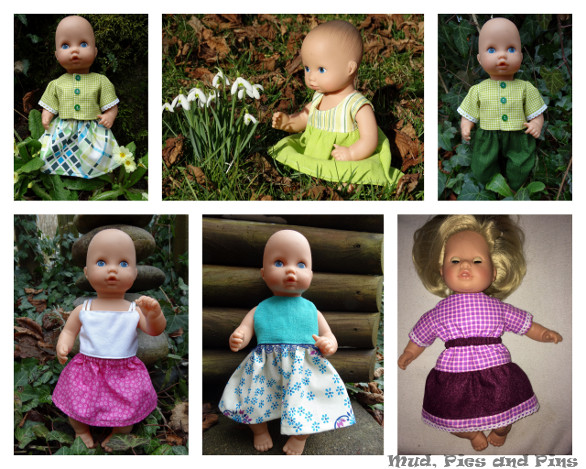 With the exception of the trousers, which are elasticised, all of the outfits are simply velcroed shut, which should hopefully make them easy for little hands to take on and off, an
For another little girl, who loves My Little Pony and other little dolls I made a play bag/mat that she could use to carry her playthings with her when she was out and about.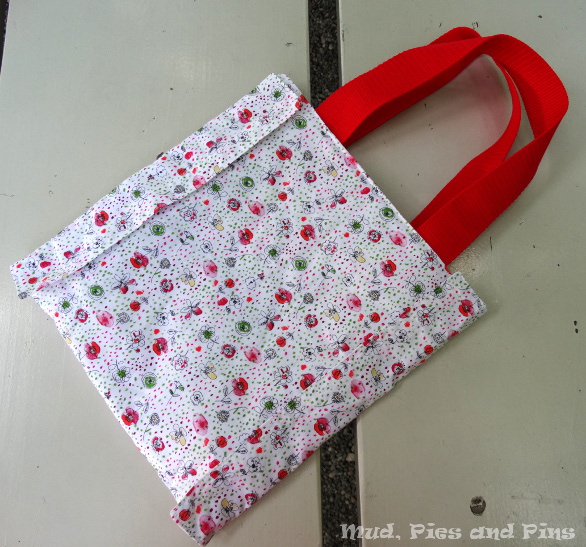 The flaps adown both sides of the bag that you can see above are where the bag velcroes shut down. Once the bag is opened flat it revelas a playmat on one side whereas the other features sortage pockets for larger dolls along with and a mesh pocket that has a velcroed flap for storing smaller items.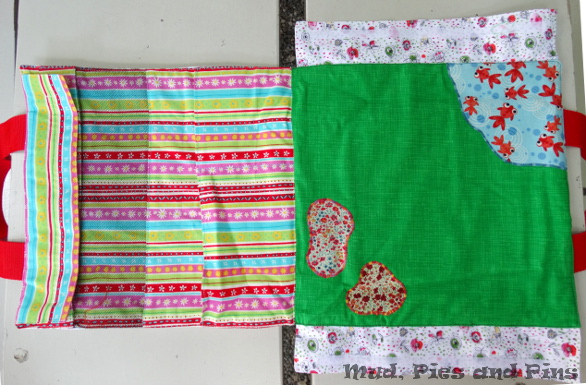 In this case I made the playmat to resemble a garden complete with pond and flower beds, but I have lots of other ideas for these bags and I'm now in the process of making versions for my boys that I will put away for Christmas.
The latest sewn gift was a pillow and quilt set for a little girl who I knew would be getting her first dolls for her birthday last week. I use two different fabric combinations to make both the pillow and quilt reversible.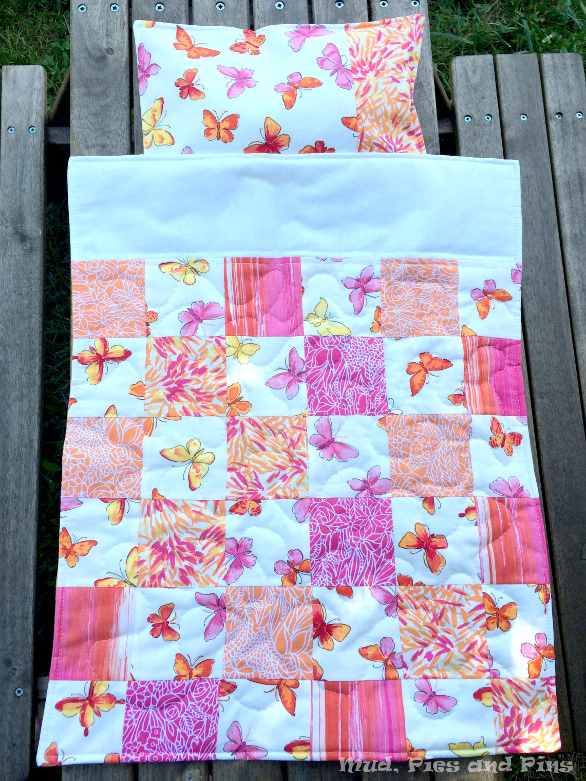 On the one side there was a 2″ patchwork featuring bright colours and butterflies, on the other side I went for a more pastel scheme with florals and lace. This was also the first time I free motion quilted a proper quilt, albeit a mini one, but I am more than delighted with the results and all the practicing I have been doing is defintiely worth while.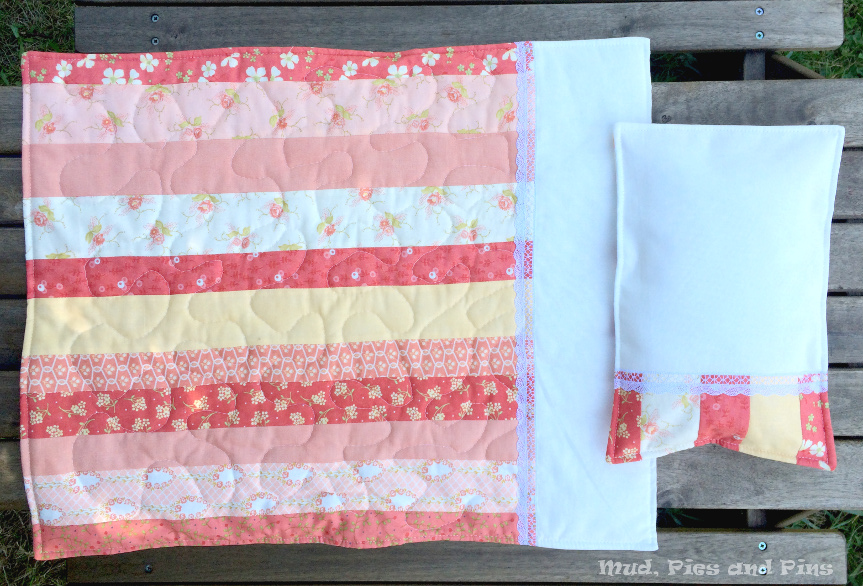 There have been plenty of non-sewn gifts too. For the child who loves to craft I went bought a storage box with movable dividers and then filled it up with all manner of craft items. I made sure I included plety of sticky tape, both plain and patterned, as I knew this was something that was used a lot. For another it was a set of small plain cloth bags and fabric markers, perfect for making personalised totes.
Semi-consumable gifts are also quite popular. Browsing through Pinterest I kept coming up across the idea of gifting cake and cookie mixes in jars, and my son had actually received such a gift last summer (much to his, and my, delight). When a friend's child was recently diagnosed as lactose intolerant I knew this would be the perfect gift and so I put together a few jars filled with muffin mixes that just needed the addition of oil, eggs and fruit juice to bake yummy lactose free delights. With the addition of some baking implements, silicon baking cases, and apron or maybe a cookbook it's easy to transform a few simple ingredients into a wonderful gift.
I know that there will always be the old reliables like books and Lego that I will happily buy as gifts, but for the most part I see lots more makes for children in my future. Do you have favourite go-to gifts that you make for the children whom you gift? If you do I'd love to hear all about them.