When round two of the Schnitzel & Boo mini quilt swap was announced I couldn't resist signing up. Round one had been great fun and I hoped that round two would be every bit as enjoyable. I must admit that at the start I was a bit frustrated. The swap ended up with over 600 participants so it felt pretty much impossible to follow and join in on all the coversations and updates that were taking place on Flickr and Instagram. My partner was also not at all active on social media with regards to her quilting activity so I also had very little to go on when it came to coming up with ideas for her quilt. Nevertheless I was determined to enjoy the swap so I simply got on with designing and stitching "Pebble-icious", a mini quilt that I felt would appeal to my partner.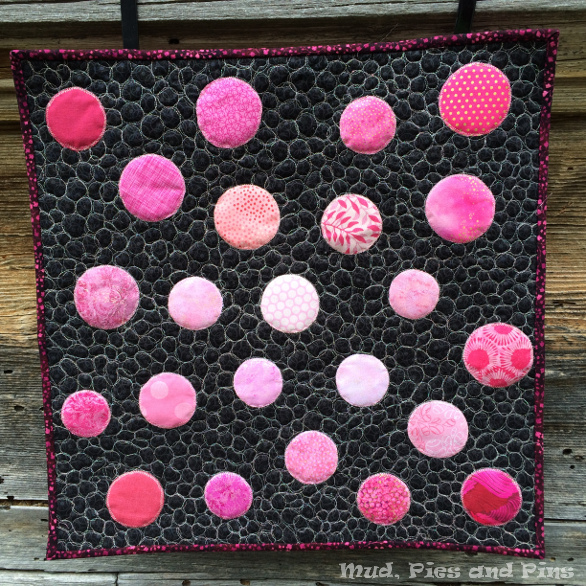 I knew from my partner's information that she liked pink, black and tan and that she was a fan of sparkle and bling. I immediately decided to focus on combining pink and black and selected some black fabric from my stash along with a selection of pink fabric. I didn't have much sparkle or bling so I added a couple of charm packs of Michael Miller's Fairy Frost and Northcott's Artisan Spirt Shimmer to my stash and used most of the pinks from both of these collections. I cut small 2.5″ and 3″ squares from all of the fabrics, fused them to fusible interfacing and used my olfa rotary circle cutter to cut out a selection of circles.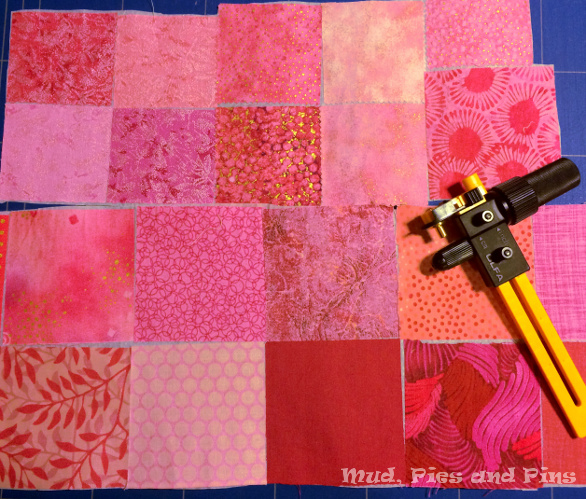 It didn't take long to cut the circles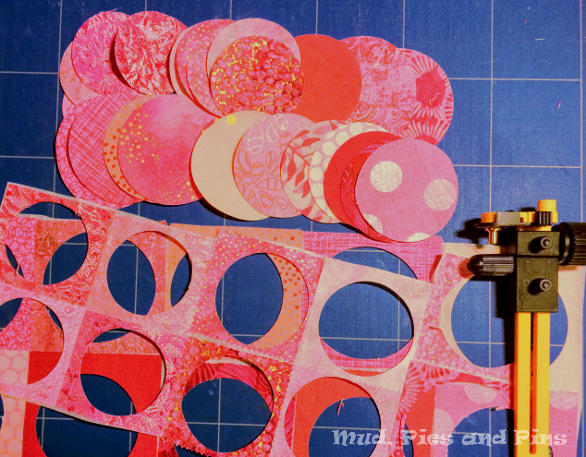 and lay them out as I wished them to appear on the finished quilt. I went for an ombré effect with the layout, working from lightest at the centre to darkest at the outer reaches of the mini quilt.
To add to the bling and sparkle I opted to use Maderia pink metallic thread to quilt the mini. I wanted the pink circles to really stand out so I outlined each with the metallic thread and then filled in the rest of the space with pebbling, or should I say organic pebbling as I always feel my pebbling has a more organic and less rounded look than pebbling normally has.
To continue with the pink and circles theme I used Michael Miller's Orchid Garden Pindot fabric for the quilt back and a leftover circle of light pink, that didn't get used on the quilt front, as a label.
I wanted to include some small extras in my swap package so I started by making a pouch using one of the shot cottons from my stash that had featured on the quilt along with some black fabric as a highlight. I again used the metallic thread for the quilting and used organic pebbling on the back sections.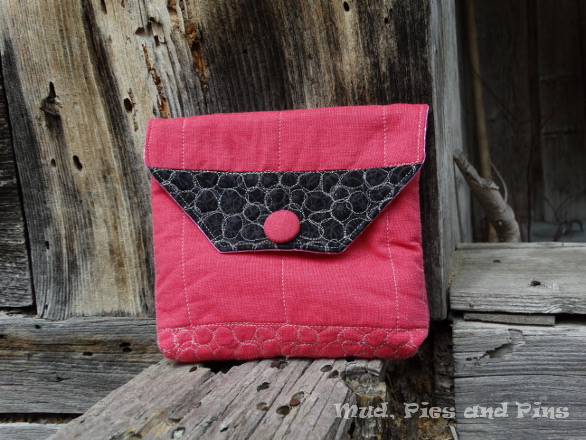 My partner had expressed a love of lip gloss so I added a couple to the pouch and also added a yo-yo maker to the package. As one last extra I picked up a bar of chocolate on the way to the post office, hoping that it's last minute addition would enable it to survive transit out of Switzerland during the exceptionally warm spell we were experiencing at the time.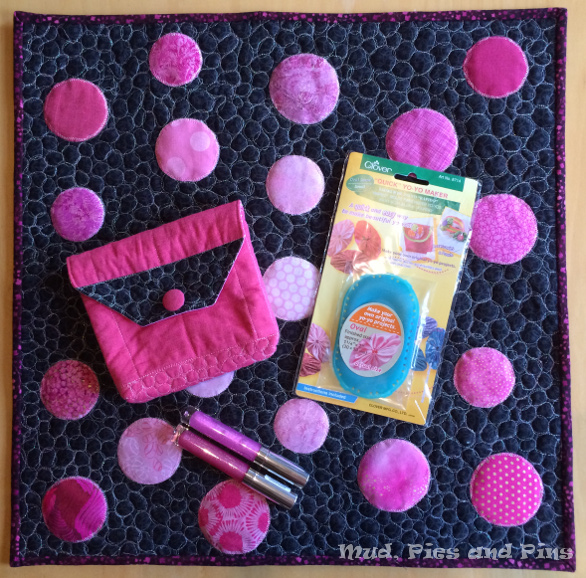 I'm glad to report that the package did indeed travel safely, chocolate and all, and was very well received by my swap partner. I was delighted to hear how pleased she was with the quilt, it was definitely a big hit.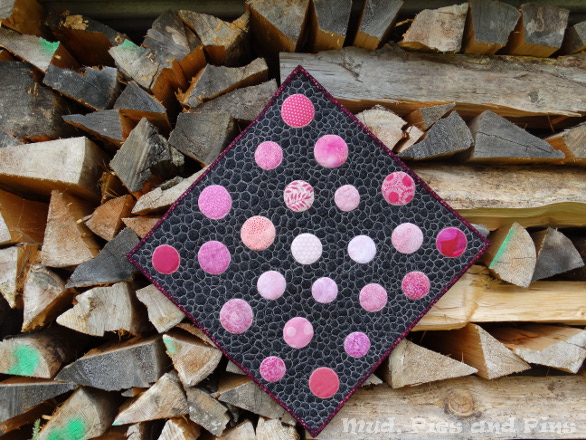 I must admit that making this mini pushed me outside my comfort zone. It is probably the most modern of my makes to date, it was my first time to sew with metallic threads and also my first time to venture beyond sample quilt sandwiches and free motion quilt an actual quilt. But it is an experience that I most definitely enjoyed and one that I am eager to repeat, especially as I now have a nice selection of Fairy Frost and Shimmer charm squares waiting to be used.
So although I felt that I had a bit of a rocky start to the swap it ended up being a great success. Next week when I return home from my holidays and get some photographs finally taken I will share with you the wonderful mini that I received in the swap.