How would you like to open your curtains to a view like this every morning?

Well I had the pleasure of doing so for a long weekend at the start of the month when I attended the Peaks retreat in Morzine, France. This biennial 3-day retreat is run by the lovely Elita from Busy Needle Quilting and after the wonderful experience I had at the retreat when I attended for the first time last April, I was more than delighted to be able to attend again this time. For three days I joined Elita, her helper Gina and 13 other lovely ladies as we invaded the chalet Les 4 Vents in Morzine. We were very well looked after by our hosts who provided everything we could want. The accommodation, the food, the location, all were perfect. Even the weather was at its best, with plenty of sunshine and warmth. We even had the pleasure of being able to dine al fresco each lunch time. Life doesn't get better than that!

The schedule at the retreat is very relaxed, there were three different classes, a couple of fun evening activities and lots and lots of free sewing time. The first class, on Friday morning, was on the spinning card trick star that I showed you in my last post.
That evening we had the stash attack project and I'd like to share my makes from that with you today. We started with some 3" fabric squares, mostly taken from Elita's scrap stash and learned a new-to-me, and probably new-to-most, technique for quickly chain piecing 1" squares from our 3"scraps. Most people then went on to use their pieced squares as a design element in a sewing machine mat with hanging storage pockets. But as I already have a mat for my sewing machine, and didn't need to make another, I decided I would put my pieced squares to a different use.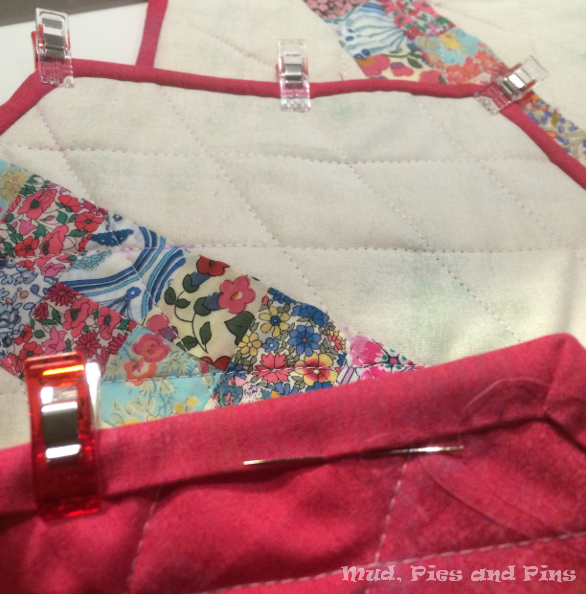 As I was piecing the squares from some Liberty scraps I had brought with me I couldn't help but notice how well they coordinated with the Grunge Basic Sugar Cookies hexagons I had left over from making my tree-skirt-that-wasn't and decided I would have to pair up the two. I inserted a 2×10 strip of 1" Liberty squares into each hexagon and had the basis of some rather fun table mats. I had brought a few other pieces of Grunge Basics with me and selected some in Raspberry for the backing and binding. I decided to mirror the front design on the back by inserting a strip of the Sugar Cookies into the Raspberry. Before binding I quilted the mats with a simple diamond design.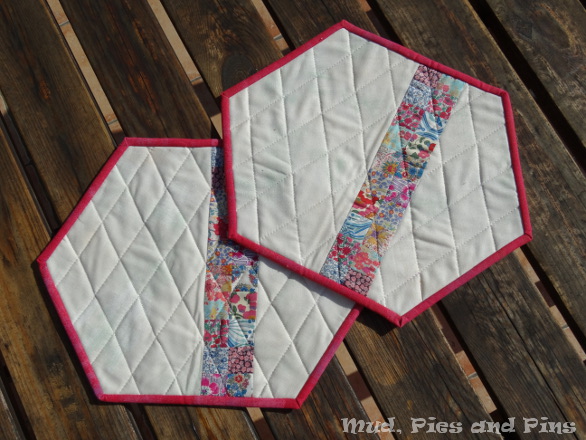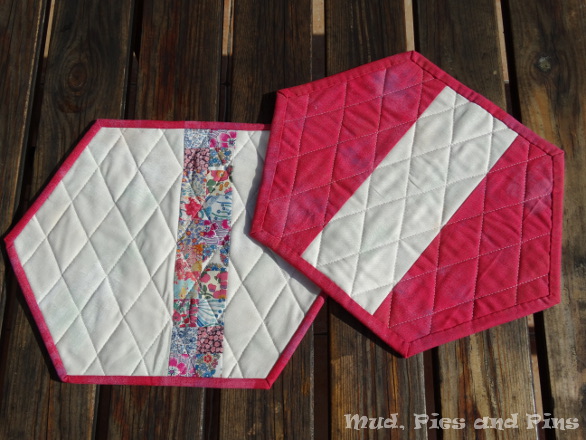 Now I have to say that I think I became slightly, or should that be totally, obsessed with the Grunge Basics at this stage. I love the play on colour in the fabrics, how well the work as background fabrics and how stunning they look combined with the Liberty prints. I will definitely be teaming them up with Liberty fabrics a lot more in the future, and I intend to add plenty more to my stash as I really am quite in love (read obsessed) with them. I guess you could say that not only have I brought home some great makes and wonderful memories from the Peaks weekend I have also brought back a new obsession.
I hope you'll pop back later in the week when I'll share the last of my Peaks makes. In the meantime I'll leave you with one of my many great memories from the weekend – the view from my sewing table!