It's been a while since I've been seen around here but I'm back again, at least for now. I seem to be losing my sewing mojo a lot of late and that means I don't really haven't had much to share. That's not to say that I've been completely idle. I've been working on a twelve days of Christmast project which will involve 12 embroidered panels and 12 printed fabric panels. I've finally finished a knitting project that I started working on last winter. I've been helping my six year old with a few sewing projects that he is currently working on and I've been doing a little more paper piecing. This time I've been paper piecing snowflakes.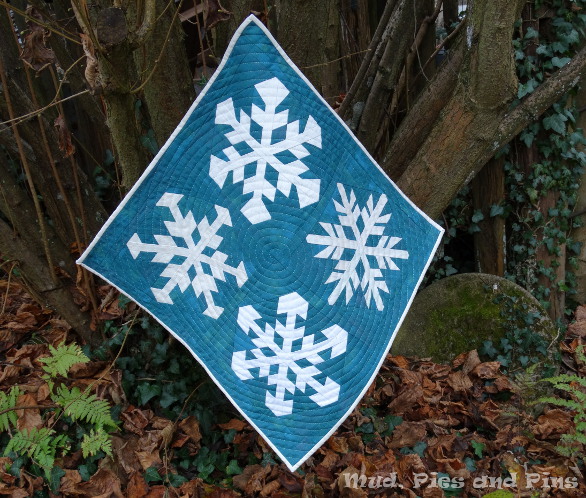 A few months ago I signed up for Curly Boy's Instagram Mini Quilt Swap. At first this was to be a smallish swap limited to 100 swappers but it soon snowballed into what I have come to think of as a "super swap". These super swaps are larger, fragmented in several sub-swap groups and I have to be honest and say that I have not had the best of experiences with them. Don't get me wrong, I do enjoy swapping and I have always been delighted with what I received, but part of the whole reason I enjoy swapping is the friendships and contacts you make, often with your swap partner. This is something I find to be distinctly lacking in these "super swaps". I find it very difficult to sew for someone who does not have an online presence in any shape or form, whom I cannot stalk and find out about their likes and dislikes and who I cannot build up any sort of rapport with. It is very frustrating to try to sew something for someone you do not know when all you have to go on is a few lines of text regarding their likes and dislikes. It was not really surprising then that my sewing mojo went walk about when, for the second time, I discovered I had a swap mini to work on but pretty much nothing to inspire me as to what would best suit my partner. In the end I let Canuck Quilter's Snowalong that I discovered back in late October be my inspiration. I really loved her snowflake designs and hoped that my swap partner would too. It wasn't hard to decide what fabrics I was going to sew with. I started with some of my new favourite Grunge Basicis in Peacock for the background and some more in Sugar Cookies for the first snowflake.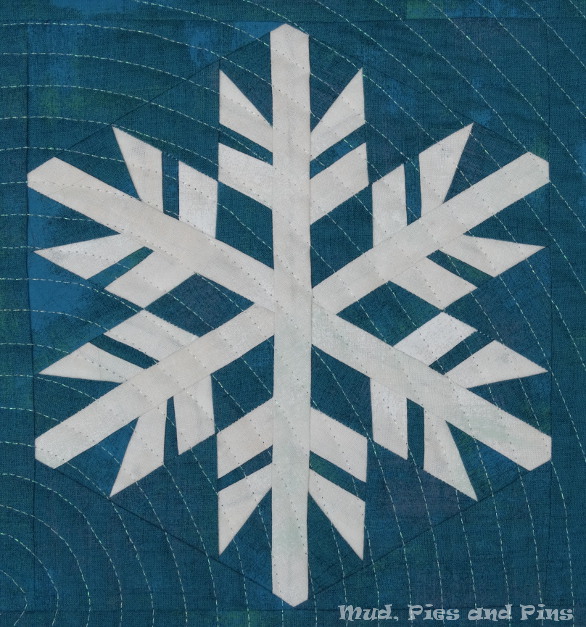 I decided that I would not only use a different design for each of the snowflakes but that I would also use different fabrics. For the second snowflake I selected some Timeless Treasures Dreaming in Pearle in ivory which brought a lovely sparkle to the mix with it's pearlescent dots.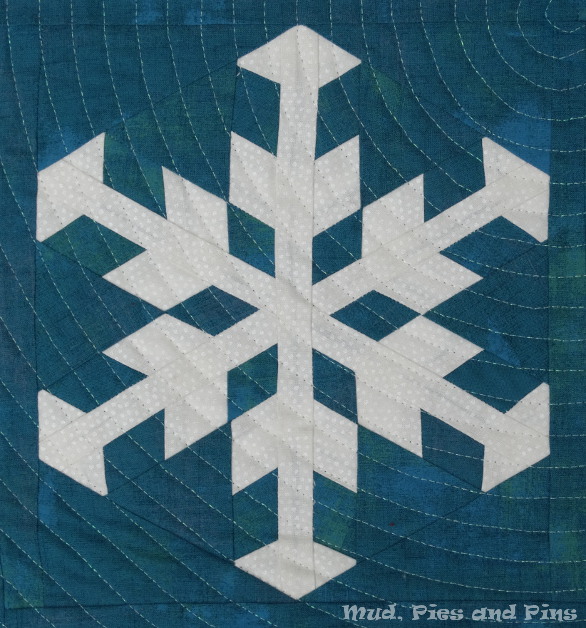 Next up was some tone on tone white from Sandy Gervais's Snap Pop collection,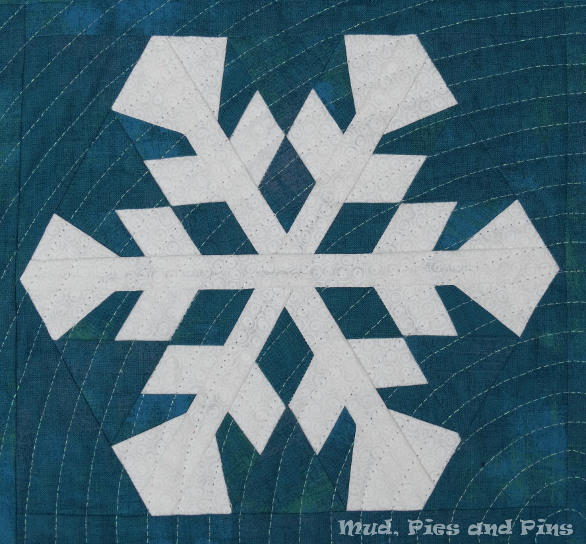 and for the final snowflake I selected another tone-on-tone unknown gingham style fabric I had purchased up at my local craft store.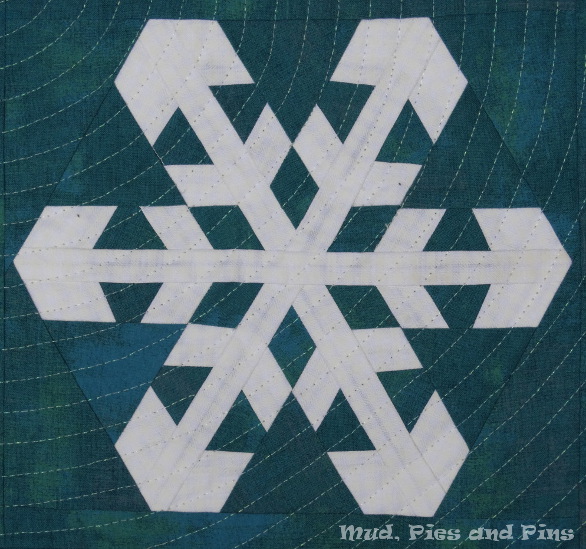 To give the quilt a sense of movement and to add yet more sparkle I quilted the whole in one large spiral using Madeira metallic thread in white.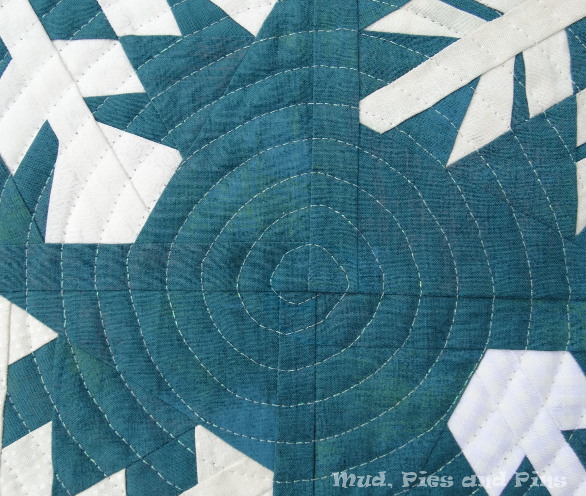 "Snowstorm" was finished with Dreaming in Pearle binding and measures 20″ square. Despite it's rocky start I am more than delighted with this quilt and can only hope that my partner will like it every bit as much as I do.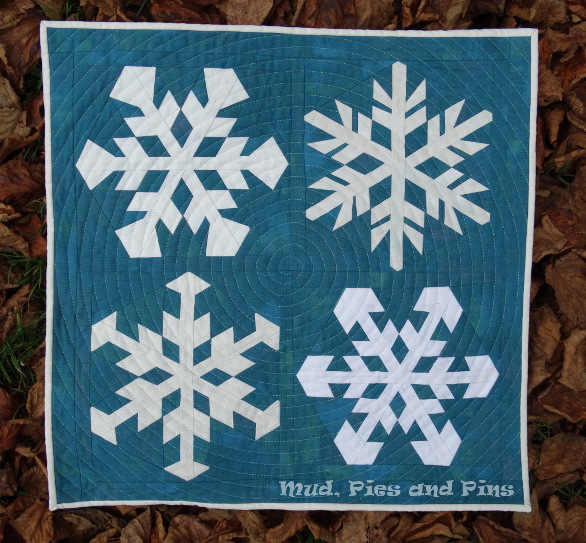 I think there are a few lessons that I have learned from making this quilt. The first is that I most defintiely need to stitch more snowflakes for myself as they really are such beautiful designs. The other lesson I have learned is that I need to limit my future swap activities to smaller more intimate groups and there are plenty of those out there. There are several groups that I have had nothing but great experiences with and that I intend to stick with, but when it comes to "super swaps" I think it's defintiely a big no thanks from me in the future.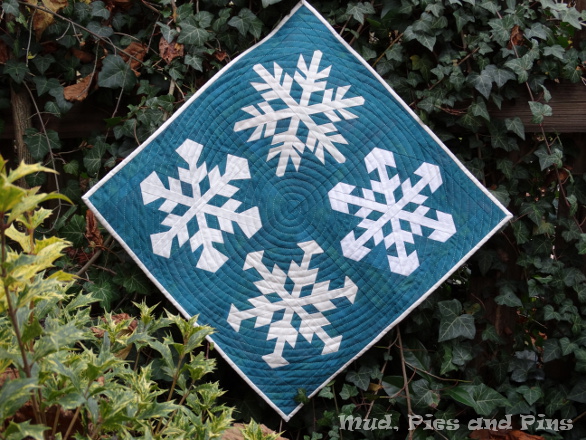 What about you, if you swap is there a particular types of swap that you enjoy ? I'd love to hear about your experiences.