It's no secret that I love to join in swaps. They are a great way to meet new people, a lovely challenge as you strive to make something for someone who you usually don't know personally, and a really great excuse to just keep on sewing (not that an excuse is really needed tbh). Being the Liberty lover that I am I was every so sorry I had missed the sign-ups for #lolswapround1 when I saw lots of photos from that swap appearing on my IG feed and was determined to make sure I didn't miss #lolswapround2. I can honestly say I am so very glad that I didn't. Run by @ohhowsweetco this swap focuses on swapping items made with Liberty tana lawn. Like any swap you have to make one large item for your swap partner, with Liberty being the main focus of the piece. My partner, @misspipilotta, expressed a preference for a pillow and for pink and so I stitched up my first version of my lotus blossom epp design to feature on the pillow top.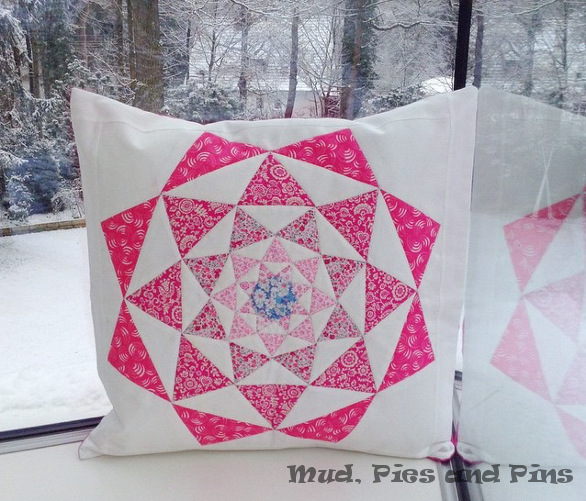 I quilted the front of the pillow, but kept the stitching to a minimum by simply sititching in the ditch around each petal piece with my favourite Aurifil 50wt #2021 to ensure the Liberty remained the main focus of the piece. The pillow has an envelope back in pink linen that coordinates well with the front and adds an extra little pop of colour.
I must admit it was hard to part with this piece as I am totally in love with it myself but I know it is gone to a perfect home and I have to say it looks just perfect in its new setting. Needless to say I already have started to create the pieces for the next lotus blossom and I see plenty more of these in my future.
We were also asked to include some extra goodies in our partner's package along with some fabric. I knew my partner liked pink, ballet, and the Liberty fabric Gallymoggers Reynard B in pink and it was these factors that pretty much guided my decisions when it came to filling the rest of the swap package.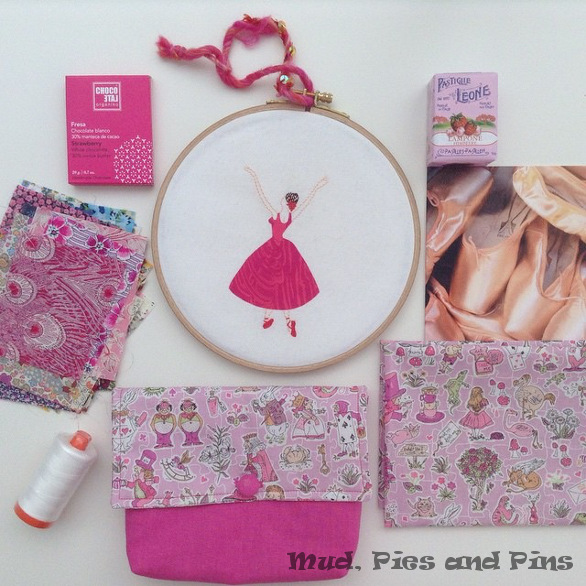 I started with the ballerina, which featured some fussy cut Liberty Aranov for her dress and an embroidered outline based on this original design. Once stitched I mounted the design in a hoop ready to hang in it's new home.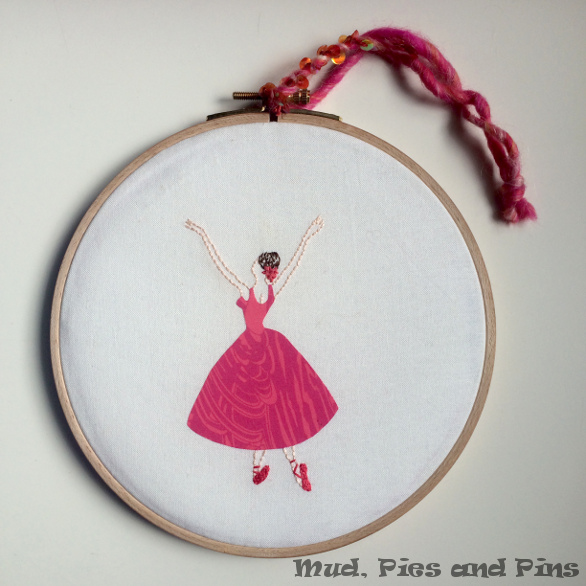 When it came to chosing fabric to send the Gallymoggers Reynard B in pink was an obvious choice, but I also added in one of the Very Berry Handmade Libery scrap packs that I love to stitch with. A spool of Aurifil 50wt #2021 found its way into the package as it is just perfect for stitching Liberty fabrics along with some chocolate and candy goodies with pink packaging that I just couldn't resist. At the very last minute I decided I would stitch up a quick button closed pouch as one last extra and as packing for these added goodies. I used some of the linen I had left over from backing the cushion along with some of the Alice in Wonderland print my partner likes so much and in no time at all had the perfect gift wrapper.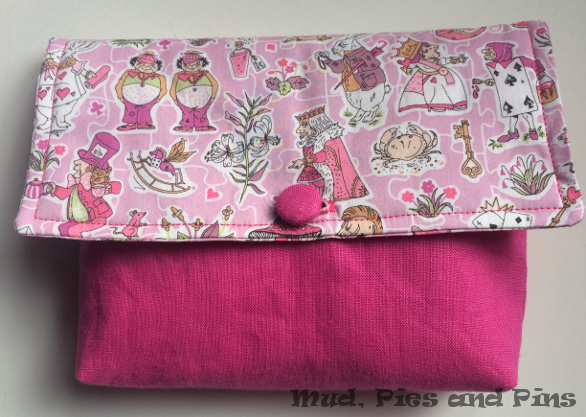 Needless to say my partner is more than delighted with her package, and I am overjoyed as I have enjoyed every last minute of this swap. I hope you'll pop by again on Monday when I'm going to show you the wonderful package that I received. In the meantime why not pop over to Instagram and have a look at all the magnificent items that have been created and swapped in #lolswapround2.
Save