Easter is just around the corner and for us that meant the start of spring holidays from school. We were going to have some family time in the mountains, maybe even some enf of season skiing for the boys, playdates and outings. We had plans. And then the pox hit. The chicekn pox that is. My eldest was a little off-form in the latter half of last week but I just put that down to his busy schedule. Saturday came and I realised I was wrong when I saw the spots. And so our plans went out the window. But with that pox ridden cloud came a whole host of silver linings. We got to start the holidays a little early. My son may be spotty but he's in great form so my two boys are getting lots of play time together. There are puppet shows and train trips, holiday outings, lego builds and so much more and all are taking place right here at home. We have lots of Easter crafting to do in the days ahead and plenty of time to do it. And Mummy is getting a lot more designing and sewing time than she has been getting of late.
Now I do have quite a pile of works in progress that I should be finishing off. For the most part these are quilt tops that need basting and quilting but these are remaining on the side for now. These will require careful planning because space to baste and space to quilt is something that I do not have here on a day to day basis and something that really requires some advance planning.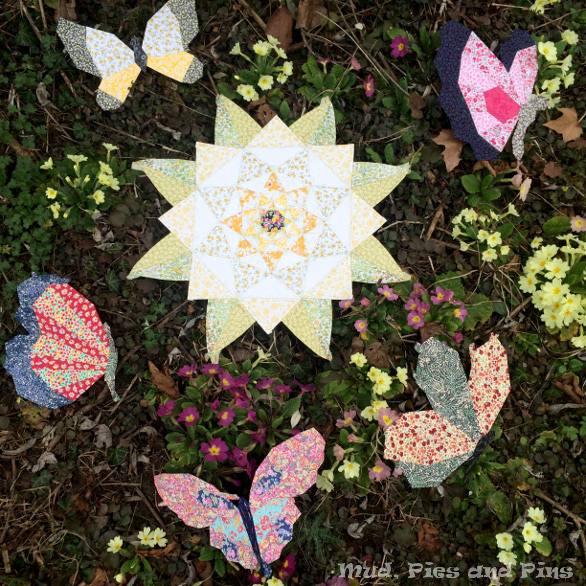 What I am getting on with is some English Paper Piecing. I have finally finished off my collection of EPP Liberty butterflies, or at least I have decided that I have made enough because in all honesty I could just keep designing and making these forever. They have some blooms to flutter around and now they need their final setting. I have dedicated a lot of time to researching ideas for this over the past few days and am finally decided on an Irish linen background. Now all that is left is for me to actually source what I want.
WIth that project in it's final stages I knew it was time to start another new EPP project that could be my new long term project-on-the-go. While I often have several mini projects that I can bring with me when travelling I do also like to always have at least one long term project on the go and ready to bring on my weekly train commutes, or on spur of the moment outings when I am not workign on something else. So I designed a quilt. An EPP quilt that would again feature Liberty fabrics, as my stash of those is ever growing. And then just when I thought I was ready to start sewing the post arrived. And in the post was a package containing the Mercury and Grove Sun Prints by Alison Glass. And straight away I started cutting. And covering papers. And sewing.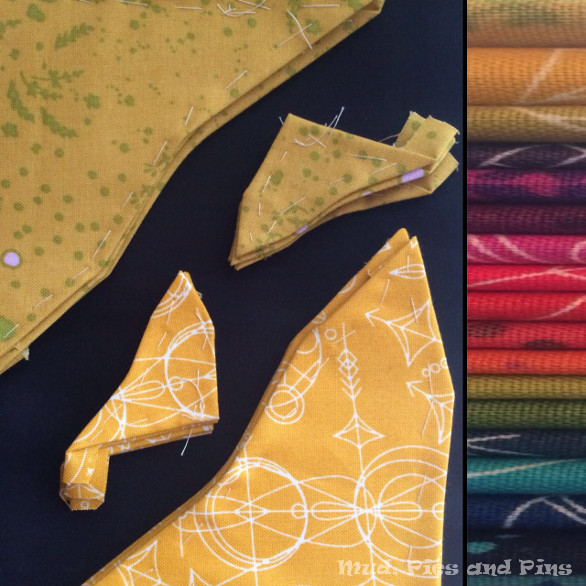 And so it looks like my Liberty quilt idea may have just gone out the window.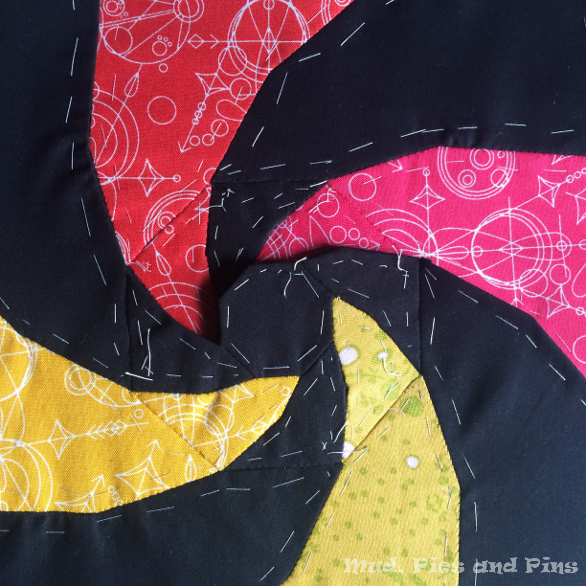 I'm only three blocks in to this new project and I have to say that I am in love with this design, with the movement inthe blocks, with the way the colours and fabrics are working together.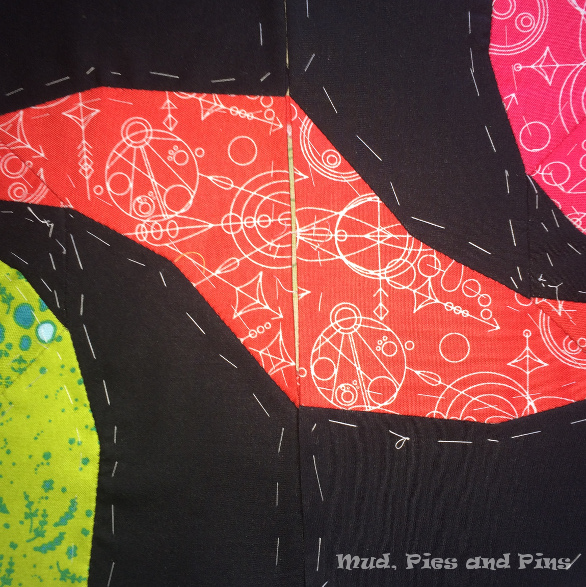 But this is not my original vision for this quilt. This is a spur of the moment creation, one that I am admittedly very much in love with, but one that is unplanned all the same. In my eagerness to see this quilt progress I am sewing more and more of it every chance I get and so this is defintiely not going to be a long term project, but the Liberty version will be.
I need to tweak the block design a bit for the Liberty project, make it bigger, split it down into even more pieces. It will be different, but still somewhat the same. It will be what I wanted it to be, and envisaged it as being and I image that for a long time it is very likely to be a work in progress, just as I had planned!
I'm linking up my silver linings / works in progress with Work in Progress Wednesday over at Freshly Pieced. What about you do you have any projects that have arisen as silver linings?
Save