Today I'm delighted to be able to introduce you all to the Delectable Mountain block, the latest block in the Fat Quarter Shop's Classic & Vintage series.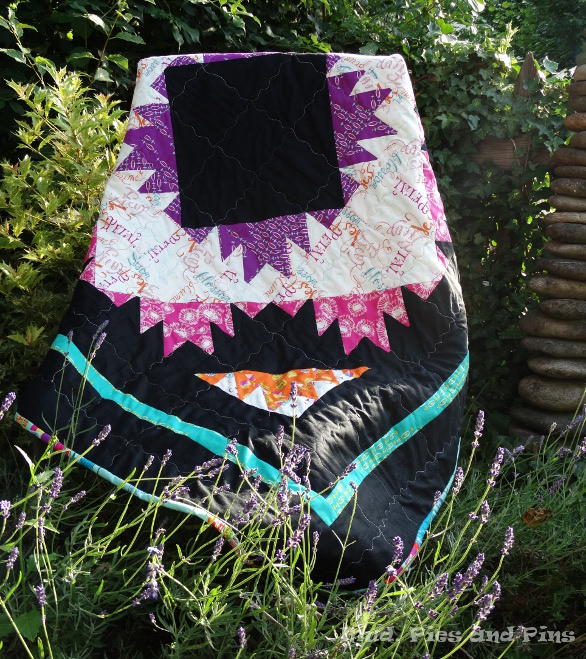 The purpose of the Classic & Vintage series is to take classic, traditional blocks and make them fresh for today. You can check out the latest video on the Delectable Mountain block:
When I was asked to join in this blog hop I decided I need some nice modern fabric to try out this block. After a lot of browsing through the Fat Quarter Shop's selections of fabrics I eventually settled on some Art Gallery fabrics. I picked Pure Elements in caviar and Petal and Plume Keen Nomenclature to use as my background fabrics along with a few Utopia fabrics in some of my favourite colours.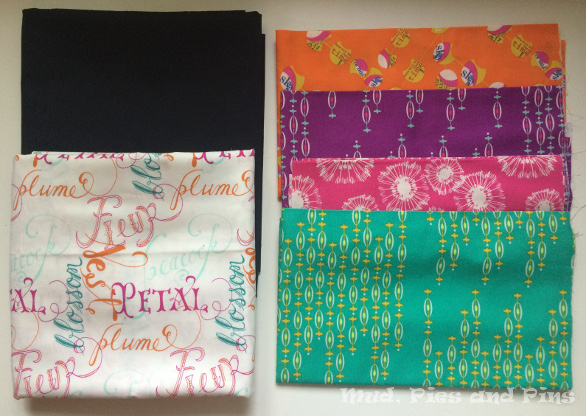 My original intention was to use a selection of blocks alternating the Pure Elements and Petal and Plume fabrics as backgrounds.
When it came to piecing the blocks I started playing around with the cut fabrics and decided to swap them up a bit.
Sixteen blocks later and I had a fun layout that I was totally in love with.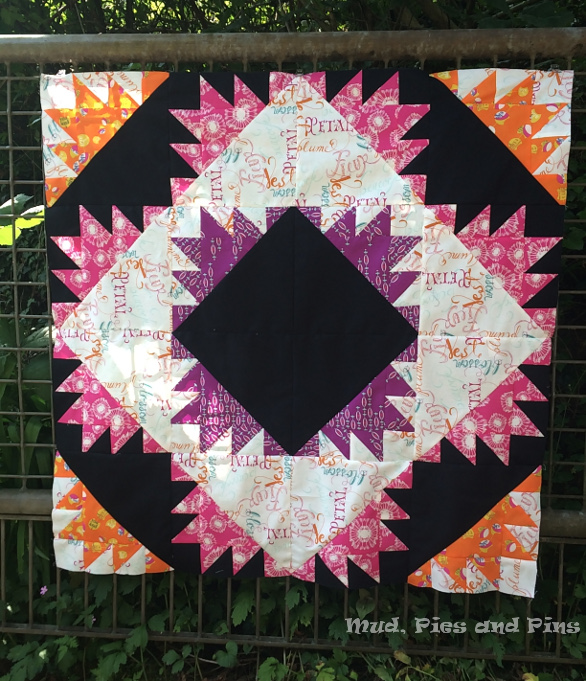 Although I had originally planned on making a small crib sized quilt, which would have used 24 blocks in a 4×6 arrangement, time constraints and my love of the sixteen block 32″ square mini I had created made me stop block production at that point. Because I wanted a usuable quilt I did go on to add a few borders to bring the size up to 54″ square, which I find makes a great lap quilt size.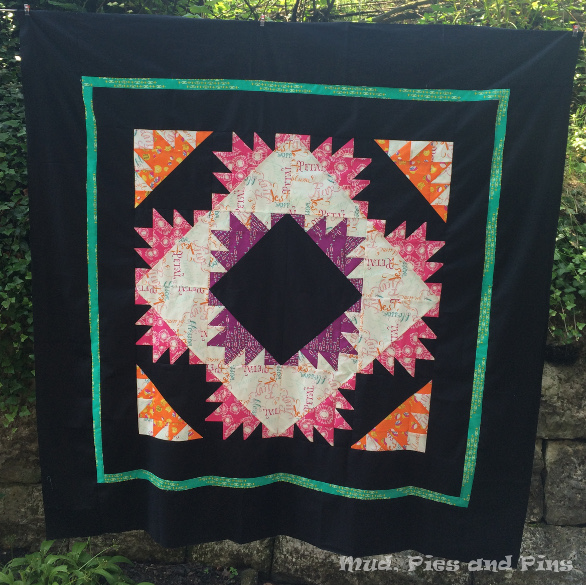 I quilted my finished quilt with a square grid using a wavy stitch in 50wt Aurifil #4670. The variegated grey thread adds interest and softness to the solid dark space on the quilt but blends in well with the mountains and does not detract from their colourful peaks.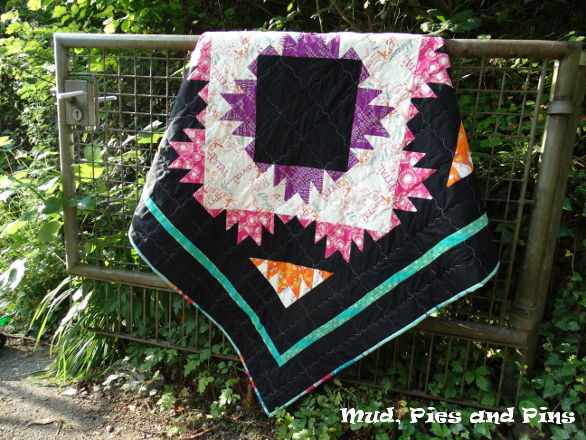 For binding I used another fabric from the Utopia line, Dim Megalopolitan. I love how it mirrors the green border and picks up on so many of the colours that appear throughout the quilt.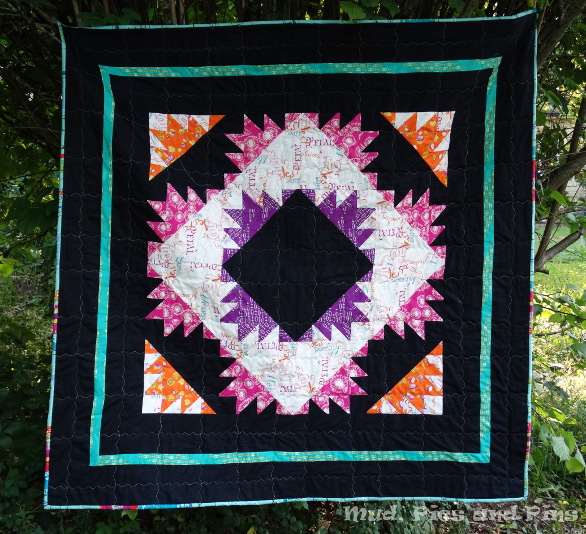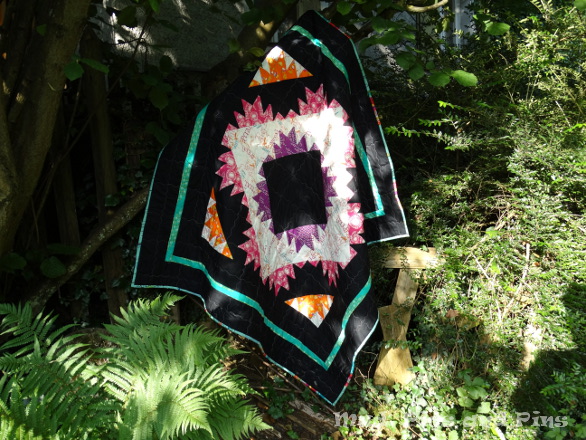 I have to say that I am totally in love with my new lap quilt and I love how well the borders and binding frame and highlight the central design. If you want to have a go at making your own Delectable Mountain blocks then why not pop over to the Fat Quarter Shop and download the free pattern for yourself. I found that this 8″ block was easy to make and came together quilckly, although I do have to admit that late night sewing on a hot summer night did result in some mis-trimmed blocks and the loss of several points.
If you want to make a full sized quilt then there is a quilt pattern available for purchase which gives you all the instructions you will need to make crib, lap, twin and king sized quilts.

There is also a quilt kit available for a 64.5″ x 80.5″ quilt that features the gorgeous Evergreen fabrics by BasicGrey .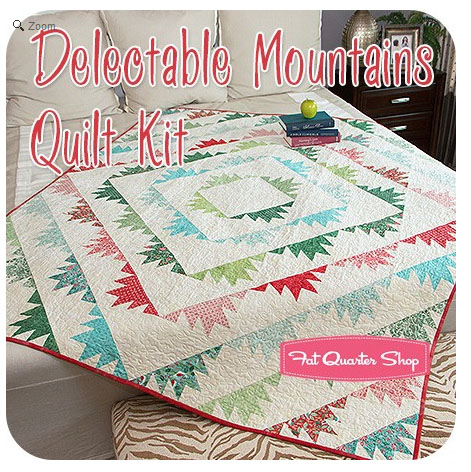 I do hope you have enjoyed my introduction to this fun block and that it will inspire you to have at go at it yourself. If you've not already visited then be sure to pop on over to the Jolly Jabber today and find out more about this fun block and what other designers have been doing with it.