The holidays are over, my eldest son son starts school today and it's time for me to dive right back in here. We've had six weeks of holidays between the end of Kindergarten and the start of school and they have been fun filled from start to finish. We started off with heatwave after heatwave, our days were spent outdoors and in water as much as possible in an effort to keep cool. We followed that up with several weeks back home in Ireland, most of which were spent camping in west Cork. There was everything from sunshine and calm to stormy days with gale force winds and rain. We finished up with a few days back home in Switzerland with yet more heat as we slowly started to get back to a routine and I slowly got back to having a little computer time to finally sort through a myriad of photos and memories. And now that I am getting back to my computer I can finally start to share all my summer sewing with you.
To kick things off I'd like to share the pillow I made for the summer round of the Flickr based Pillow Swap Four Seasons.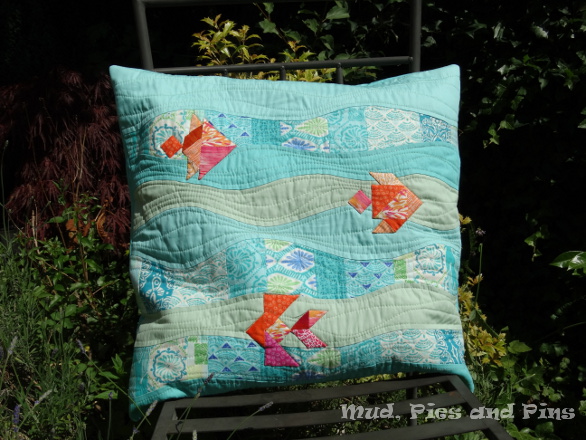 I went with an undersea theme for my summer pillow cover as my partner Astrid, who can be found over on Die Fischerin (The Fisher), had declared a love of blues and greens with a little orange as well as the ocean, fish and nauticals.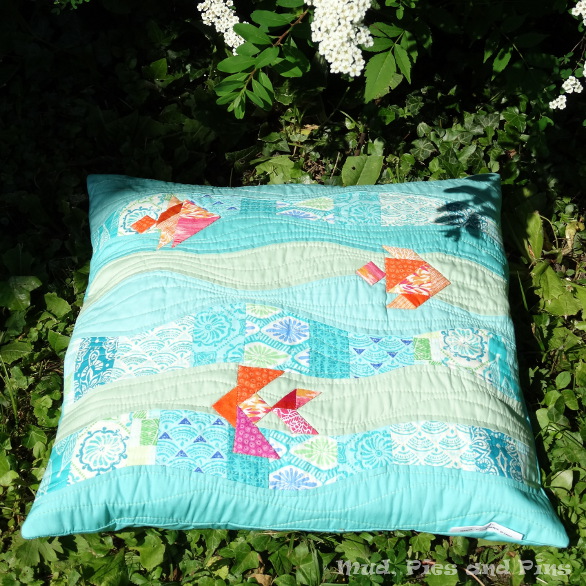 As I had had so much fun mixing tangrams and EPP in my Springtime quilt I decided that I would use that combination again to form the fish on the cushion cover and I love the colour it brings to the finished design.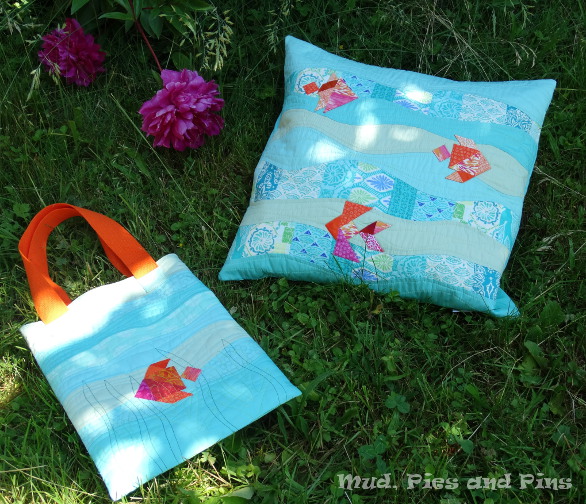 As an added extra I made a summer tote to accompany the pillow. I went with the same design idea, and added some quilted vegetation in a variety of green threads.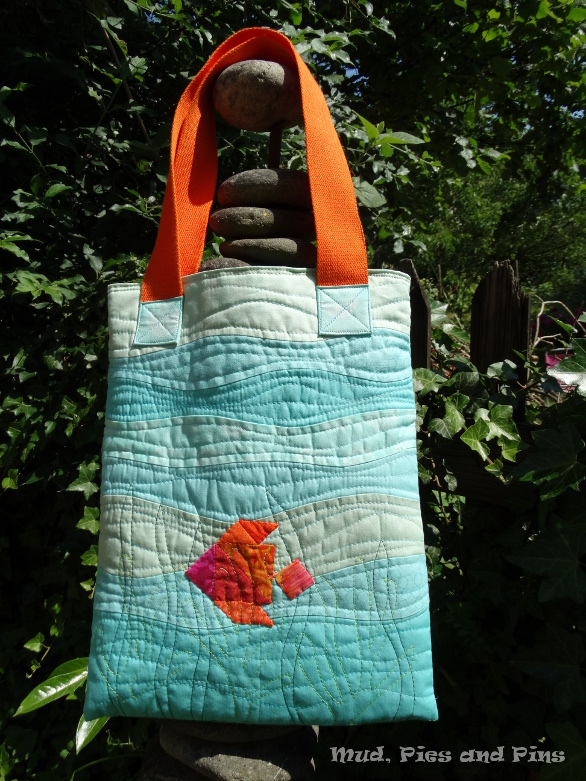 I carried this quilting desing, along with a single quiltted tangram fish, through to the back of the bag which I had otherwise left plain.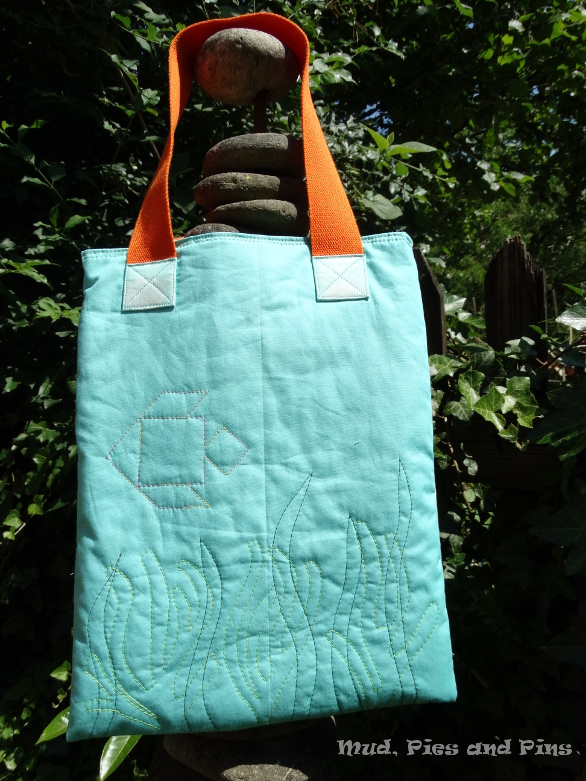 I had some fun goldfish fabric in my stash that made for the perfect bag lining and I picked up the orange in both the fish and the lining in the webbing straps.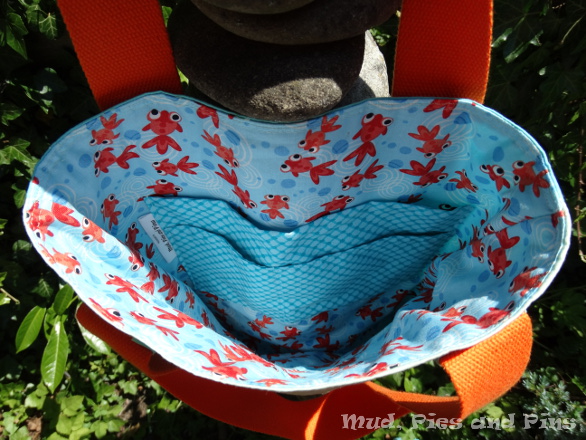 I was more than thrilled with how this swap make turned out and with how well it was received and it is a design that I most defintiely plan to go back to again in the future as I would love to sew a quilt version for myself at some point.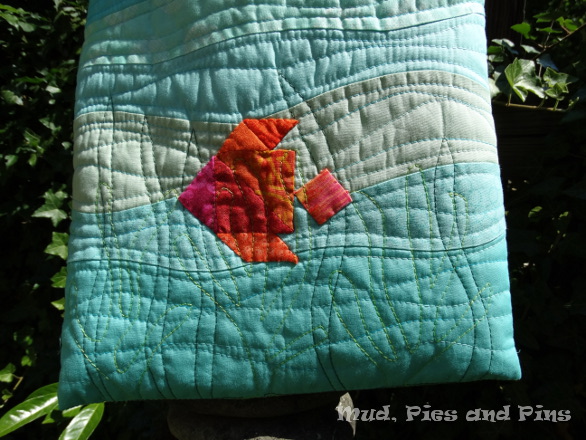 Now that I've shared my swap make with you all let me show you the magnificent cushion that I received in the swap from Maxine aka BlueFigQuilts.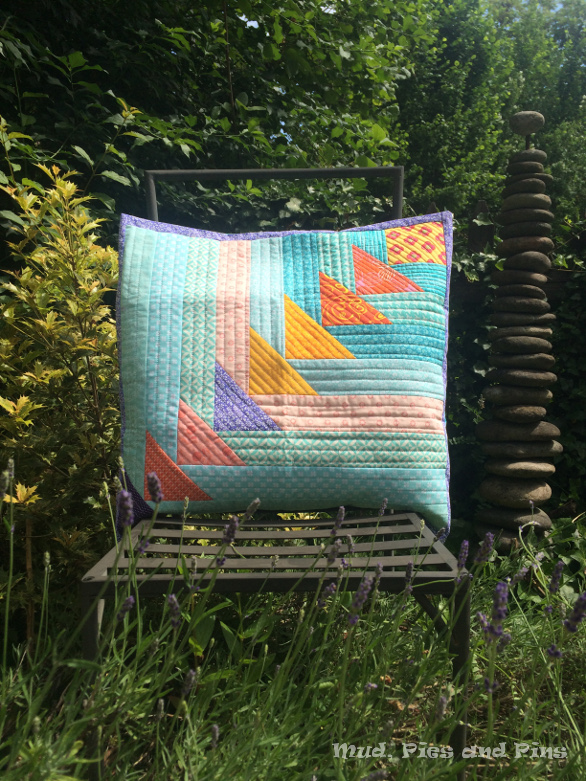 I fell in love with this beauty the minute I unwrapped it and it has been much used, loved and admired all summer long. The colours are very much me, especially the addition of the purple to the aqua/orange mix, and I love how the colours and design give a sense of both cool and warmth at the same time. It may be very much summer but this pillow is defintiely going to be enjoyed all year round.
I have to say that Maxine totally spoilt me in this swap. Not only did she sent me a magnificent pillow, she also sent me a whole package filled with goodies.
There was fabric, snacks, notions and so many other goodies including a beautiful pouch that has been much used over the summer months. Here it in on holidays in Ireland along with a little EPP project that I had brought with me to work on.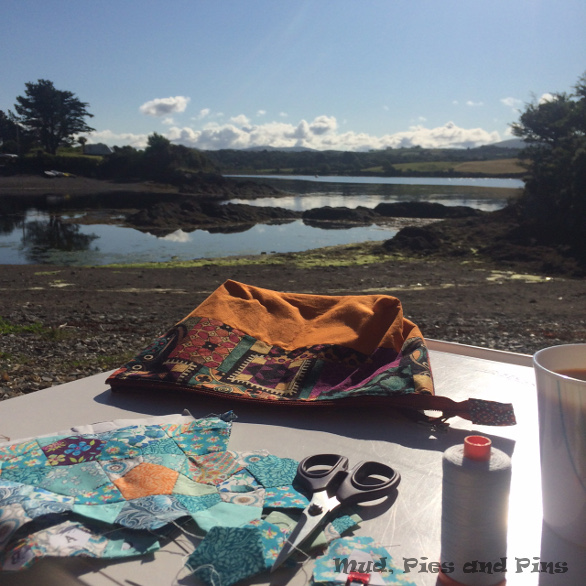 I have to say that I thorughly enjoyed taking part in the summer round of the pillow swap and didn't hesitate to sign up for the autumn round earlier in the summer. The deadline for that project is drawing near and I've been working away on my next pillow, and several other projects over the summer holidays. I look forward to sharing all those makes with you in the weeks ahead.