Well here we are at the end of the year. There's just a week to go till the big day and it's time for the last Ho, Ho, Ho and On We Sew link party of the year. I hope that, like myself and my co-host Fiona from Celtic Thistle Stitches, you've been getting organised throughout the year, but if you still have some last minute sewing to do then don't despair because there still is time to get it done.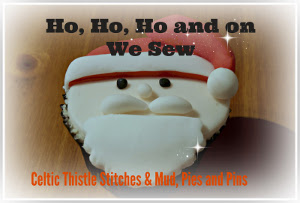 In case you still need some inspiration for some last minute sewing projects then let me give you a quick reminder of all the great ideas shared by our guest hosts throughout the year.
January: Fiona kicked off the year with her Christmas Cushion
February: Pam at Threading My Way showed us how to make a great Drawstring Gift Bag
March: Sally at Wonky Patchwork made some beautiful Clara and Nutcracker Dolls
April: Benta at SLIK stitches shared her Advent Calendar
May: Karen at Practically Pippy had some adorable Christmas Mice to share
June: Ruth at Charly & Ben's Crafty Corner introduced us to her So Frosty Quilt Pattern
July: Chelsea at Patch the Giraffe made a beautiful Christmas Tree pillow cover and
Martha at Weekend Doings shared a very practical iPad cover
August: Deborah at Sunshine through the Rain showed us how to make Envelope Christmas Stockings
September: Karen at Practically Pippy returned with a Gift Card Holder and Mug Rugs
October : Sandra at Sandra Sews 🙂 shared a great Novelty Pouch zip and  Nesta at Ella & Nesta's Little Room were full of inspiration with Fabric Furin Wind Chime Gift Tags and Fabric covered drawing pins
November: Joanne at Rose and Dahlia made a fun Christmas Stocking Grippy holder
To round off the year I'm going to share my tutorial for a clutch pouch. It's a design I use for so many different purposes, it can even be easily transformed into a doll's sleeping bag and best of all it's a really quick make.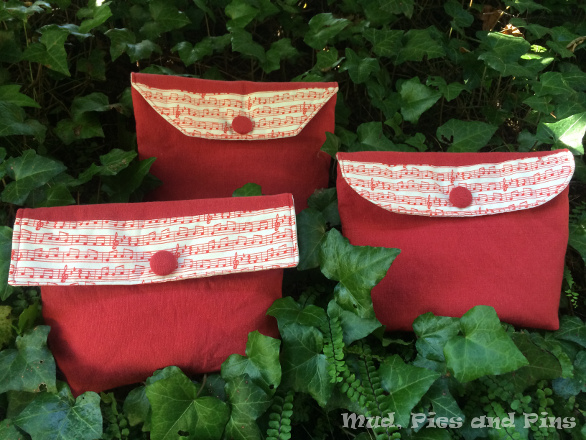 Before I get to that though let me take the time to tell you about this month's link party (which you'll find at the bottom of this post) and the wonderful giveaway prize we have to share with one lucky person who links up their finishes for this month. This month our prize has been sponsored by Rebecca at Sew Hot who will be giving one lucky winner the kit and pattern for this stunning Mini Norway quilt.
Isn't it just beautiful! If you're not familiar with Sew Hot then I urge you to pop on over and have a browse through their store as they not only carry quilting supplies but they also have a wonderful range of kits and patterns for soft toys, bags and lots more.
I have to give a big thank you to Sew Hot for sponsoring us this month and to all of the wonderful sponsors who have been so generous in sponsoring our giveaways throughout the year.
Save