It's the 18th which means it's time for the monthly Ho, Ho, Ho, and On We Sew link party.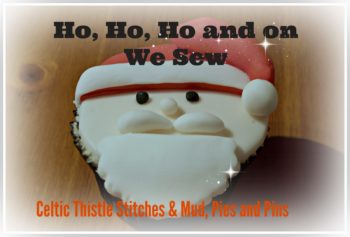 This month the party is being hosted by Ruth over at Charly and Ben's Crafty Corner. You'll want to check this one out as Ruth has designed a beautiful single block 72″ square quilt that she calls "So Frosty!" and she is sharing the pattern with us all. It's a brilliant design, one that will sew up quickly and would be perfect for any time of year, not just Christmas. As the pattern includes the use of a lot of flying geese Ruth has also shared a tutorial for the no waste method which makes 4 flying geese at a time. There's defintiely no excuse not to try this one out.
The link party will be open till the end of the month as usual and don't forget that if you join in the fun and link up your makes you will be in with a chance to win this month's link up giveaway which is being sponsored by the Fat Quarter Shop who are giving one lucky winner the chance to pick their favourite from the Fat Quarter Shop's range of mini charm packs.

I look forward to seeing what you all have sewn and if, like me, you haven't done any festive sewing yet this month then don't fret as there is still plenty of time left to get sewing and to link up your makes. Maybe you'll make a So Frosty block quilt?