It's a week for celebrating. Today I celebrate the fifth anniversary of my first quilt finish and tomorrow we celebrate our first month anniversary in our new house. It's been a busy month and we're still not 100% finished with our move but we're almost there. For the most part the move went smoothly. We boxed up bit by bit, moved day by day and once moved in properly we started to slowly unpack. And that's pretty much what we're still doing. It's a slow process because it's one that needs a lot of thought and planning. I started to unpack a few weeks ago but only really got the office portion up and running as that was a priority for work. The rest of the room remains in boxes as I try to get a feel for the space and how best to use it and more importantly how best to organise storage in the room. For the past few years I've been working out of assorted boxes and bags that were hidden behind the sofa and stacked under my sewing table so now I am determined to take the time to get this space just right from the off.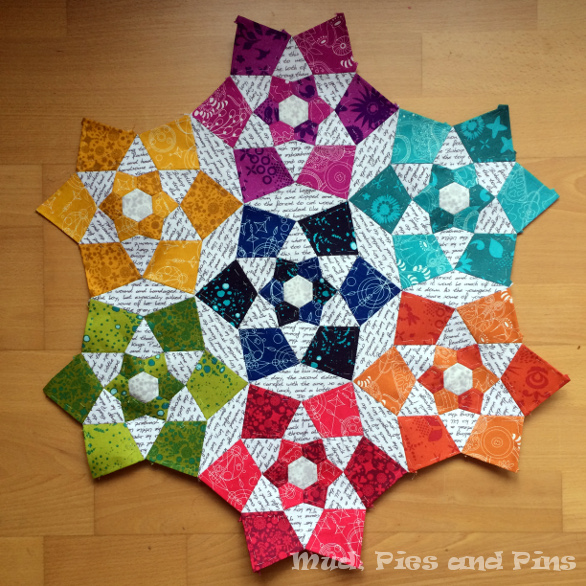 Despite the lack of a proper sewing space I've not been idle. A couple of English Paper Piecing (EPP) projects have been keeping me company over the past few weeks and I've also been doing some micro cross-stitch. Just as I got ready to move notice of sign-ups for round 2 of the Big Stitch Swap and the Hand Pieced Mini Swap appeared on Instagram. I had thoroughly enjoyed both of these swaps last year and couldn't resist signing up again. Despite the move the timing for both of these honestly couldn't have been better. Because both swaps involve hand stitching or hand piecing they have given me the opportunity to keep sewing without the need for a fully functional sewing room. I can sit in my office corner, sew away and give plenty of thought to how the sewing room needs to be once organised.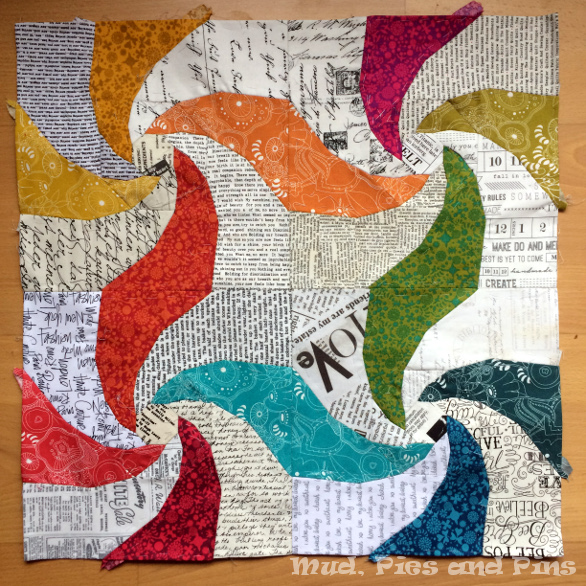 For both projects I'm using Alison Glass's Sun Prints and assorted text prints to stitch up some of my own designs. For the Big Stitch Swap I think I will be converting the finished piece into a cushion. The Hand Pieced Mini will be a mini quilt of course, although I still need to decide if it will finish up square or more hexagonal in shape. That is a question that I think will answer itself as I continue to work on it.
Not having a sewing area set up could make it a little difficult to finish off these projects as I really don't fancy the idea of doing all of the finishing by hand. However, perfect timing kicks in once more as this weekend I head off to Patchwork in the Peaks 9 for yet another weekend of quilty fun. Instead of having a specific project this time we are going to be working on our WIPs, PhDs and UFOs. I have a couple of quilty projects that I intend to bring but I'll also be hoping to finish off these smaller pieces as well.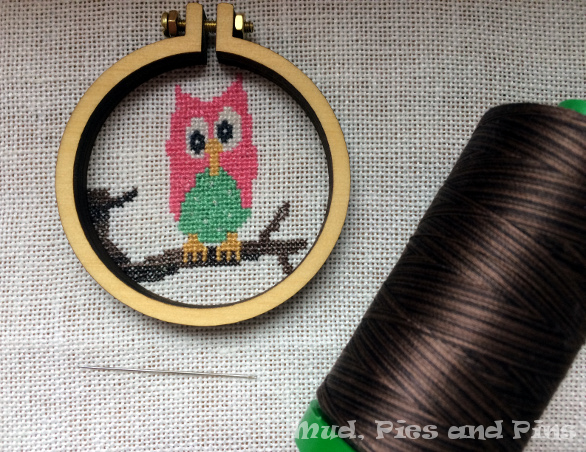 The third project that I am in the process of finishing up at the moment is some micro cross-stitch that I making for the Very Berry Mini Hoop Swap. I stitched the owl a couple of weeks ago and now I am finishing it off with a little tree. I stitched the Owl with a single floss of embroidery cotton but decided for a change in texture I would try some Aurifil 40wt for the tree. I picked a variegated thread, Mocha Mousse #4671, and am loving how well the changes in colour work in the tree. This has been a challenging project mainly because of the tiny stitch size. I've found that it has been only possible to work on it in good daylight and have somehow I've managed to get much of the stitching done on the train. I think I will get a real sense of achievement seeing this guy all finished off and properly mounted in his mini hoop.
Hoping to see you all again after Peaks when I'll hopefully have lots to share. In the meantime you can always keep an eye on my stitching adventures over on facebook and Instagram.
Save