This past week I felt as if I was caught in a whirlwind of sewing. I can honestly say I have never achieved so much in so short a time. Friday I tidied up my sewing space, which is actually a corner of our sitting room, and then decided to let the machines sit idle for the weekend.
Saturday was, as usual, shopping day. But it was also family time. We enjoyed a visit to a local town fair, enjoyed ice-cream at a friends cafe and rounded the evening off with a lovely family dinner. Sunday finally saw us get a little work done in the garden. I got a wonderful present of some vines from my brother and sister in law for my birthday so we got a chance to start preparing a permanent home in the garden. This morning I got them settled in place.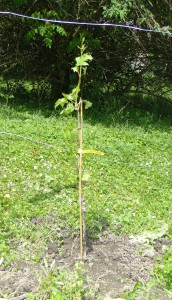 My own mini vineyard in the making! Here's hoping we see a few more dry weekends in the near future so I can start to reclaim the adjacent vegetable plot.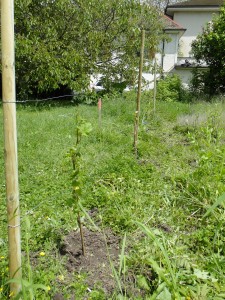 I also did a little work on a patchwork project I've been slowing working through this winter past.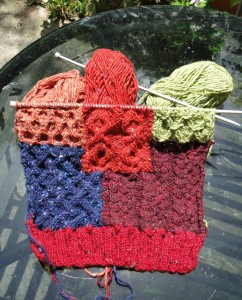 I started making a jumper for my eldest son last Autumn. However, not long after I had started I realised that all of the jumpers he had been made last winter still fit and that he really didn't need any new ones this year. As a result my work slowed right down and became my weekly train commute to the office project. The front is already complete and I'm now working on the back.  When finished it will be a patchwork aran jumper, almost like an aran sampler. I'm using Studio Donegal Aran Tweed wool in a variety of shades that I had picked up on a visit home last summer, and I don't really have a pattern but am pretty much planning it as I knit.
I have enjoyed my little sewing break and watching the patchwork develop some more, but now new projects beckon and the knitting shall go back in it's bag till my next trip to the office.