This week has seen me start several new projects. I am going to participate in the Modern Mini Quilt Challenge which is being hosted by Jennifer over at Ellison Lane. I had original though about entering the mini string quilt Through Leaded Panes that I made with the leftovers from my Bug Picnic quilt. Then I got playing about on EQ7 and came up with a new mini quilt design that I wanted to make. I had plents of scraps still sitting around from my Spot the Monster Rainbow Stripe quilt so teamed those up with a dark navy background to come up with my Ball Pipe mini quilt. The top is finished now all that remains is to baste my quilt sandwich, quilt it and bind it.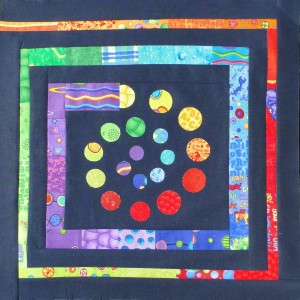 As part of the Kate Spain blog hop that is being hosted by Alyce over at Blossom Heart Quilts there will be a link up to any projects finished during the blog hop. As I'm following the blog hop I thought it would also be fun to create something to link up on the 28th June and so the second project that I have started in on this week is another mini string quilt. This time I am using some fabrics from Kate Spain's Good Fortune line along with some matching solids. I have used Molli Sparkle's tutorial on string piecing again and have pieced together two strips of strings to start with. Now to get using them.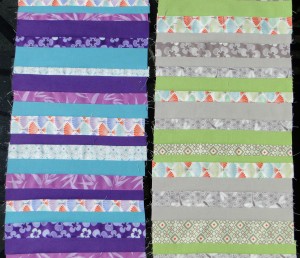 The final project started this week is my variation on the String of Pearls Quilt that I am making as part of Christa's Quilt Along. I'm not using the Pearl Bracelets fabric that Christa has chosen to use, but have instead decided to use fabrics from my stash. After some indecision I finally opted for the Stonehenge Undersea Adventure line by Linda Luduvico for Northcott fabrics and will be making a fun quilt for my boys. I started cutting the first of my central squares and binding strips today. I'm still waiting on the solids I have ordered for the rest of the top, but as there is two weeks till the next step I'm sure I will easily get all of my cutting done by then.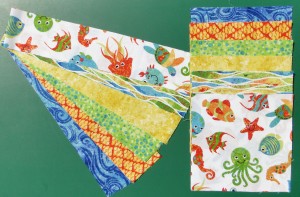 As it's Wednesday I'm linking up Work in Progress Wednesday hosted by Lee over at Freshly Pieced. Will I see you there?