Winter has thankfully finally found us here in Switzerland and we are finally enjoying crisp and frosty mornings, snowfall, and more. I'm sure there are plenty of people out there who probably think I am mad to be celebrating such weather, but I do so enjoy winter. I love crisp cold days and wrapping up in layers. I love the sight of frosted fields and forests and most of all I love the snow. Crisp, white and lots of fun. I love the the fun I get to have with my boys playing in the snow and I'm getting no end out of enjoyment out of weekends in the mountains when I I get to watch and help them learn to ski.
Now of course with all this chilly weather it's important to wrap up and stay warm so as my Instagram followers will be aware I've been swapping out the sewing for the knitting on and off over the past few weeks. Although I've probably got enough functional hats and scarves (read black and unexciting) I certainly don't have many that I would consider fashionable fun so I've treated myself to some beautiful yarns in order to rectify that fact.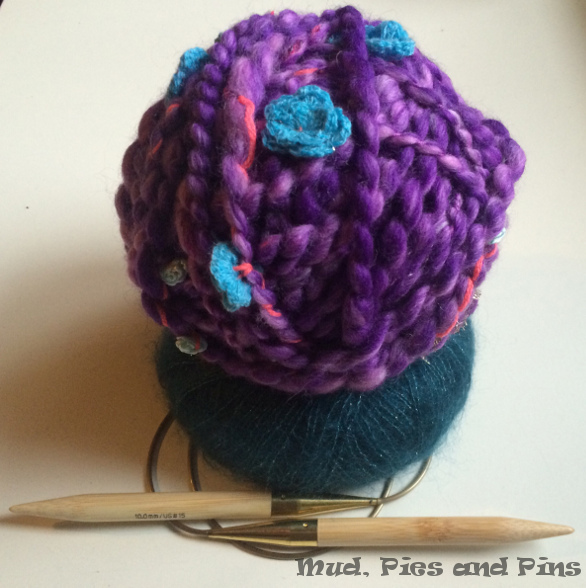 Yesterday it was the turn of a skein of Wool Collage's Gypsy Garden in Purple Haze to make it on to the needles along with a ball of Schulana's Kid Seta Lux in aqua. The Gypsy Garden is a beautiful mix of wool hand spun with tiny flower trims, sequins, bits of lace and ribbon rosebuds and I was determined to make the most of the 1 skein I had so I decided I would team it up with the Kid Seta and make a cowl following a pattern I had found on Ravelry.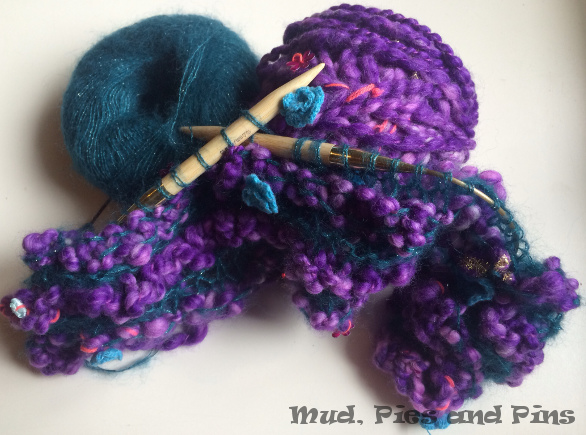 As it turns out this is a really quick project and I made great progress in the little free time I had available to me yesterday. Today I'm back to working on some more of my Liberty epp project as I want to also progress that project, but I should get back to my needles this evening or tomorrow and I'm sure I'll get the cowl quickly finished when I do. It's also looking like I will have a little of the Gypsy Garden left over but if I do I'm hoping I'll have enough to make a hat to match the cowl and I'd hate to waste even the tiniest bit of this magnificent yarn.