Welcome to the May installment of Ho, Ho, Ho and On we Sew. For those of you who may be new to my blog let me give you a quick introduction to Ho, Ho, Ho and On we Sew. Back in January myself and Fiona over at Celtic Thistle Stitches decided that this year we were determined to be much more organised for Christmas than we were last year and we came upon the idea of holding monthly link up parties where we would share the decor and gift items we were making for Christmas 2014 and encourage you to get creating with us.

Each link party is being hosted by a different guest blogger who posts a tutorial on a gift or decor item, and each month we have a prize to give to one randomly selected linker. This month's giveaway prize is thanks to the lovely people over at the Fat Quarter Shop who have given us a mini charm pack of 25th and Pine, the great new line of festive fabrics from Basic Grey.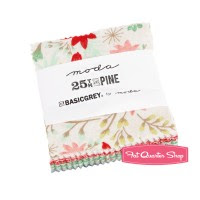 The link parties open on the 18th of each month and close on the last day of that month. This month the link party is being hosted by Sian, who blogs with Simi over at buttons and paint. Sian's tutorial is for an upcycled tie pouch, a really clever project that uses any old ties you might have lying around. Beut before you let me share with you my makes for the month.
Last month I was making bags for the little ones, this month it's totes for the grown-ups. Now I don't want to show you the bags that I actually made, as some of the recipients do tend to pop in and read my blog from time to time, but I can show you the another two very similar totes that I made at the same time.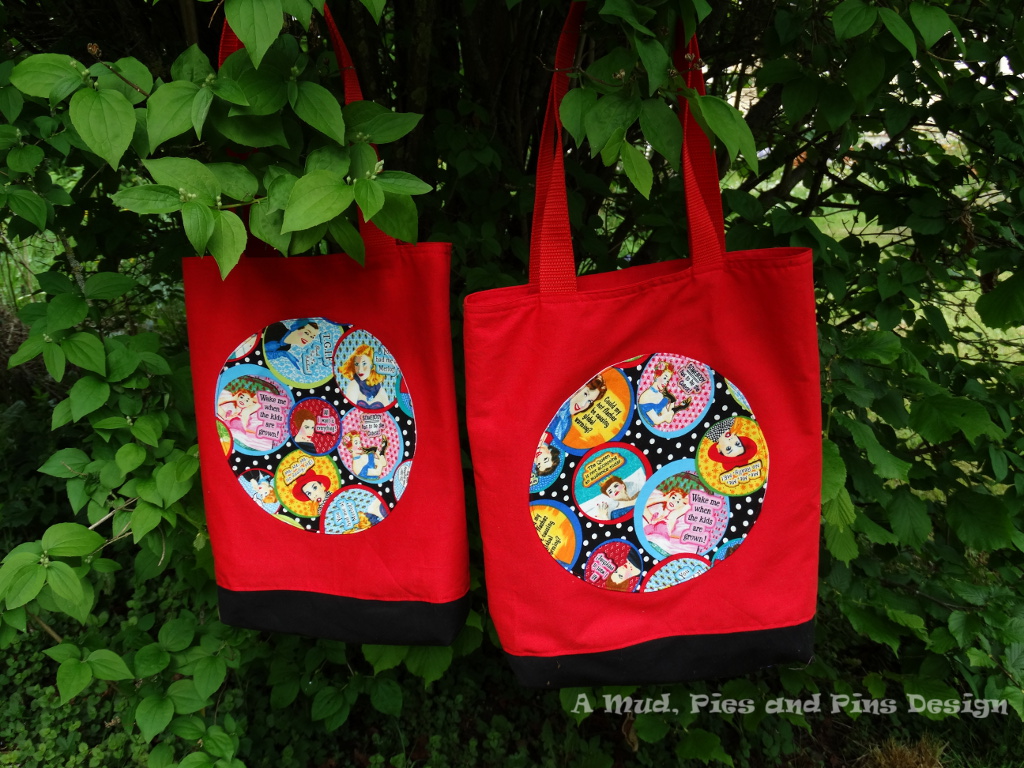 These were made for my two sisters earlier this month, one as part of a birthday gift, and the other one just because I could. I have to admit it wasn't all plain sailing when I was making these bags. I started by getting in some practice with my latest new toy – the Olfa circle rotary cutter.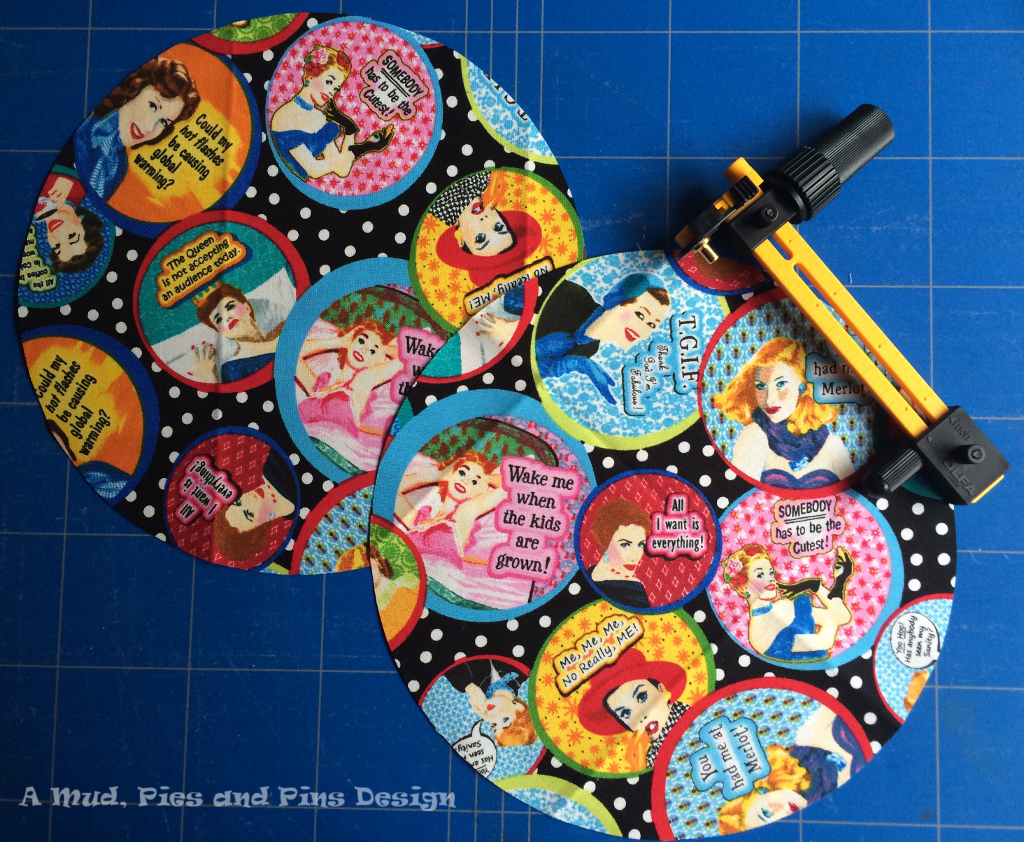 Once I had cut out two circles from some Keep it Sassy fabric by Olive Sandwiches I attached them to the outer fabric for the bags, pieced the bodies of the two bags, boxed off the corners, and then I realised I had stupidly boxed the corners too much. Way too much.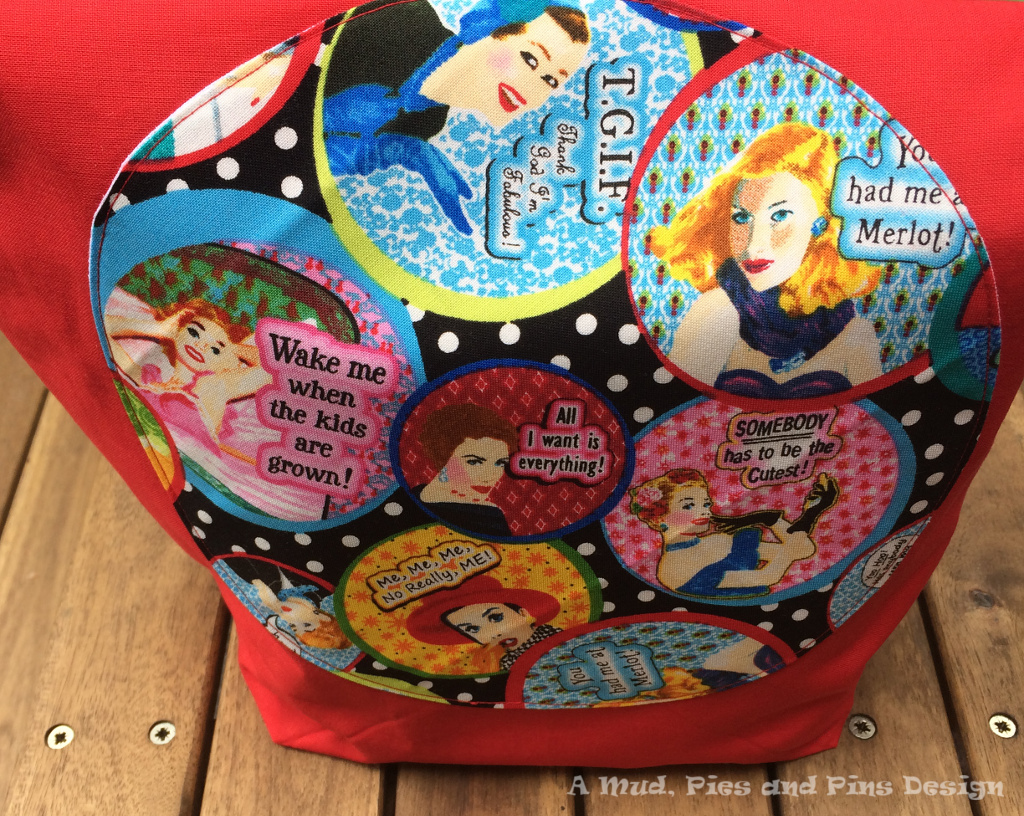 Now this wouldn't have been too bad if I hadn't already trimmed them. I don't know what possessed me! Seam-ripper-to-the-rescue-time. I opened up those seam, lopped off the bottom and added new bottoms to the bags in black fabric. Turns out it wasn't just crisis-avoided-time after all, it was in fact massive-improvement-on-the-original-design-time. Happy days.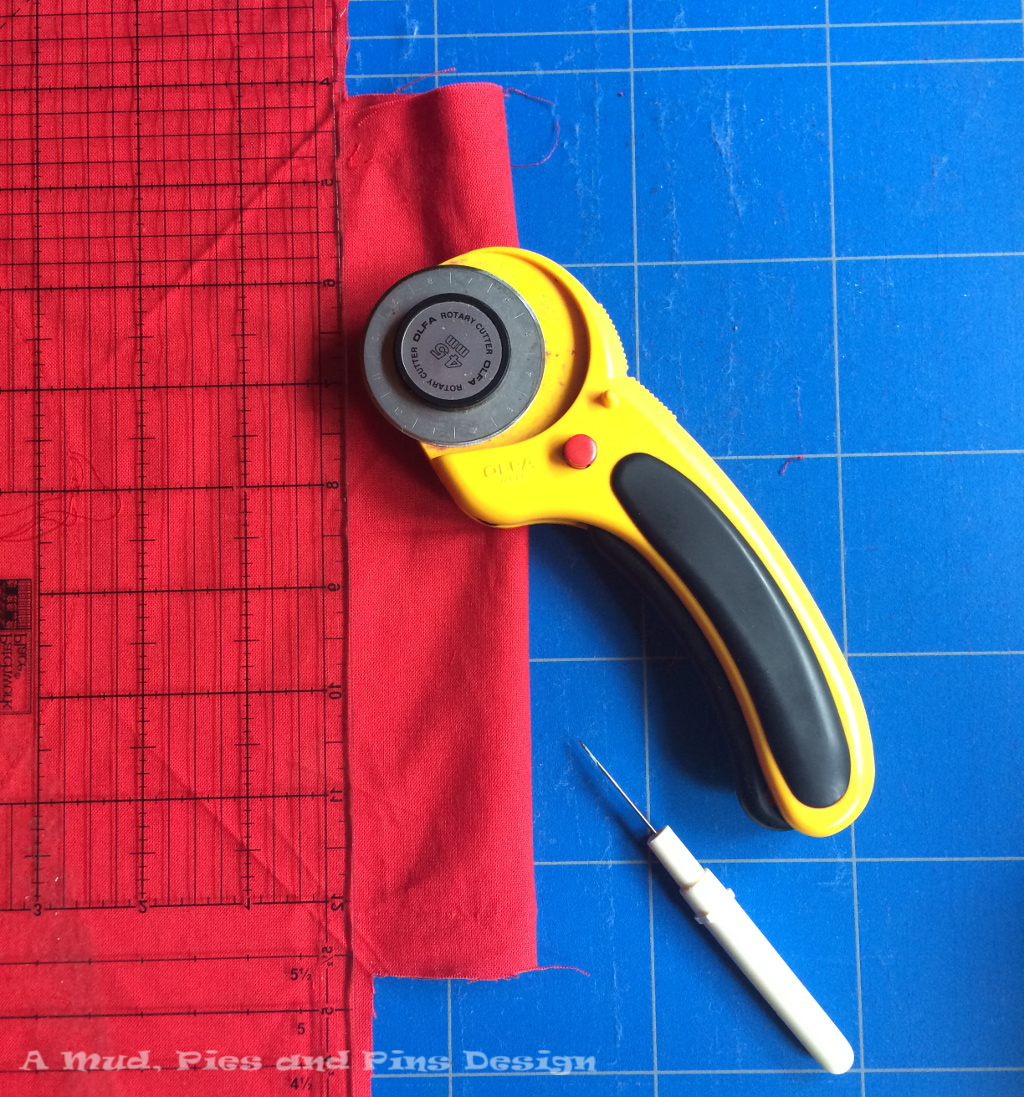 I quickly set about improving the linings of the bags to match. Yes I had made linings as I wanted the bags to be reversible, and yes I had also boxed them out without checking how they were going to look. I had alreday trimmed the top of the linings with the red fabric I had used on the outer parts of the bag so I added more of the same to the bottom of the bag and you have to admit that adding the red band to the bottom gives them a lovely symmetry. I used some Priscilla in Orange from Jennifer Paganelli's Crazy Love Collection for one of the bags and Denyse Schmidt's Florence for the other.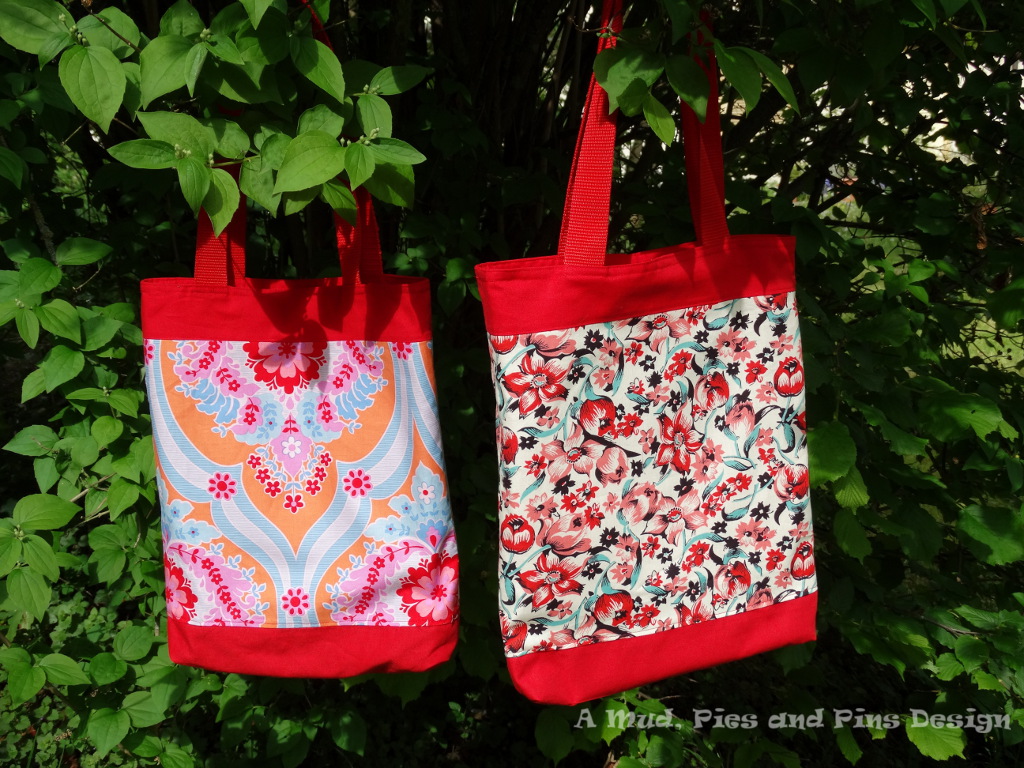 These two bags were very well recevied by my sisters and can only hope that the Christmas versions will be just as well received when they finally make their way to their intended recipients.
Now it's your turn – have you been making anything for Christmas this month? Perhaps you need some inspiration, in which case I can recommend you pop over to buttons and paint and have a look at Sian's upcycled tie pouch or why not visit some of the tutorials from the previous months. There's still plenty of time for you to get creating this month and to join in the link party. Hope to see you there.