Well October is here and I'm sure that there are many people out there who are starting to get geared up Christmas. The shops are starting to fill up with lots the festive goodies and there are plenty of Christmas makes appearing all over blogland. Here, however, Christmas couldn't be further from my mind as we are currently enjoying some magnificent warm autumnal weather. The skies are blue, the sun is shining and we're still wearing t-shirts! Eating al fresco is still a daily occurrence, albeit only at lunch time, and with so much greenery still around it really is hard to believe that the winter season is drawing ever closer. Despite all of this I still did a little festive sewing this month and for this edition of Ho, Ho, Ho and On We Sew I'd like to share my tree-skirt-that-isn't!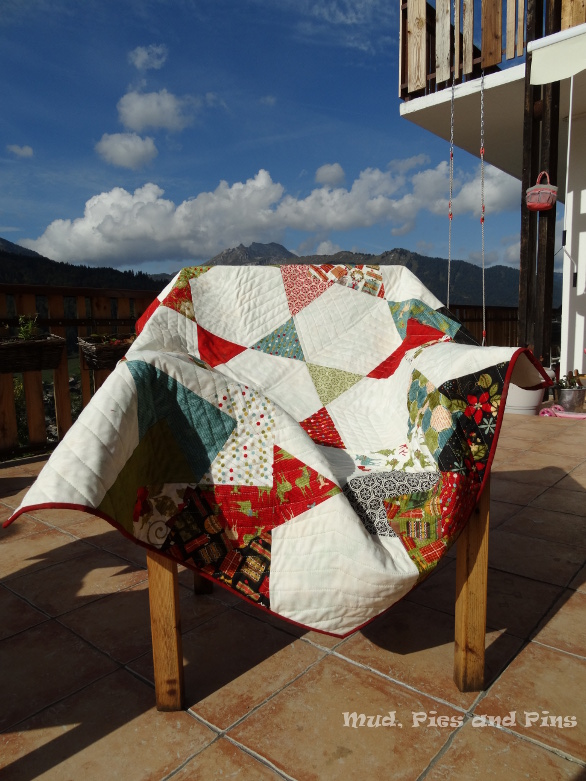 Now I'd better give a quick intorudction to Ho, Ho, Ho and On We Sew for those of you that may not be familiar with it. In a bid to ensure that we were well and truly organised for Christmas this year myself and Fiona over at Celtic Thistle Stitches, along with a series of guest hosts, have been hosting the monthly Ho, Ho, Ho and On We Sew link party since the start of this year.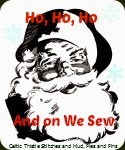 The idea behind the link party is simple. Each month you link up what you have been making that month as part of your preparation for Christmas. Each month's link party will be accompanied by a tutorial to inspire your gift or decor making, and there is a giveaway for those who link up their finished makes. This month's link party is being hosted by the very talented Janine over at Rainbow Hare. Janine has a tutorial for the most adorable Christmas tree ornament so be sure to pop over and check that out. You have from now until the end of the month to join in and link up your makes and when you're over at up over at Rainbow Hare don't foget to check out the great prizes on offer for all of those who join in the link party this month.
So as I mentioned earlier this month I made a tree skirt. Except that, well, it isn't. At least not yet. When I was at the Peaks retreat two weeks ago, and yes I know I still need to tell you all about that, the first project we tackled was making a Spinning Card Trick Star. The project was designed to use charm squares but I quickly went about resizing it so that I could use a layer cake of Basic Grey's Jovial that I have had sitting in my stash for a while. I used their coordinating Grunge Basic Sugar Cookies as my background fabric and opted for a hexagonal layout for my stars.
Now my original idea was to make up the hexagonal quilt and then to cut out a central circle/hexagon and a side seam before binding so that the finished bound quilt could be used as a tree skirt. However, as I got to the quilting stage I got to thinking about our plans for this Christmas. Plans that probably mean I won't bother putting up a tree at home this year, or at least not a full sized real tree. So I realised that if I were to make a tree skirt I would be doing so to pack it away till next year. By then I was quite in love with the hexagonal quilt that was passing through my machine so I knew I wouldn't be cutting into it, at least not then.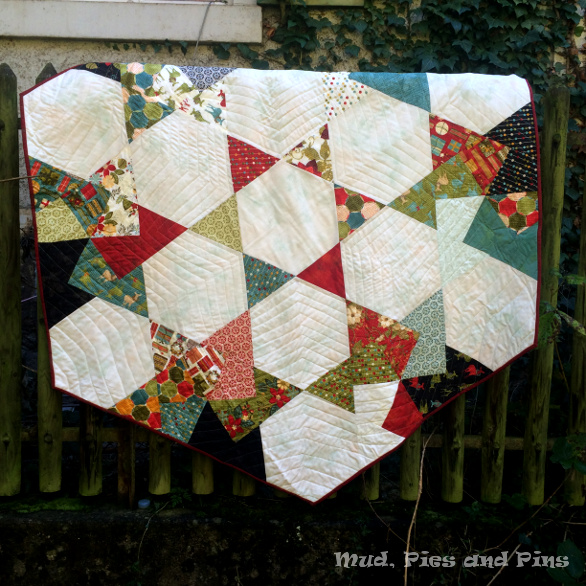 I decided I would bind the quilt as was and that I could then use it as a nice sofa throw for the Christmas season, or even decoratively as a table topper for our round dinner table. Either or both of those ideas would allow me to use and the enjoy the quilt this year and I knew I could still cut into it in a year or two when I would actually have a use for a tree skirt and I have already put away a roll of extra binding just for this purpose.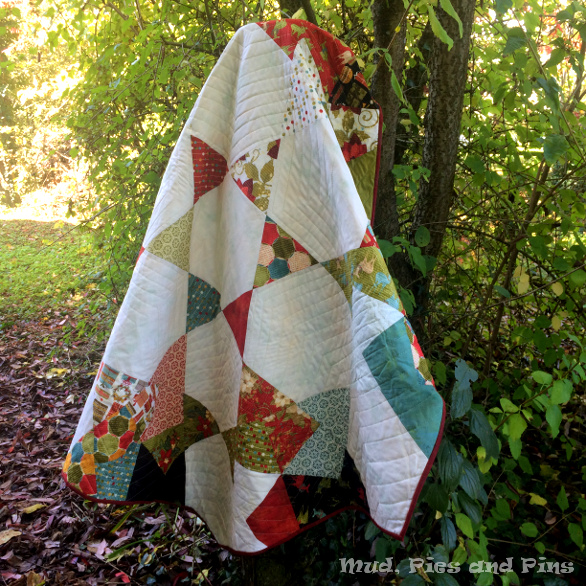 Now I have to admit that with only two months left to go I find that I am almost, but not quite, running out of things to make and I cannot help but be overly delighted that I am so organised this year. I have created all that I wanted to create for myself and as we have decided to do Secret Santa at home for the the first time ever this year I don't actually have any gifts left to make, in fact some of those that I have already made are not technically needed any more. I'm sure, however, that as I see more and more ideas popping up all over the web in the weeks and months ahead I'll come up with plenty more things that I "need" to make and will undoubtedly get to the end of the year wishing I had more time! But even should that turn out to be the case I can be happy with all I have acieved and how successful Ho, Ho, Ho and On We Sew has been for me.
What about you? Have you started in on your Christmas makes yet! If you have be sure to pop over to Rainbow Hare before the end of the month and link up whatever you have finished up this month. I look forward to seeing all your makes.