A couple of months ago I signed up for a Textile ATC (artist's trading card) swap being hosted by Ali over at Very Berry Handmade. Today it was finally time to pop my finished ATC in the post to my partner.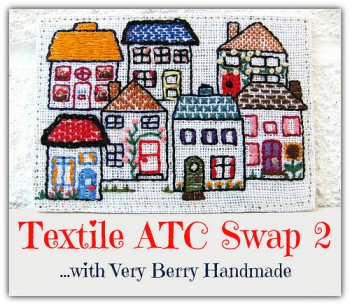 If you aren't familiar with a Textile ATC then let me start by explaining that it is just like any other trading card 2.5″ x 3.5″ (6.4 x 8.9cm) in size, but it is made predominantly of textiles. The theme for this swap was Autumn and I very quickly came up with my first idea for an ATC, "Autumnal Breezes".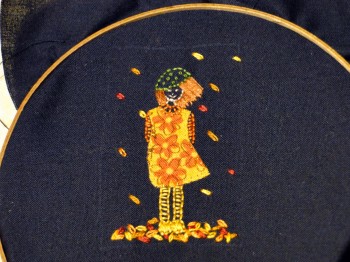 Much and all as I really loved this design I wan't quite sure if I as going to use this as my final ATC, and I was also keen to try another idea that I had in mind. I started off with some quarter inch hexies in autumnal colours that I stitched into a classic 7-hexie flower.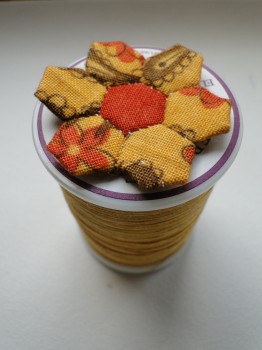 Small as it was I still felt this flower was a bit large and so I tried smaller hexies, approximately a sixth of an inch this time, which made a nice small flower seven eighths of an inch in diameter. I much happier with that flower, especially when I transformed it into a plant with the addition of some leaves and finshed the whole picture off by adding a border to make my "Autumnal Bloom" ATC.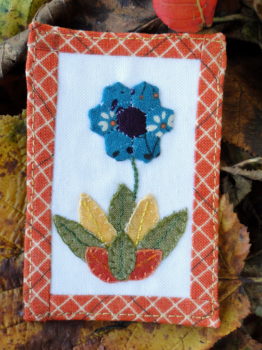 So there I was with two finished ATCs and all I had left to do was choose the one I wanted to send to my partner. From the feedback in the ATC Flickr group it was clear that "Autumnal Breezes" was the more popular card, but that "Autumnal Bloom" was much loved too. I was still torn. Then I made the big discoverey that made my choice for me. For some reason I had it in my head that the finished ATC was to be 2″ x 3″ and these were the dimensions I had worked to.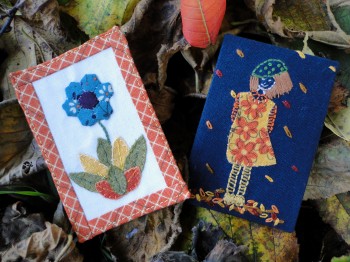 I knew there was no way I could remake the "Autumnal Bloom" ATC to fit those dimensions but that there was a chance I could frame the "Autumnal Breezes" stitching and remake it into a larger ATC. There followed some very careful dismantling, border adding and refinishing and I was left with what I think is actually a better version of "Autumnal Breezes".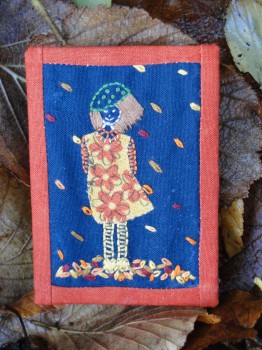 I love the how the frame really sets the image in place and almost intensifies the autumnal colours used. I do hope that my partner will love it as much as I do.
And as for "Autumnal Bloom", well it may be too small to be an ATC but I know a little boy who is very much in love with that picture and who will be delighted when I tell him that Mummy isn't giving it away after all and that he can have it as his very own.