What do you think of when you hear the term "winter sparkle"? I think of snow and snowlakes, of trees indoors and out, of christmas lights and tinsel, of moonlit, snow covered hills. So of course when I wanted to stitch a winter sparkle themed fabric ATC for the latest round of the Very Berry Handmand ATC Swap these were the ideas that I wanted to play with.
I started with a crocheted snowflake. I really love making these and have made quite a lot of them as part of my christmas ornaments so I really wanted to incorporate one into my design. Once I had the first snowflake in place on a background of onyx Grunge Basics. I went on to backstitch some more using a mix of pearlescent and plain white embroidery cottons along with silver and white metallic threads. The finished "Snowflakes" ATC is a little refelction of my love of night time snowfall.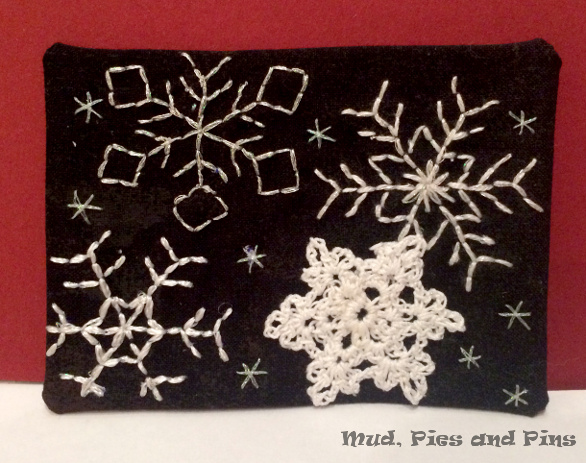 Because I had this first ATC finished well in advance of the postage deadline I went decided I would try out a couple of other ideas that I had. I had come across a pretty design for a hand stitched Christmas tree online that I knew I wanted to stitch. After scaling it down to size I stitched it with single strands of embroidery thread blended with metallic threads. Instead of stitching the gifts under the tree as per the pattern I created them with Northcott Artisan Shimmer fabrics, each one neatly tied up with some metallic silver thread and then my "Under the Tree" ATC was finished.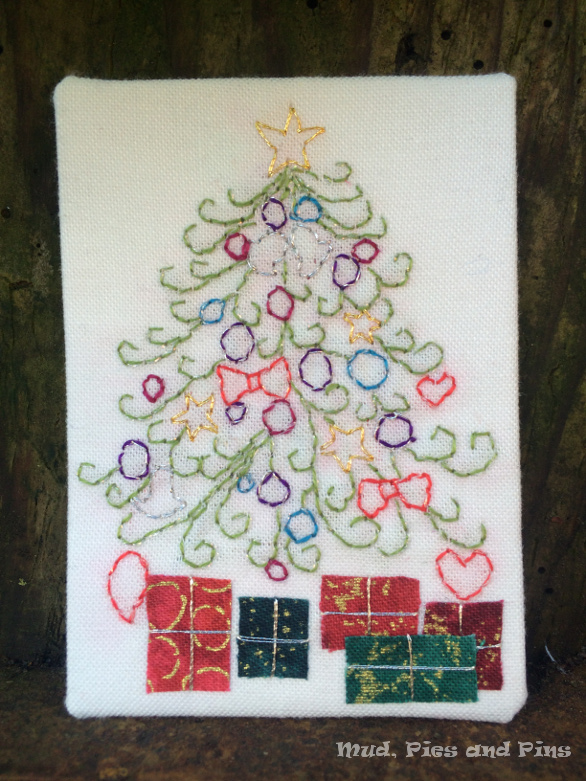 The final idea that I wanted to try out was a simple moonlit snow scene. I started with a couple of hills appliquéd on the same Grunge fabric I had used for the first ATC. The first layer of sparkle came from the Dreaming in Pearle fabric I used for the hills. I then added layers of stitching in white and silver metallics; moonlight dancing across the surface of the snow. Some trees in silver, and a full moon brighlty shining from the sky above finished off the scene in my "By Moonlight" ATC.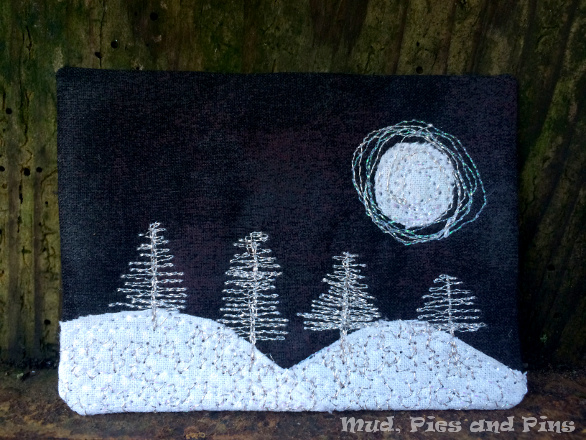 When it came to deciding which ATC to send my partner I found it very difficult to decide which one I should send but in the end I asked the advice of a friend who told me I should simply send the ATC I had made first because that was the idea that I had first, was what I had decided to make when I started stitching for the swap and was what I would have been sending anyway if I hadn't had the extra time to play around with my later ideas.
My ATC in in the post and should hopefully soon be at it's new home. On the same day I posted off my ATC I was delighted to find that an ATC had arrived in my postbox from my partner. I couldn't be more delighted with this little beauty. Not only does it include lots of my favourite colour purple but it is full of sparkle and delight. A real beauty that I will cherish.